Marc has the stats, Pau has wins in Gasols' playoff battle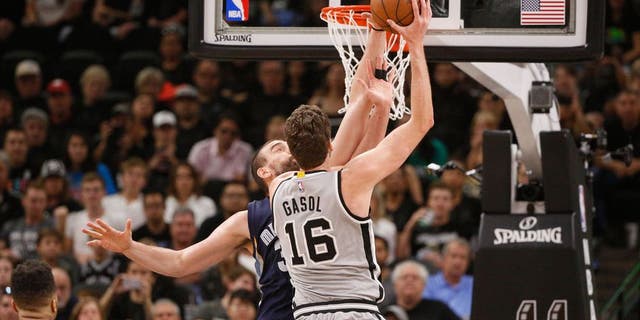 NEWYou can now listen to Fox News articles!
Marc is winning the individual battle. Older brother Pau is walking away with the victories in the Gasols' first NBA playoff battle.
The sibling showdown between the Spaniards has added another dimension to the Grizzlies-Spurs opening-round Western Conference series.
The Gasols have been competing with and against each other since they were children -- with Pau winning most of time. And Pau is enjoying the upper hand once again.
"Put all those emotions aside and try to focus on what the Spurs have to do to beat the Grizzlies," Pau said. "That's what I'm going to try to focus on and help as much as I can."
Marc and Pau are not the first players to have to put family ties aside for a few hours. The Mikans, Persons, Kings, Grants and Wrights all squared off in the NBA postseason.
There is another twist to the Gasols' showdown.
Pau is returning to the city where he started his NBA career looking to do something he never managed while playing for the Grizzlies -- winning a playoff game in Memphis. Pau's Grizzlies set an NBA record for playoff futility, losing their first 12 postseason games with him on the roster.
Playing for San Antonio ensures a mix of boos and cheers for Pau, who was Memphis' first All-Star. His trade to the Lakers in 2008 helped bring Marc to the Grizzlies, and now Marc is a three-time All-Star and team leader alongside guard Mike Conley -- and trying to beat his big brother yet again.
"Now he has a better chance today than when he was younger," Pau quipped.
At 36, Pau no longer is the big man that leads a franchise, coming off the bench for San Antonio as the scoring option behind Kawhi Leonard, LaMarcus Aldridge and Tony Parker.
"I wish he was starting so we could get more minutes against each other," Marc said of Pau. "He knows what it's about. He knows what I stand for, and how much I want to beat his team."
Marc has let his teammates know as well.
He immediately got after rookie Andrew Harrison for not playing better defense when Pau hit a 3-pointer in Game 1. Pau, the NBA's 43rd all-time scorer, is still capable of hitting big shots.
"It's a little frustrating as a guard," Conley said. "You have to hear Marc get mad at you for letting Paul score. It's always fun to see them compete, especially at the highest level."
Of course it's even more fun when you're winning.
The Gasols tipped off against each other at the 2015 All-Star Game, becoming the first brothers to play against each other in that event. They are also Olympic teammates on Spain's national team.
Now they can add another milestone to their list of achievements, becoming the sixth set of siblings to meet in the NBA postseason.
George and Ed Mikan were the first brothers to battle in the playoffs, facing off in 1949, 1950 and 1953. In 1983, Bernard King's Knicks played brother Albert and the Nets, while Chuck and Wesley Person played each other in 1996. Harvey Grant with the 76ers met Horace Grant and his Orlando Magic in 1999. A year ago, Dorell Wright with Miami played brother Delon and Toronto.
Pau says it's hardest on their parents when he plays his little brother. Even though they take pride in one son being a two-time NBA champion and the other the league's 2013 defensive player of the year, these games can be tough.
"They don't enjoy the games that we play against each other too much," Pau said. "They suffer. They don't want us to hurt. One is going to be happy after the game, one is going to be upset. So you feel for the one that is upset. It is what it is. Now we're in the playoffs, everything gets a little maximized, magnified."
Marc easily has outscored Pau so far with a career playoff-best 32 points in Game 1 in a 111-82 loss to the Spurs, and he had 12 as San Antonio took Game 2 by a score of 96-82.
Whatever the stats are, Pau is busting with pride over the little brother he watched work so hard to become one of the NBA's top centers.
"I think he's had an incredible NBA career so far," Pau said.
And there's little doubt Pau wants Marc to have even more success -- next year.