Marc Gasol: Pau's Little Brother Heads to All-Star Game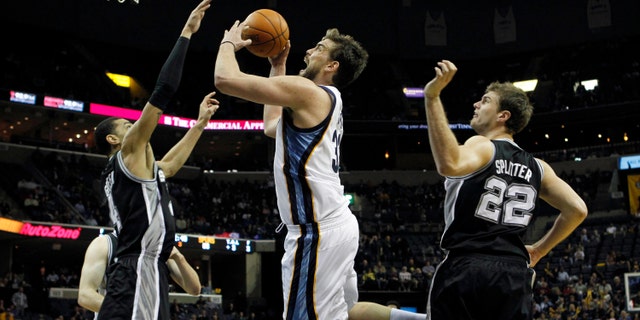 Late last month as the Memphis Grizzlies prepared to take on the Clippers at LA's Staples Center for a game, it was obvious from the locker room talk that every single player on the squad agreed that their big man, Marc Gasol, earned his spot on the All-Star team.
While the Grizzlies are giddy about Gasol's selection as a reserve to the Western Conference All-Star team, Marc, the younger brother of Lakers two-time champion Pau Gasol, tried to play down his success in what's been a career year for him in points, rebounds and blocks per games,
"I've always had a lot of illusions. But at the end of the day, I feel like I represent the team and what I have to do here, the coaching staff and the entire city," Gasol told Fox News Latino. "They're very happy for me,"
Perhaps no other teammates could be happier for Marc than O.J. Mayo, who came into the league as rookie in 2008 alongside Marc and has seen him rapidly grow into one of the game's top big men since the Spaniard joined the Grizzlies after having spent four years while playing for FC Barcelona and Akasvayu Girona in the Spanish ACB league.
"He gets better each and every year. He's always been a skilled guy. Working on his strength and conditioning made him a better player," Mayo said. "Last year he became slimmer. This year he
became slim but stronger. I think that prepared him to get to the All-Star level because now he can compete with some of the stronger players. Every night he's a handful inside."
The one knock on Gasol's game is that he tends to be too unselfish when he has the ball. In an era where most players carry that "me first' attitude," it is something Gasol's teammates don't have to worry about.
"Sometimes as good as he is you're like, 'Man shoot the ball. You're three feet
in front of the basket,' but that's just not Marc," Mayo said. "He's
all about playing the right way."
Grizzlies starting point guard Mike Conley constantly sees himself getting more touches to Gasol only for his center to pass the ball over to someone else.
"All the time I tell him to be more selfish. He'll pass up a lay-up to give another guy a shot. I think that's not a bad problem to have when you're a little bit unselfish."
Questions arose as soon as Zack Randolph went down with a knee injury during a New Year's Day game at Chicago over how the team would react without having one the league's best undersized big men and dominant post players.
Many questioned whether Marc could hold it down in the paint with Randolph on the injured list. Despite Memphis struggling to stay above the .500 mark, Gasol has provided the answers to those concerns.
Instead of setting any personal goals and trying to do too much to overcompensate for Randolph's loss, Marc has gone out and just played his game.
Memphis coach Lionel Hollins has seen an improvement in Gasol's confidence during the month and half that Randolph's been out.
Last season the Spanish big man averaged 11.7 points, seven rebounds, 1.7 blocks in 81 games last season, but this year he's stepped it up a notch averaging 15 points, 9.8 boards and 2.1 blocks in 30 games this season.
"I think just confidence is a big thing he's improved on," Hollins said. "He's
always been a good passer and he's always been a good rebounder. I
just think that this guy is more confident and more skilled."
Kate Upton, Rumored Mark Sanchez Squeeze, SI Cover Girl
As a rookie Gasol participated as a rookie in the All-Star weekend Rookie-Sophomore Challenge and returned to face the newcomers in his second season last year.
However, getting back to the All-Star game has never been Gasol's main objective.
"I've never put too much into personal goals because first of all, I never achieve them and second of all I don't believe in them. At the end if the team plays well and it wins, it's because you've done your job and what's expected of you to do. Sometimes your numbers reflect it, sometimes not but what is important is for the team to improve," he said.
As for his big brother, Pau, he couldn't be happier to see Gasol make it to the All-Star game. He saw his little brother improve his play last year as the two trained together with FC Barcelona during the NBA lockout.
"I'm so proud of him for being selected. I'm very happy for him because he's a person and a player that has worked to get to where he is at," the older Gasol said. "It's a great recognition for him being chosen for the All-Star game."
Adry Torres, who has covered MLB, NFL, NBA and NCAA basketball games and related events, is a regular contributor to Fox News Latino. He can be reached at elpiloto137@gmail.com or follow him on Twitter: @adrytorresnyc.
Follow us on twitter.com/foxnewslatino
Like us at facebook.com/foxnewslatino