Marc Gasol, Little Brother in Family, But Big Man on Court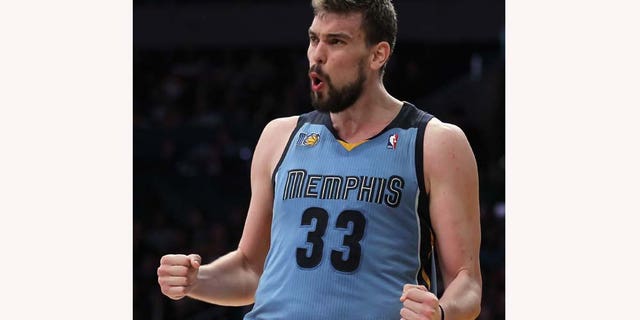 NEW YORK – It certainly wasn't the same ovation that Carmelo Anthony received in December last year when he came into The World's Most Famous Arena as a member of the Denver Nuggets. It wasn't the type of reception Knicks fans gave New Orleans' point guard Chris Paul earlier this month, either.
But the Madison Square Garden faithful made sure to give the Memphis Grizzlies' Marc Gasol a nice welcome Thursday night when he stepped off the visitor's bench after his named was announced for the pregame the starting lineup. With a National Basketball Association lockout looming – the current collective bargaining agreement deal expires at the end of June – Marc Gasol, who will be an unrestricted free agent this summer, could be courted by the Knicks.
The third-year center appreciated the gesture.
"It felt good," Marc Gasol told Fox News Latino of the crowds' reaction minutes after the Grizzlies were routed by the Knicks and their franchise-record 20 3-pointers on St. Patrick's Day. "I was just concentrating on my routines. Sometimes they do cheer you."
Marc Gasol, the younger brother of Los Angeles Lakers star Pau Gasol, sidestepped questions about possibly joining the Knicks this summer, who will be looking for a center to complement Anthony and Amar'e Stoudemire. For most of the season, Stoudemire has started, somewhat out of position, at the five spot for the team.
"My objective right now is only on the playoffs," said Marc Gasol, whose Grizzlies are currently in the eighth spot in the Western Conference playoff race. "We'll see what comes up this summer. It's going to be a long summer. We'll see what happens."
Gasol said he has tried to block out any distractions.
"I don't read the papers. I don't want to read what the press says," said Gasol, who was averaging 11.7 points 6.8 rebounds per game through Thursday. "I just answer the questions. It's part of the job you do. I just want to enjoy the playoffs and be there and see what happens. That's what we all have in mind."
The city of Memphis is all Gasol has known since moving to the United States when Pau joined the Grizzlies in 2001. The younger brother played basketball at Lausanne Collegiate School in Memphis and returned to Spain, where he played in the Spanish ACB league for FC Barcelona and Akasvayu Girona and won the league most valuable player award in 2008.
"My heart is obviously in Memphis," he said. "But like every one says, this is a business. Sometimes your heart doesn't figure in the way it really should."
Although the Lakers drafted him in the second round of the 2007 NBA draft, in an ironic twist, Memphis acquired his draft rights from the Lakers in exchange for Pau on February 1, 2008. A few months later the Lakers were league champions.
Last year, Marc Gasol improved on his rookie season. He averaged 14.6 points, 9.3 rebounds and 1.6 blocks in the 69 games in which he appeared, a significant improvement from the 11.9 points, 7.4 rebounds and 1.1 blocks in his 82-game rookie campaign.
Grizzlies guard O.J. Mayo and former Knicks power forward Zack Randolph have watched Gasol's evolution as one of the up-and-coming big men in the league. Mayo came into the league with Gasol in 2008 and, for his part, has been impressed with the way his game and especially his weight condition changed over time.
"Marc has done a great job," Mayo told Fox News Latino. "I think his nutrition has gotten a lot better. He's gotten much quicker as a player in the post. He's becoming a big time center here in this league.
"I hope so (he stays)," he added. "He's a big part of this team, helping this team grow. We came in the same year. It's been great seeing him around here getting better and definitely become one of the top players in this team."
Randolph said he has tried to mentor Gasol.
"I try to teach him little moves, here and there," Randolph said. "Marc has been playing basketball, as a pro, early overseas. He knows a lot. He's a great player and he'll continue to get better."
Marc Gasol, however, wouldn't want Knicks fans to get all giddy about the prospect of becoming their first true center since the Patrick Ewing era. Anyone remembers the Eddy Curry and Jerome James experiments?
His focus, instead, is to try to lead Memphis to the playoffs for the first time since 2006 when they were swept by the Dallas Mavericks in four games.
"I just want to experience the playoffs. Last year at this time during the season, we started to fall out of the playoff race," Gasol said. "This time around, we're focusing more. Rudy Gay's injury has caused him to miss 10 games, but the team has responded very well and has played real good."
Adry Torres, who has covered MLB, NFL, NBA and NCAA basketball games and related events, is a regular contributor to Fox News Latino. He can be reached at elpiloto137@gmail.com or follow him on Twitter: @adrytorresnyc.