Marc-Andre Fleury makes amazing stick save to rob Capitals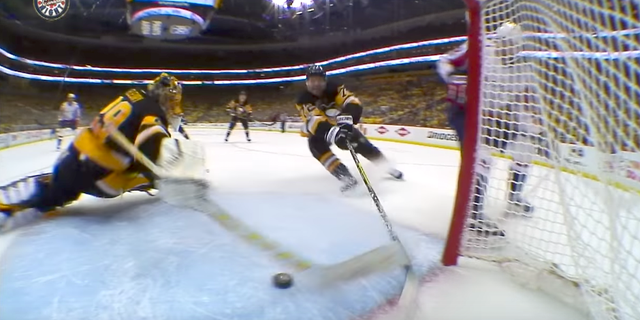 The Penguins lost Game 3 ( and Sidney Crosby) on Monday night, but it certainly wasn't because of Marc-Andre Fleury.
The Pittsburgh goaltendermade 30 saves as the Pens ultimately lost in overtime and had their series lead cut in half, two games to one. None of thosesaves were better than the one you see above.
Fleury took away a goal from Evgeny Kuznetsov at the end of the second period when he made a diving stick save to stop a rolling puck just before it crossed the goal line. Kutnetsoveven raised his hands in celebration before realizing that he had been denied by Fleury.
Also deserving of praise on this play was Patric Hornqvist, who showed great IQ and composure when he swept the loose puck out of the crease without covering it with his glove, which would have earned the Caps a penalty shot.
Had the Caps not gone on to win in OT, this is a sequence that likely would have tortured their dreams for a long while.