Manziel could've used a guy like Bear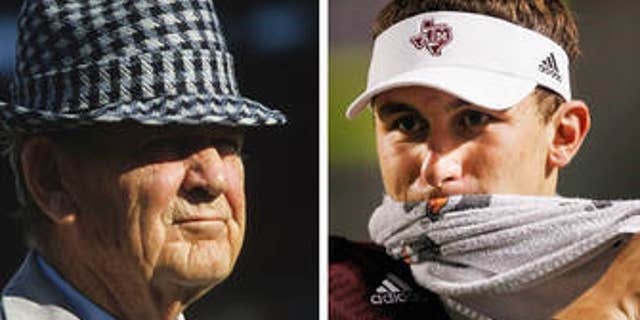 Bear Bryant was born 100 years ago Wednesday. That was about 50 years too soon to rescue Johnny Manziel.
Maybe Bryant could have made Johnny Football grow up. Nobody else seems to be having much luck.
We're all familiar with Manziel's antics by now. The partying, the preening, the petulance, the payoffs. Oops, strike that last one. After a 37-minute investigation , the NCAA couldn't find any of the unmarked bills autograph brokers allegedly gave Johnny Autograph.
Manziel was suspended for half the Rice game. He promptly showed his remorse by flashing "air autographs" and getting a personal foul for taunting.
"That wasn't very smart. That's why he didn't go back in the game, either," coach Kevin Sumlin said. "You would hope at this point, you'd learn something from that."
It'll take more than a half-game slap on the fanny. Bryant certainly would have been up to the task. He had the original Johnny Football, a fellow who'd later become known for his love of blondes, Johnny Walker Red and the greatest guarantee in football history.
Bryant's trademark hat was a staple of his Alabama legend. (Photo: Getty Images)
Before Broadway, Joe Namath ruled Tuscaloosa. But when he went Manziel during the open week of 1963, Bryant suspended Namath for the season's final two games. If Sumlin dared to try such tough love he'd likely be run out of town by Texas A&M fans, the Sugar Bowl committee and CBS executives.
In case you haven't heard, the Aggies are playing Alabama this weekend. Manziel Mania is boldly going where no football craze has gone before. There's now a backlash against the backlash. A ESPN column spoke for many fans Tuesday when it decried the smug bashing of Johnny and pined for more characters like Brian Bosworth.
"They want to see maturity and class," it read.
Well, yeah.
Bad guys make great theater as long as all you have to do is watch them. Unless you want them to turn out like the Boz, enabling a jerk isn't doing them a favor.
Besides, Doug Flutie didn't have to do anything wild in his personal life for viewers to find him compelling. Manziel would be must-watch TV even if he'd spent his summer on a bed of nails in a Tibetan monastery. Or maybe running gassers in the scrubby heat of Junction, Texas.
Bryant's centennial provides a nice historical twist to this Saturday's game. Before he became a God in Tuscaloosa, he was a legend in College Station. Bryant had his flaws -- though back then, schools didn't get sued for refusing players water during training camp.
Bear drank and smoked too much -- but his teams had a code of conduct, and heaven help the players who broke it. They tip-toed around Bryant in fear and awe. Those who stuck with the program ended up revering him. None more than the kid from Beaver Falls, Pa.
Namath wasn't wearing mink coats when he showed up in Tuscaloosa, but there was more than a trace of early Manziel.
"He could think like a fox, run like a deer -- and drink like a fish," Playboy once wrote.
Bryant only approved of the first two. Namath was tearing it up his junior year when Bryant heard his quarterback had a few beers during an open weekend.
Namath didn't blame media scrutiny or (obviously) internet bullies. He didn't ask to be read his NCAA rights and lawyer up. He quietly accepted responsibility for breaking team rules and apologized.
"It'll hurt us, there's no doubt about that. Joe is a great football player," Bryant reportedly said at the time. "But I've never seen a one-man team. I certainly don't think ours is a one-man team."
There was no Twitter or 24-hour cable, but the news caused such a firestorm Namath moved out of the dorm and into a basement for a few days. It was Bryant's basement.
It would be tidy to say the whole experience turned Namath into Tim Tebow. History and Suzy Kolber say otherwise, though without Bryant's influence he might have really done crazy things -- like guarantee the Jets would beat Baltimore by 70 points in Super Bowl III.
If nothing else, it set a moral, classy tone for next season as Namath led Alabama to a national championship. And though he would sign the biggest contract in pro football history, he probably never once did the money-counting finger move Manziel has all but trademarked.
We'd love to hear what Bryant would have to say about Manziel's latest antics. (Photo: USA Today Sports Images)
"I don't guess anybody would think much of what Joe did nowadays, including myself," Bryant recalled in 1980, three years before his death. "But he was supposed to be a leader, so he had to live by the rules. It was the hardest thing I ever had to do, and it was to the greatest athlete I ever coached."
That sounds like what somebody born 100 years ago in a farmhouse outside of Moro Bottom, Ark., would say.
Happy Birthday, Bear.
Instead of getting a gift, he'd probably want to give one to Manziel.
A good kick in the butt.
Johnny Football would thank him for it someday.