Manny Ramirez Update, Pujols' First Day As An Angel & Molina's Contract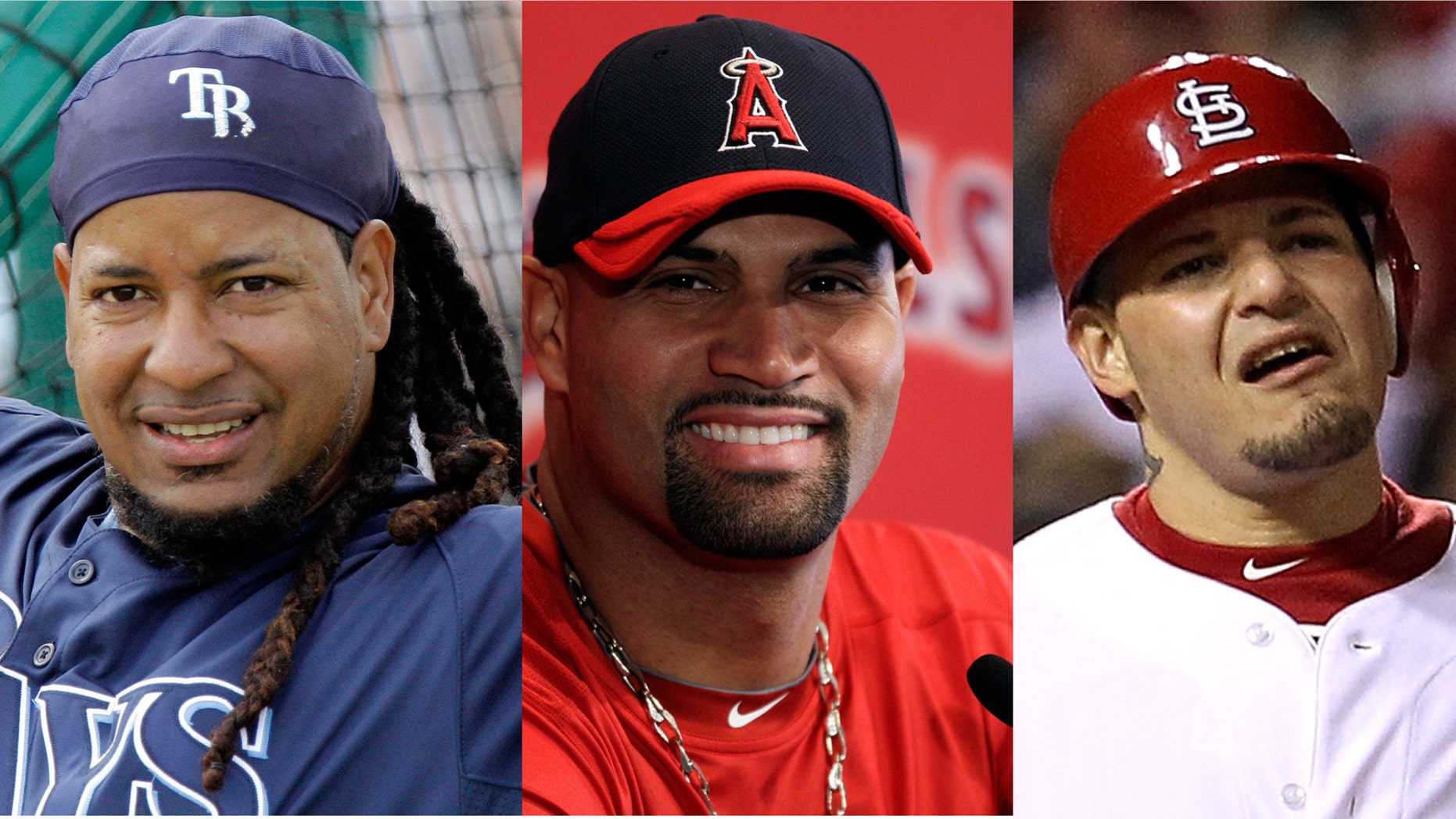 Manny Ramirez Update
Newly signed Oakland A's designated hitter Manny Ramirez is still going to have to sit out 50 games due to his suspension for testing positive for taking performance enhancing drugs but for the A's the situation is win-win.
Ramirez will show up before the end of the week for spring training and the contract is a minor league contract for $500,000.  Ramirez will participate as a non-roster invitee.
If Ramirez ends up being productive after the suspension the A's get that for a song and if he doesn't the A's get the publicity and lose little money.
Pujols Begins Career as an Angel
Yesterday, decked out in Angels' gear from head to toe, Albert Pujols looked like the same slugger he was in St. Louis.
With a halo-topped "A'' logo on his cap, Pujols sat behind a microphone and excitedly announced the start of a new stage of his career.
"Here I am," he said.
And here he goes.
Arriving yesterday morning and more than a week earlier than required, Pujols reported to training camp Monday with the Los Angeles Angels, who will pay the three-time NL MVP $240 million over the next 10 years to be the face of their franchise — and to hopefully bring them several World Series titles.
"I'm just really excited to be here, it feels good to be outside," Pujols said during a news conference held at a nearby luxury hotel. "I've been training for three months, hitting in a cage in St. Louis, and it feels good to be here for some spring baseball."
Meanwhile in St. Louis…
Pujols' departure from the St. Louis Cardinals is still having an effect on the old ball club, specifically their All-Star catcher Yadier Molina.
Four-time Gold Glove catcher Molina enters spring training this year a lifetime Cardinal seeking a long-term extension, just like Pujols a year ago. Molina is heading into the final year of his contract and he would like to stay in St. Louis.
But he emphasizes it's a two-way street. And it can't help matters that Pujols is now two time zones away.
"When you spend time for how many years, eight years, I feel Albert is like my big brother," Molina said. "When you see a guy going like he did last year, going to another team, yeah, it affected me."
Molina said Pujols is happy in Anaheim with the Angels, adding: "He likes it. He has to like it."
That's not to say Molina is unhappy in St. Louis, and that just because Pujols is gone he's got one foot out the door, too. Much was made of his absence from the team's annual Winter Warm up fan festival and his no-show at the White House with the rest of the world champions, that both were signals of his displeasure. Molina said he simply had other commitments.
"I'm sorry I didn't make it," he said, "but I had to stay home."
"I will say this: I like the town, I like the city, but at the same time I have to think about my family," Molina said.  "Like they would about their team. Like I said, this is business. If I get good money, I'll take it. If I don't, I'll go away."
Based on reporting by the Associated Press.
Follow us on twitter.com/foxnewslatino
Like us at facebook.com/foxnewslatino