Manny Pacquiao Sent to Hospital after Juan Manuel Marquez Bout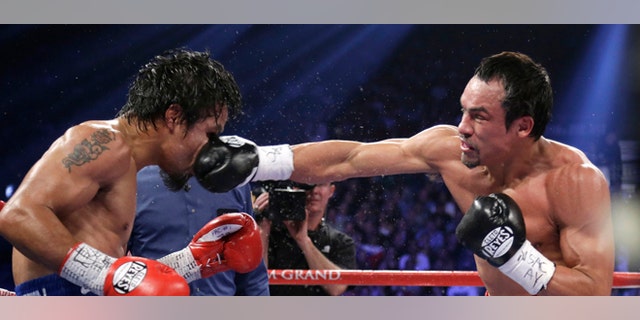 Las Vegas – If Juan Manuel Marquez was looking for redemption on Saturday night he got it. Brutal, bloody redemption.
Marquez took care of all of his business Saturday night with a thunderous right hand that left Manny Pacquiao face first on the canvas with his remarkable career in question.
Unable to win a decision in their first three fights, Marquez won the old-fashioned way with a huge right hand that put Pacquiao down for the second time in the fight at 2:59 of the sixth round.
Referee Kenny Bayless never bothered to count as Marquez leaped into his handlers' arms in celebration and Pacquiao's wife broke into tears at ringside.
"I threw a perfect punch," Marquez said. "I knew Manny could knock me out at any time."
I felt he was coming to knock me out the last three rounds and I knew he was going to be wide open.
It was a stunning end to a thrilling fight, the fourth one in the last eight years between the two men. It could also be the end of the Filipino's career, though he said in the ring afterward he would like to fight Marquez for a fifth time.
"If you give us a chance, we'll fight again," Pacquiao said. "I was just starting to feel confident and then I got careless."
Pacquiao had been down in the third round but knocked Marquez down in the fifth and the two were exchanging heavy blows in the sixth round before Marquez threw a right hand that flattened Pacquiao face down on the canvas.
"I thought I was getting him in the last couple of rounds but I got hit by a strong punch," Pacquiao said. "I never expected that punch."
Pacquiao was down for about two minutes before his handlers managed to get him up as Marquez celebrated and the sold-out crowd at the MGM erupted.
After being helped to his corner, Pacquiao sat on a stool, blew his nose and stared vacantly ahead as his handlers cut his gloves off. It was a stunning end to a furious fight, and Pacquiao was later taken to a hospital for precautionary examination.
"We always worked on that punch," Marquez said. "We knew he was going to come out aggressive so we had a fight plan that was more technical. We were able to capitalize on it."
Marquez had vowed to finally beat Pacquiao after losing two close fights and settling for a draw in the first fight. But after Pacquiao knocked him down in the fifth round and was landing big left hands, it looked like it would be Pacquiao's night.
The two came out for the sixth round and the pace was just as relentless. Both were landing big punches and both were brawling when suddenly as the round came to close Marquez shot out a right hand that landed flush to the jaw of Pacquiao, who crumpled to the canvas in a heap.
"I felt he was coming to knock me out the last three rounds and I knew he was going to be wide open," Marquez said.
It was the second loss in a row for Pacquiao, who dropped a decision to Timothy Bradley in June and who had vowed to regain his prominence in the ring.
Pacquiao was aggressive from the opening bell, but paid the price in the third round when he got caught by a Marquez right hand that put him down. Pacquiao got back up and seemingly took control of the fight, dropping Marquez in the fifth round and landing the bigger punches until he was dropped.
"I got hit by a punch I didn't see," Pacquiao said.
Pacquiao, who earned more than $20 million for the fight, was ahead 47-46 on all three scorecards after the fifth round.
There was no title at stake in the 147-pound fight, but that didn't stop 16,348 fans from filling the MGM Grand Arena and roaring in unison from the opening bell as the two fighters went after each other.
Ringside punching stats underscored the ferocity of the bout, showing Pacquiao landing 94 of 256 punches to 52 of 246 for Marquez. But it was the one big right hand from Marquez that counted more than anything, knocking Pacquiao out for the first time in a career that goes back 17 years.
"He was in charge," Pacquiao's trainer, Freddie Roach said. "He just got a little too careless and got hit with a punch he didn't see."
Promoter Bob Arum immediately said he could see a fifth fight between the two boxers, and a dazed Pacquiao seemed to agree.
"Why not?" he said.
Pacquiao weighed the class limit of 147 pounds, but it was Marquez who looked like the stronger fighter entering the ring after having bulked up with the help of a strength conditioner, though he weighed in at 143 pounds. In their earlier fights, Pacquiao had been the bigger puncher, knocking Marquez down a total of four times, but on this night it was Marquez who had the biggest punch.
The stunning knockout was the first real loss by Pacquiao in seven years. He lost a close decision to Bradley in his last fight, but most ringside observers believed he had won it fairly convincingly.
Marquez improved to 55-6-1 with 40 knockouts, while Pacquiao fell to 54-5-2.
Based on reporting by the Associated Press.
Follow us on twitter.com/foxnewslatino
Like us at facebook.com/foxnewslatino