Mandel's Top 10: LSU makes huge jump to No. 2 and here's why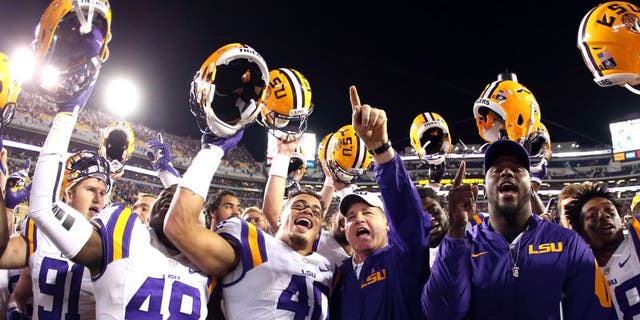 NEWYou can now listen to Fox News articles!
Editor's note: Each week, Stewart Mandel and Bruce Feldman will break down their top 10 teams based on the most recent slate of games. Here are Mandel's rankings after Week 7 (Also: Feldman's Top 10):
There were no real upsets among the primary contenders, just some wild endings and statement performances. Here's where my Top 10 stands at the midpoint of the season.
1. Utah (6-0). The Utes on Saturday beat their fifth opponent that currently holds a winning record. Once again, they did it with defense, holding Arizona State to just 257 yards and 3.7 yards per play in a 34-18 win.
2. LSU (6-0). My biggest holdup about LSU was its passing game, but QB Brandon Harris was superb in Saturday night's 35-28 win over undefeated Florida, going 13-of-19 for 202 yards, two touchdowns and no picks.
3. Baylor (6-0). I'm finally bumping the Bears above TCU because it's becoming clear they're a better defensive team than the Frogs. That, and they just tied an FBS record with their fifth straight 60-plus point outing.
4. Clemson (7-0). The Tigers put up 34 points and 532 yards on a Boston College defense that came in allowing an average 7.2 points and 140.3 yards per game. Credit to QB Deshaun Watson, who tossed for 420 yards.
5. Ohio State (7-0). It took seven games to finally feel comfortable with the Buckeyes' offense, which found its groove against a tough Penn State defense thanks in large part to J.T. Barrett taking the reins at quarterback.
6. TCU (7-0). Playing its third road game in four weeks, TCU allowed 21 first-quarter points to Iowa State before pitching a shutout the rest of the way. QB Trevone Boykin was superb yet again, racking up 510 total yards.
7. Michigan State (7-0). It took the craziest play in recent years to secure the win, but the injury-riddled Spartans went to the Big House and scored three offensive TDs on a Michigan D coming off three straight shutouts.
8. Alabama (6-1). Derrick Henry can still overpower people, but the Tide's impressive 41-23 win at Texas A&M showed their continued improvement both at quarterback (where Jake Coker has been more consistent) and in the secondary (which had three pick-sixes).
9. Florida State (6-0). Halfway through the season, the 'Noles have yet to throw an interception and have lost just one fumble. That's impressive. They also haven't yet beaten a Top 25-caliber foe, which is keeping me from elevating them much higher.
10. Stanford (5-1). The Cardinal offense, led by prolific RB Christian McCaffrey, is on fire. Stanford's 56-35 rout of UCLA moved it to 4-0 in the Pac-12, a string of games in which it's averaged 48.5 points per game.
Stewart Mandel is a senior college sports columnist for FOXSports.com. He covered college football and basketball for 15 years at Sports Illustrated. You can follow him on Twitter @slmandel and Facebook. Send emails and Mailbag questions to Stewart.Mandel@fox.com.