Mandel's Top 10: Good news & bad for defending champ Ohio State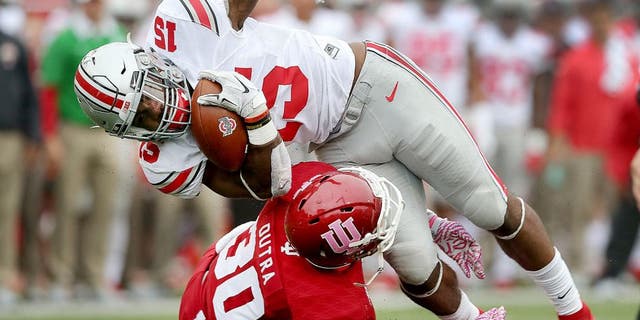 NEWYou can now listen to Fox News articles!
What bad luck that we picked this of all weeks to begin publishing my FOX Four ballot. My No. 1 (UCLA) and No. 2 (Ole Miss) teams from last week lost, and frankly, I don't have much confidence right now in last week's No. 3 (Ohio State) either. So let's just blow this thing up and start over.
1. Utah (4-0): A week later, I'm still in awe of the Utes' 62-20 clinic at Oregon, and that Week 1 win over Michigan looks better every week. The Utes can add to that resume further next week against 5-0 Cal.
2. Texas A&M (5-0): The Aggies continue to take care of business, adding a 30-17 win over Mississippi State. QB Kyle Allen is emerging as one of the nation's best, and Myles Garrett and the defense continue to impress.
3. TCU (5-0): The Horned Frogs shook off last week's defensive debacle against Texas Tech and demolished poor Texas 50-7. The performance restored some confidence for me in that injury-ravaged defense.
4. Baylor (4-0): Yep, the Baylor offense is still the Baylor offense. Not only is QB Seth Russell performing at a very high level, but RB Shock Linwood went off for 221 yards on 20 carries in a 63-35 rout of Texas Tech.
5. Florida (5-0): The Gators are gaining steam by the week. Having squeaked by its previous three foes, they romped a good Ole Miss team, 38-10. QB Will Grier (24-of-29, 271 yards, four TDs) is a budding star.
6. Oklahoma (4-0): The Sooners' defense shined against a formidable West Virginia offense, notching seven sacks and forcing five turnovers in a 44-24 rout. The Big 12 no longer revolves solely around TCU-Baylor.
7. Clemson (4-0): The Tigers' defense could not have been more dominant for much of their 24-22 win over Notre Dame. The Irish did nearly mount a comeback, but Clemson's offense didn't exactly help the defense.
8. Ohio State (5-0): The good news for Buckeyes fans is, Ezekiel Elliott is back. He exploded for 274 yards and three touchdowns against Indiana, and yet somehow the Hoosiers still took OSU right down to the wire.
9. Northwestern (5-0): The Wildcats' defense has been unbelievable. Following a 27-0 shutout of Minnesota, Northwestern has allowed three touchdowns in five games, which includes a 16-6 win over Stanford.
10. Michigan State (5-0): The Spartans have struggled recently, including Saturday against Purdue, but at least they remain unblemished. They still deserve the last spot here over one-loss teams Ole Miss and Alabama.
Stewart Mandel is a senior college sports columnist for FOXSports.com. He covered college football and basketball for 15 years at Sports Illustrated. You can follow him on Twitter @slmandel and Facebook. Send emails and Mailbag questions to Stewart.Mandel@fox.com.