Mandel's Top 10: Florida keeps surprising and rising up the ranks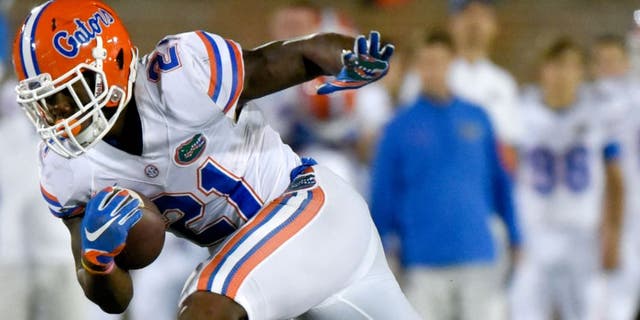 NEWYou can now listen to Fox News articles!
Editor's note: Each week, Stewart Mandel and Bruce Feldman will break down their top-10 teams based on the most recent slate of games. Here is Mandel's rankings after Week 6 (and click here for Feldman's):
The real selection committee's official charge is to select the "best four teams," but I couldn't tell you right now that anybody's definitively "best" at anything this season. All I know is that Utah -- with wins over two 5-1 Power 5 foes (Michigan and Cal) -- possesses the best resume in the country.
1. Utah (5-0). The Utes' offense was sloppy against Cal but their defense relentlessly hounded star Bears QB Jared Goff, who wound up throwing five picks. And hey, how's that Week 1 Michigan win looking now?
2. Florida (6-0). The season's biggest surprise story continued with a dominating 21-3 win at 4-1 Missouri. The Gators are already 4-0 in the SEC, and they've allowed just 12.3 points per game in those contests.
3. TCU (6-0). I don't dock teams for close road wins. Thanks to Trevone Boykin and Josh Doctson, the Frogs have now survived two dramatic shootouts (at Texas Tech and at Kansas State) in Big 12 play.
4. Baylor (5-0). Another year, another ridiculous Baylor offense and another tough time gauging the Bears because their schedule is so back-loaded. The Bears put up 52 first-half points against woeful Kansas in a 66-7 win.
5. Clemson (5-0). I like that the Tigers showed not even a hint of a hangover from last week's big Notre Dame win in crushing Georgia Tech 43-24. It appears the ACC will once again hinge on Florida State-Clemson.
6. Texas A&M (5-0). We'll find out if the Aggies are for real this week when they host a vulnerable Alabama team. A&M will likely need a more productive rushing attack than they've showed to this point.
7. Ohio State (6-0). Nitpick the Buckeyes all you want, they're still 6-0 and, after a slow start, beat visiting Maryland by three touchdowns. Urban Meyer is now using J.T. Barrett as a situational red-zone quarterback.
8. Michigan (5-1). Given the Wolverines' lone loss was to Utah, I have no problem putting them this high. No team in 20 years had pitched three consecutive shutouts prior to their 38-0 rout of 5-0 Northwestern.
9. Florida State (5-0). QB Everett Golson had a good night against Miami. He's yet to throw an interception. And of course, RB Dalvin Cook is producing at an All-America level. His 23-yard touchdown saved the day.
10. LSU (5-0). The Tigers have really only played one substantive opponent, Mississippi State way back in their opener, but it's hard to argue with that rushing attack and defense. Florida comes to town next week.
Stewart Mandel is a senior college sports columnist for FOXSports.com. He covered college football and basketball for 15 years at Sports Illustrated. You can follow him on Twitter @slmandel and Facebook. Send emails and Mailbag questions to Stewart.Mandel@fox.com.