Mandel's Heisman Top 5: Rosen, Zaire look near-flawless in Week 1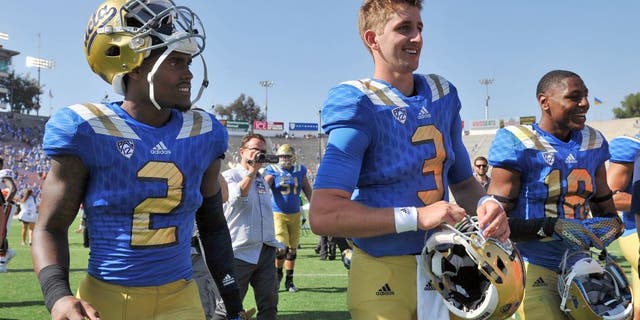 I'm going to be updating my Heisman Top 5 every Saturday night this season, so here's fair warning about my approach. Simply put, I start from scratch every week.
Case in point, I made TCU's Trevone Boykin my preseason favorite, and he could very well win. I wasn't troubled by his modest production in Thursday night's opener against Minnesota. But he was not one of the five best players of opening weekend, so he's not on my Week 1 ballot. (Nor are any of Ohio State's stars because, well, they haven't played yet.)
Here's who is:
1) Josh Rosen, QB, UCLA: True freshman or fifth-year senior, you couldn't ask for a much better first start than the 18-year-old had Saturday against Virginia. Rosen went 28 of 35 for 351 yards, three touchdowns and no picks -- and man, does he have a laser. Yes, Virginia is a mediocre team, but it's a Power 5 foe and is actually expected to be decent defensively.
2) Malik Zaire, QB, Notre Dame: Making his second career start, the sophomore was near-flawless against Texas, finishing 19 of 22 for 313 yards, three TDs and no interceptions. He appeared to make all the right reads, protected the ball, worked the Longhorns underneath and burned them deep (with a 66-yard touchdown strike to Will Fuller).
3) Myles Garrett, DE, Texas A&M: It's going to take a truly epic season for a defensive lineman to win the Heisman, but Garrett may be the sport's most dominant since 2009 finalist Ndamukong Suh. He was essentially unblockable in the Aggies' 38-17 win over Arizona State, posting two sacks, a tackle for loss, a forced fumble and numerous hurries, creating opportuntiies for fellow pass rushers Daeshon Hall and Donovan Wilson.
4) Derrick Henry, RB, Alabama: New year, different bellcow for the Crimson Tide. With T.J. Yeldon off to the NFL, Henry slid into the starting tailback job Saturday against Wisconsin and immediately reminded us what a powerful runner he is. He plowed through the line on fourth-and-1 for a 37-yard touchdown, added a 56-yard score later and finished with 147 yards and three touchdowns on just 13 carries.
5) Royce Freeman, RB, Oregon: Quarterback Vernon Adams Jr. made his own sensational debut against former school Eastern Washington, but let's not forget the standout sophomore behind him. Freeman ran 21 times for 180 yards and three touchdowns. We'll find out soon enough whether he and/or Adams have staying power when they visit Michigan State next week.