Manchester United team bus 'smashed up' en route to game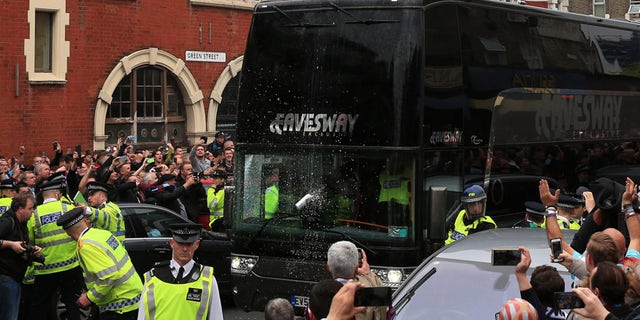 NEWYou can now listen to Fox News articles!
West Ham's final game at the Boleyn Ground has been delayed after Manchester United's team bus was attacked.
Manchester United's squad arrived at Upton Park an hour late, resulting in a delayed kick off of 45 minutes.
Their bus was hemmed in by home fans gathering outside the stadium for West Ham's last game before the club moves to the Olympic Stadium.
It arrived later than anticipated and was stopped around 100 yards from the ground by the fans.
Bottles and other missiles were thrown by supporters, breaking and damaging the coach's tinted windows.
Police boarded the coach after it became trapped.
Video footage showed pieces of the bus falling from its sides as objects were thrown, with many filming the scenes on their phones.
Captain Wayne Rooney said the coach "got smashed up" on the way into the ground.
He told Sky Sports: "It wasn't nice ... I'm sure you'll see the images. It's not for me to say, but it was disappointing of course.
"It's a big night for West Ham, but I'm sure West Ham as a club will be disappointed with what the fans have done."
The Metropolitan Police said that one officer and a member of the public had sustained minor injuries.
A police statement said: "We are aware that a number of items were thrown towards Manchester United's coach this evening, Tuesday, 10 May.
"There have been no arrests. An appropriate policing plan is in place."
Louis Van Gaal, Manchester United's manager, said: "It is not so nice. The way we have been received is not the proper way, of course.
"That makes all the influence on the players and that is a pity."
Manchester United's club secretary requested the delay to allow for the players to fully prepare for the match, pushing kick off back to 8.30pm.
West Ham's co-chairman David Sullivan said he was "gravely disappointed" for fans who would have to leave before the planned after-match show had finished.
He said: "Man United should have got here at 4pm. They know it's our last game.
"They had the same problem at Tottenham a few weeks ago.
"I think the police and officials have been kind. I'd make them kick-off at 7.45pm if I was in charge."