Manchester United invites Thai soccer team to visit them in UK this coming season
Manchester United on Tuesday invited the newly rescued Thai youth soccer team, along with their rescuers, to travel to England to see an upcoming match.
The youth team, known as the Wild Boars, had been trapped for 17 days in an underground cave system, until being freed this week.
Thai navy SEALS had extracted all 12 boys and their coach by Tuesday in an intricate operation that spanned several days as the world held its breath.
"Our thoughts and prayers are with those affected," the team's Twitter account said. "We would love to welcome the team from Wild Boars Football Club and their rescuers to Old Trafford this coming season."
The 13-time Premier League champions are apparently very popular in Thailand, with 135,000 "friends" on the local fan club's Facebook page.
Other stars in the soccer world also expressed their relief after the Thai team's rescue.
English national team fullback Kyle Walker, who also plays for United's crosstown rival Manchester City, called the team's rescue "amazing news" and wanted to send jerseys to the players.
Paul Pogba, a midfielder with Manchester United and the France national team, dedicated Tuesday's French victory over Belgium in the World Cup semifinals to the boys.
The international soccer federation, FIFA, had already invited the boys to attend the World Cup final in Russia this Sunday. However, doctors now treating the boys in a hospital have said it would be too soon for them to make the trip, and expected to keep the boys under observation for at least a week.
The boys' families were being kept at a distance at a hospital because of fears of infection and the emaciated-looking boys were eating a rice-based porridge because they were still too weak to take regular food, authorities said.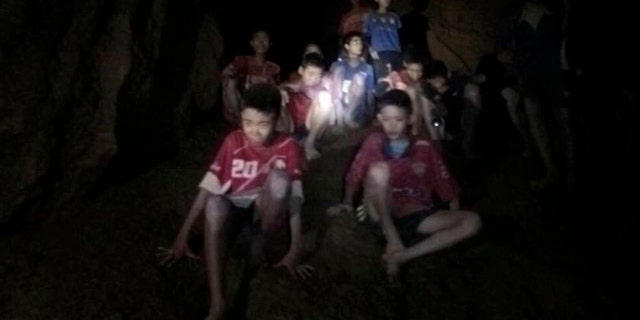 The parents of the first group of boys rescued on Sunday have visited their children through glass windows, as doctors continue to keep them "isolated" as they ensure they are healthy.
The plight of the boys, aged 11-16, and their coach, has riveted Thailand and much of the world -- from the heart-sinking news they were missing to the first flickering video of the huddle of anxious yet smiling boys once they were found by the pair of British divers deep in the sprawling cave.
"We did something nobody thought possible," said Chiang Rai Gov. Narongsak Osatanakorn during a news briefing once the rescue was complete.
Fox News' Edmund DeMarche and Travis Fedschun and the Associated Press contributed to this report.