Manchester United are a lot better than you think, and will only get better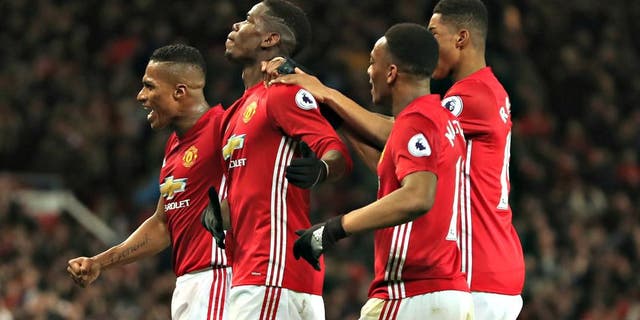 Every year, Manchester United are expected to challengefor the league title andcompeteinChampions League. That's just the standard at Old Trafford. That standard hasn't been upheld since Sir Alex Ferguson retired in 2013, with David Moyes and Louis Van Gaal both failing to bring success, and this year, by all typical measures,United have failed. They're currently sitting in fifth in the league, and they weren't even inChampions League from the start, so right now, they're 0-for-2 on those expectations. They still have the opportunity to compete in Champions League next year, but their best chance to achieve that isn't even by finishing in the top four: it's by winning Europa League.
So this season is a failure. Right?
And Manchester United are underwhelming again, right?
Not quite.
Hidden beneath fifth place and the ignominy of Europa League optimism is a Red Devils team that is unquestionably better than any one since Ferguson's departure.
And their results? Those too might outstrip any since Sir Alex waved goodbye.
United have a legitimate chance at winning Europa League, which would sit alongside their League Cup title and make for their first double in eight years. Plus, they still have plenty of opportunity to finish the season strong and break into the top four. Third place is even very much possible, which would be their best finish of the post-Ferguson era.
So if you want to simplify things and make it solely about results, it's pretty difficult to argue this isn't their best campaign of the last four years. But it's not simply about results. Because they're still in fifth place, so to stand and beat the Red Devils drum in April takes more than just trophies and results. It takes vastly improved play indicative of a team demonstrably better than the ones that preceded it.
When they've been on this year, United have been one of the league's very best teams to watch. They've moved on from the trudging, unimaginative soccer they were playing under Van Gaal, Moyes, and at the beginning of Mourinho's tenure, and they've started to string together some legitimately quality performances. They've done it against the best teams too, putting in some of their best showings in matches against the likes of Spurs, Liverpool, and Chelsea throughout the year. Their xG shows as much, with the numbers supportingUnited as one amongst the league's best in terms of creating quality chances.
United have been as relatively solid in defense as you'd expect a Mourinho team to be. The problem has been their lack of quality in front of goal, and only Zlatan himself has hit double digit strikesin the league. The next closest marksman is Juan Mata, with six goals. Marcus Rashford and Anthony Martial are still coming along, while Henrikh Mkhitaryanhasn't quite figured it out.
Since the season has started, United have suffered from incredibly poor goalscoring efficiency. They haven't finished well on a regular basis all year, and expected goals maps for United regularly looked like this:
And some of that does come down to terrible luck. United have hit the woodwork a cool 18 times this season, more than any other team but Tottenham (with 20), and interestingly enough, Manchester City, who have clanked the woodwork just as many times as the Red Devils. A good deal of that has been just pure old fashioned bad finishing, as evidenced by the rest of the team's awful goal tally, but it's also been a fair bit of legitimate misfortune in front of the net. Plenty of clear-cut chances have been spurned this year, but United have also seen a number of goalkeepers put in the performance of their life against the Red Devils.
The encouraging sign for United is that they're finally creating the chances, and it finally looks as if they've made a marked improvement from the Moyes and Van Gaal years. Players like Mkhitaryan, Mata and Pogba aren't likely to keep missing chances forever, but the fact that Mourinho's finally gotten his team to play effective, attacking soccer on a regular basis is promising in and of itself.
United have already won two trophies this year, and they're on track for the Europa League as well. They could still make the top four yet, and if they make it into Champions League, there's no other argument but to call this season a success. Expectations at Manchester United are higher than the top four and the Europa League, but the expectations also don't factor in a fourth manager in five years, a rebuilt spine and the necessity of depending on clinical finishing from youngsters like Rashford and Martial. They also don't take into account a Premier League that has more depth at the top than ever before.It's hard to imagine this Manchester United team, even with their poor finishing and bad luck, not finishing at least third place last season.
Looking forward, Manchester United are looking at a settled team that won't need a complete overhaul of the spine, as was the case this season. The squad will also have rare managerial stability and their kids will be a little older. Toss in a transfer or two and Manchester United are primed to be in a title race a year from now. If they finish the season as expected, they'll be back in the Champions League, too.
In the meantime, they're an improving team that has a view at a second trophy, not to mention a top four finish. Not bad for a team that has dealt with more bad luck than they could have expected. Manchester United are good -- much better than fifth place and the Europa League chase would tell you.
Getty Images | AMA Sports Photo Agency