Manchester City's Zabaleta out for a month with knee injury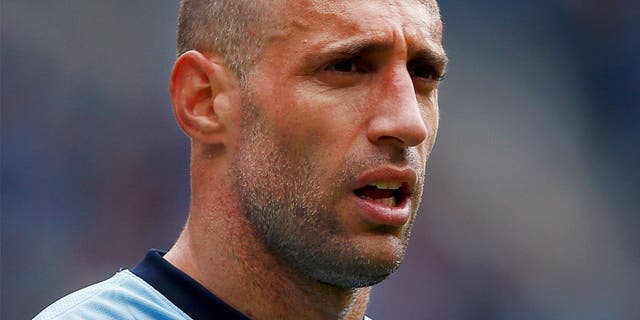 Man City full-back Pablo Zabaleta could be out for up to a month after picking up a knee injury in training, Manuel Pellegrini has revealed.
Zabaleta is hoping to be fit in time for the start of Manchester City's Champions League campaign in mid-September, but Bacary Sagna is likely to be the only available established right-back until then. City manager Pellegrini said on Friday: "Pablo Zabaleta yesterday had a problem in his knee with his ligaments, so he will be out for around one month."
And Zabaleta, who has yet to start a match this season, told the Manchester City website: "It [knee injury] happened in training. It is the first time in 12 years of senior football that I have ever been injured like this so it is a blow, especially at the start of the season."
Zabaleta could miss the next six games, but defender Gael Clichy and midfielder Fabian Delph are both back in training, although they may not be ready for Sunday's Premier League match at Everton. City go into the weekend top of the Premier League table on goal difference, after winning both of their first two matches 3-0.