Manchester City Wins First English Title in 44 Years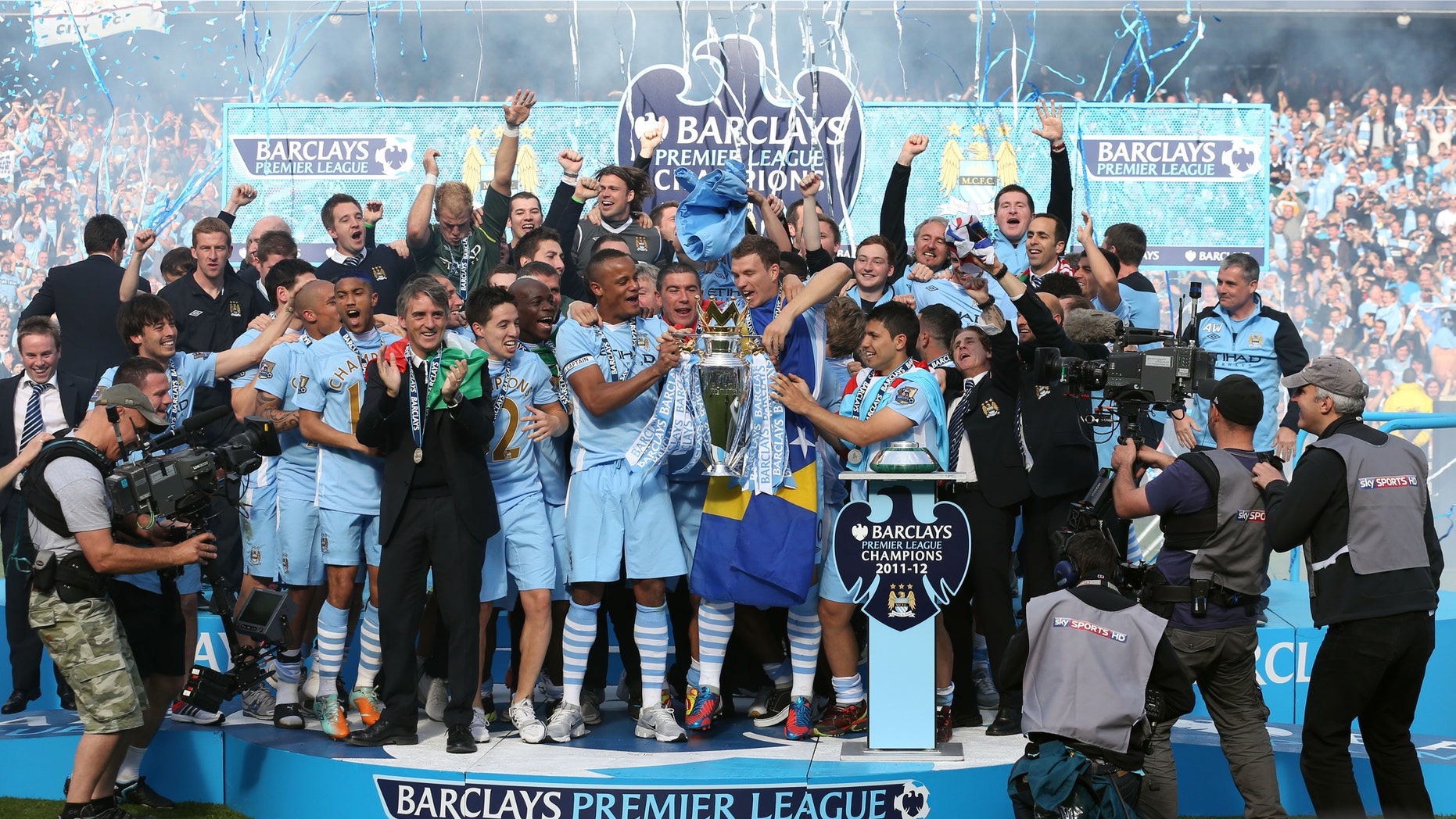 MANCHESTER, England – It was an unexpected victory. In the closing moments of the Premier League's most dramatic season, Manchester City had just enough time for one final, breathtaking twist.
With the club's title hopes fading by the second, its anguished fans in disbelief in the stands, relegation-threatened Queens Park Rangers clung to a one-goal lead after 90 minutes. City then threw all its attacking might forward to produce one of English soccer's greatest comebacks.
Edin Dzeko and Sergio Aguero scored during injury time in a 3-2 victory that gave City its first league title since 1968. City finished ahead of crosstown rival Manchester United on goal difference.
"It's a crazy finish for a crazy season," City manager Roberto Mancini said. "I've never seen a final like this."
No one had.
After a season in which the title race shifted back and forth between the Manchester clubs, City appeared to have thrown it all away on the final day. It let 10-man QPR rally from a goal down to take the lead in the second half while United completed a 1-0 victory at Sunderland.
But Dzeko headed in a tying goal in the second minute of stoppage time to give City fans hope. Aguero then clinched the title when he slalomed through the QPR defense and blasted the ball into the net. As Mancini raised his hands and ran along the sideline, Aguero — the son-in-law of Diego Maradona — tore his shirt off in jubilation before he was mobbed by teammates.
"He was crying on the floor," City captain Vincent Kompany said. "All the guys were pouring their eyes out. You don't see strong personalities like that showing their emotion so often."
Moments earlier, United completed its victory at Sunderland and was lingering on the field in northeast England, waiting for the final result of the City game and ready to start celebrating title No. 20.
Instead, a party 44 years in the making burst into life back in the blue half of Manchester as fans flooded the City field and exploded blue smoke canisters.
"Miracles do happen in Manchester," Kompany said. "This time it's on this side of the road."
Now United — on the other side of the road — will have to live with the fact that the club once dismissed by manager Alex Ferguson as a "noisy neighbor" is now a serious threat to its supremacy.
"I'd like to say, on behalf of Manchester United, congratulations to our neighbors — a fantastic achievement to win the Premier League," Ferguson said.
United had won 19 titles since City last won the English championship for just the second time in 1968. City has since had to climb back into the Premier League from the depths of the third tier in 1999. But it became a credible title challenger after a takeover by Abu Dhabi's Sheikh Mansour, who has invested more than $1 billion into the club over three years hoping to build a powerhouse.
"It was really important to start winning this championship," Mancini said. "Manchester City can have a big future now."
City rose to the summit after overturning an eight-point lead United held five weeks ago.
"We didn't deserve to lose, we had a lot of chances and we deserved to win the game and championship," Mancini said. "It's fantastic for the club and the supporters after 44 years."
It was the first time the English title was decided in such tense circumstances since 1989. Arsenal and Liverpool had the same number of points and same goal difference, but Arsenal won the title on total goals.
"I never stopped believing," Kompany said. "When Edin scored that goal, it reminded me of so many other moments during the season when we've done this before. There was no reason not to believe."
QPR entered the game having lost six straight on the road and with the worst road record in the league. Yet City struggled to break down an opponent that had been facing relegation but survived in the top tier.
The QPR net was finally breached in the 39th minute when goalkeeper Paddy Kenny flapped at Pablo Zabaleta's shot while on his knees and palmed the ball over himself into the net. A blunder by City then nearly led to them throwing away the title.
Joleon Lescott went to make a simple headed clearance. Instead, he knocked the ball backward and Djibril Cisse seized on the defender's mistake by driving a shot past Joe Hart.
City's task seemed to be made easier when former player Joey Barton lost his cool and threw an elbow at Carlos Tevez as a cross came into the penalty area from Zabaleta. The QPR captain was seething after receiving a red card and kneed Aguero as he left the field. Both sides had to placate the raging player, who was dragged to the sideline.
Despite City enjoying the man advantage, QPR went in front on a rare counterattack. Armand Traore was given space to go down the left flank. Hen then picked out unmarked Jamie Mackie in the penalty area and he sent a downward header past Hart in the 66th.
Half an hour later, though, City emerged as 3-2 winners and champions of England.
"When we were losing 2-1, I thought, 'We'll score one goal and we're still going to lose,'" Zabaleta said. "I don't want to wake up from this. You just look at the players and the fans, everybody deserves this.
"The most important thing for any team is when you believe. If you believe in yourself you win. We believed until the last minute."
In Sunderland, United's players left the field stunned by what had unfolded. Fans stood with hands on heads in bewildered silence.
"It's a cruel way (to lose the title)," Ferguson said. "We've experienced many ups and downs in the 25 years I've been here, most of them have been great. We've won the title three times on the last day; today we nearly did it."
Based on reporting by the Associated Press.
Follow us on twitter.com/foxnewslatino
Like us at facebook.com/foxnewslatino