Manager blames UFC for not making Conor McGregor fight Frankie Edgar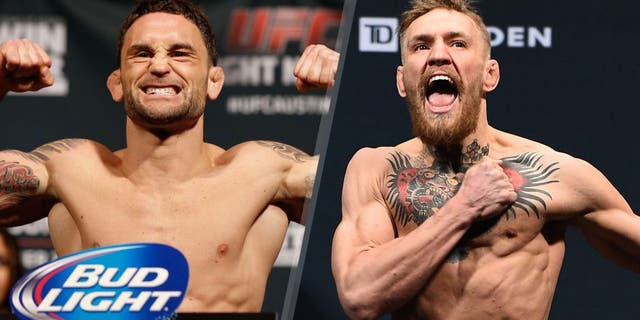 Conor McGregor is expected to return to action at UFC 200 against Nate Diaz and that leaves featherweight contender Frankie Edgar sitting on the sidelines once again instead of fighting for the title as he was promised last December.
Edgar knocked out Chad Mendes in the first round at "The Ultimate Fighter" finale one night before McGregor finished former champion Jose Aldo in just 13 seconds. It appeared the two fighters were destined to meet, but then McGregor opted to move to lightweight to challenge for that title instead.
McGregor never got the chance to fight for the 155 pound title after Rafael dos Anjos suffered an injury and he ultimately fell by submission to Diaz at UFC 196 after he accepted the bout on short notice.
Now with a rematch imminent for the UFC's biggest card of the year, Edgar's manager Ali Abdel-Aziz is voicing his anger about the entire situation and how his client is getting passed over time after time while McGregor fights everyone but the top ranked featherweight contender.
"When history speaks for itself, Frankie Edgar will go down as the guy who fought anyone at any weight, any time, and anywhere. But when history speaks for Conor McGregor, he was a UFC champion who hand picked his opponents and chose a guys out of shape to fight him and he ducked Frankie," Abdel-Aziz wrote on Instagram.
It appeared Edgar was a lock to get the fight with McGregor after he was submitted by Diaz just a few weeks ago in his first attempt to move up two weight classes after winning the featherweight title last December.
Even UFC president Dana White acknowledged that a majority of fans had been clamoring to see the long awaited fight between McGregor and Edgar, but as of now it appears that fight is no longer on the radar.
Abdel-Aziz says he agreed with White's original assessment that the majority of fans want to see Edgar challenge McGregor for the belt, yet it's still not happening.
"Every media member I talked to, a majority of the fans wants to see Edgar vs MCgregor but Conor's coaches since he lost to Nate Diaz for every interview they talk about everyone else except for Frankie," Abdel-Aziz said.
As much as Abdel-Aziz wants to lay the blame at the front doorstep of the Irish champion, he also puts the onus back on the UFC for not putting to make the fight between McGregor and Edgar happen.
"At this point I'm blaming the UFC for not making this fight happen because I think it's really up to them and they can make Conor fight Frankie," Abdel-Aziz said. "I'm done with this. It's been a miserable last 4 months talking and negotiating getting this fight to happen but now I realize the only person who needs to step up and say he wants to fight Frankie is Conor.
"But I don't believe he wants to because he and everyone else knows that Frankie would whoop his ass. I have zero respect for a champion who ducks contenders and that's that."