Man, this Utah-BYU rivalry is really out of control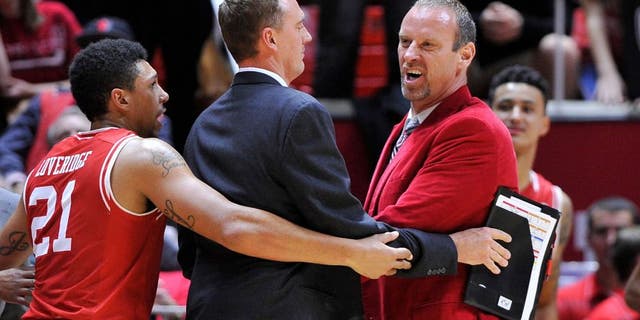 Every one of you so-called rivalries is being left in the dust by Utah and BYU.
Just a few weeks after their football teams met in a bowl matchup that featured players hurling insults at each other during a welcome dinner, BYU announced Wednesday that Utah is canceling the schools' regularly scheduled basketball game for next season.
Why? Because of ugly altercations in two of their past three meetings, including just this past month. Near the end of a Dec. 2 loss to the Utes, BYU's Nick Emery threw a punch at Utah's Brandon Taylor. There was also a flagrant foul committed by a BYU player in their 2013 contest that led to an ejection.
So that all makes Utes coach Larry Krystkowiak a little uneasy about playing the Cougars anymore. From his statement:
Feeling there is a "potential for serious injury" is certainly worthy of concern, but BYU coach Dave Rose was none too pleased at Utah's decision, hinting at overreaction and a breach of contract. From the Salt Lake Tribune:
A punch, a nasty bowl game and an abrupt cancellation of a game is a pretty busy month for any rivalry. For all you big-school fans thumbing your noses at this cute little animosity -- fueled by a combination of religious affiliations, the close proximity of the schools and over 100 years of history -- it's clearly no joke. Only one other thing has ever caused an interruption to their basketball series, active since 1909, and that's World War II. They also call their annual football meetings the "Holy War." So you know they don't take this lightly.
That bowl game, by the way, was pretty crazy in its own right -- Utah jumped out to a 35-0 lead before hanging on to win 35-28. The built-up tension between the schools helped fuel a secondary ticket market that was second only to the Rose Bowl and national championship game in average price.
Here's hoping everyone can get comfortable again so that all the best parts of what has become one of the most intriguing rivalries in college sports can once again take the spotlight.