Maldonado hits cover off baseball in Brewers win over Pirates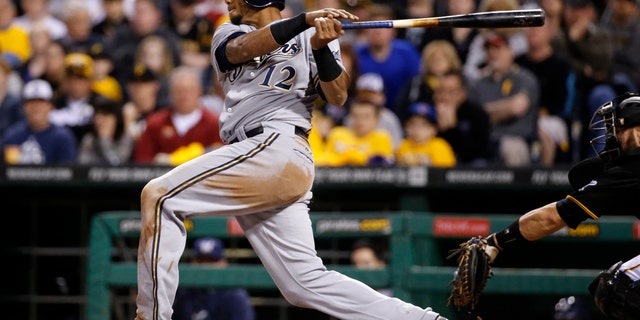 PITTSBURGH – Though it wasn't a clean effort, it was a win for the Milwaukee Brewers, and they'll take it.
Kyle Lohse pitched effectively into the seventh inning, Carlos Gomez homered and the Milwaukee Brewers beat the Pittsburgh Pirates 5-3 Friday night.
Lohse (3-1) improved to 11-2 in his career against the Pirates, allowing one earned run in a win against them for the second time in six days.
"It wasn't pretty, but they all count the same," said Lohse, who was charged with three runs — two unearned — and four hits with three walks with five strikeouts. "Sometimes, you get a win that's ugly, sometimes you've got to catch some breaks and sometimes you've got to grind it out in key situations and find a way to win."
Gomez homered deep to center to lead off the fifth and added an RBI single an inning later as the Brewers rallied from an early two-run deficit.
Four Brewers errors came during the first, third and seventh — and the Pirates scored a run during each of those innings. But Pittsburgh left 11 men on base, including the bases loaded twice.
"We just weren't able to get that at bat when we needed it tonight," Pirates manager Clint Hurdle said. "Repeatedly."
Charlie Morton (0-2) allowed five runs and eight hits in six innings while losing to Lohse for the second time this week. Russell Martin had two hits and two RBIs for the Pirates, who have lost six of eight.
Four Milwaukee relievers combined to allow five baserunners in 2 2-3 innings but did not allow any runs while stranding six. Francisco Rodriguez worked the ninth for his fifth save in five opportunities.
Lohse's fifth pitch of the game was put in play by Starling Marte — seemingly for a routine pop-up near the pitcher's mound. But third baseman Aramis Ramirez and first baseman Mark Reynolds collided. It was originally inexplicably ruled a single until later changed by official scorer Evan Pattak to an error on Reynolds.
That wasn't even close to the most memorable wacky play of the game. That came in the sixth inning, when Maldonado literally hit the cover off the ball in what will be one of the more peculiar plays of the season.
Maldonado grounded to third, where Alvarez fielded a ball that's cover had partially ripped off. Alvarez threw the flapping, awkwardly floating ball toward first, but it fell well short of the bag, giving Maldonado an infield single.
"I said to Hurdle, 'You see something new every day, huh?," Lohse said. "He kind of chuckled."
Asked if he'd seen it before, Hurdle said flatly, "Never. Never. Ever."
"It was just one of those games," Brewers manager Ron Roenicke said. "Goofy stuff happened early — then goofy stuff happened when Maldy hit the cover off the ball. I've never seen that before. We got a run because of it. I don't know. Just a strange game. Hard to explain."
After not getting a runner past first base in their first three innings against Morton, the Brewers got a two-run double from Scooter Gennett and an RBI single from Maldonado in thr fourth to take a lead they didn't relinquish.
A day after scoring nine runs in the seventh and eighth innings, the Pirates pulled to 5-3 in the seventh on Andrew McCutchen's RBI double, but Will Smith came on and struck out cleanup hitter Pedro Alvarez with runners on second and third to end the inning.
The Pirates loaded the bases in the eighth, but Jim Henderson got Starling Marte to pop out to end the threat.