Making the Grade: Passes/Fails from UFC 195: Lawler vs. Condit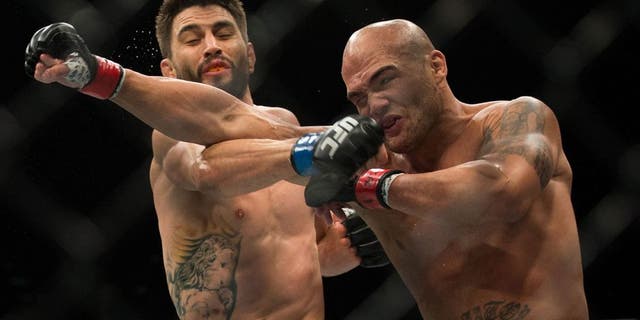 Not every fight predicted to be a classic ends up as such but Robbie Lawler and Carlos Condit put on a five-round war in the main event of UFC 195 on Saturday night that won't soon be forgotten.
The two welterweights went back and forth over 25 minutes in a brutal display of striking with only seconds spent on the mat as Lawler and Condit both searched for the knockout in one of the most memorable title fights in recent memory.
In the co-main event, Stipe Miocic put the stamp on his heavyweight title shot with a 54-second knockout over former champion Andrei Arlovski before demanding -- very loudly -- that he get the winner of the upcoming UFC 196 main event between Fabricio Werdum and Cain Velasquez.
Miocic is 5-1 in his last six fights with his only loss coming in a razor-close decision to former champion Junior dos Santos as the Ohio native now hunts for gold in his next fight.
We already know the results from UFC 195 so we're going to dig a little deeper to see what passed and what failed from the first big fight card of 2016. This is Making the Grade for UFC 195: Lawler vs. Condit.
PASSES
Did We Already Witness the Fight of the Year?
Just about everybody believed that Lawler and Condit were going to put on a classic battle between two of the best welterweight strikers the sport has ever known but it's not easy to live up to those kinds of expectations. Thankfully, Lawler and Condit were up to the task.
Condit showed tremendous heart and discipline mounting a ferocious offensive output round after round as his volume of strikes continued to add up. Meanwhile, Lawler was always dangerous and he only needed to land a couple of big strikes to do maximum damage. We saw a couple of knockdowns and some crazy exchanges throughout the fight with both taking the lead at different points.
Lawler came out guns blazing in the fifth and final round and right now there may not be a more dangerous fighter on the planet in those last five minutes than the current UFC welterweight champion. He went head hunting for Condit and if not for an incredible chin on the top-rated challenger, Lawler would have almost certainly had another knockout to add to his record.
All told, Lawler and Condit landed a combined 268 significant strikes over five rounds while putting on a classic title fight that will certainly be remembered when the year-end awards are given out in December.
Stipe Got Popular
Miocic said following his TKO win over Mark Hunt earlier this year that he was told by UFC president Dana White that in order to secure a title shot, he needed to gain favor with more fans and embrace a bigger spotlight so the promotion could justify giving him a heavyweight title shot.
Miocic will never be confused with Conor McGregor in the way he promotes his fights, but the loudest statement he could make would be to beat former champion Arlovski in impressive fashion and send that highlight to White and anybody else who needed proof that he's the top contender in the division.
It took Miocic only 54 seconds to get the job done and then he let out an emotional roar as he screamed at White that he wanted his title shot over and over again. White joked that Miocic went "psycho" and there was no way he was going to deny him any longer after that performance and the very loud statement he made afterwards.
Miocic has been a blue-collar worker for his entire UFC career, but it seems like he's earned a bright spotlight after his latest win and now he'll finally get his crack at the heavyweight title in 2016. Miocic might also become the first Cleveland native to bring a championship back to the Northern Ohio city. Considering how the Browns are doing these days, a few of their supporters might want to jump on the Stipe bandwagon right now.
The Diamond Shines Bright
Dustin Poirier was a top-five featherweight for most of his career, but after suffering a knockout to McGregor, he decided the difficult cut to get down to 145 pounds was no longer worth it and he would be happier and healthier as a lightweight. No one was sure what Poirier would do against the bigger, stronger fighters at 155 pounds.
Well three fights into his revitalized career as a lightweight and Poirier is undefeated while also dispatching one of the top prospects in the division as he beat Joseph Duffy in a three-round decision at UFC 195.
Poirier looked better than ever in his performance and now he's not only a fun fighter to watch at lightweight -- he's a legit threat to anyone currently occupying a spot in the top 10. He'll likely get the chance to prove that when he returns for his next fight later this year.
The Art of Submission
Everybody loves a good knockout but UFC 195 saw the art of the submission get front-and-center attention with some great finishes on the ground in three consecutive matchups from the prelims and the main card.
Michael McDonald got things started with one of the craziest reversals from nearly getting finished with an arm triangle choke to a rear naked choke finish of his own. Abel Trujillo kept things going with a slick guillotine choke submission to put Tony Sims away in the first round.
Finally, Brian Ortega capped things off with a flurry of submission attempts on the ground starting with a D'arce choke and then eventually moving all the way until he locked up a triangle choke to get the tap out from Diego Brandao.
Also there has to be an extra credit given to Joe Soto, who nearly pulled off a gogoplata submission in his fight against Michinori Tanaka in the second fight on the entire card. Tanaka showed some incredible defense to get out of the move because it looked like Soto had it locked up and nearly finished before his opponent somehow slipped free.
A great knockout is fun to watch but for those who enjoy great grappling, there were some tremendous exchanges and scrambles worth witnessing at UFC 195.
FAILS
The Golden Canadian Goose Has Sailed (For Now Anyways)
There wasn't much of anything to complain about at UFC 195 and really this is a minor, minor quibble in the big picture but still something that should be addressed.
Let's just put this out there first and foremost before anything else is said -- Georges St-Pierre is the greatest welterweight champion in UFC history and likely one of the best fighters to ever put on gloves and compete in mixed martial arts.
That said, St-Pierre hasn't fought since 2013 and while he has certainly given signs of life that he might be interested in returning to the sport, until he declares that he's actually coming back there's no need to consistently badger Lawler or any other welterweight with the prospect of a fight between them actually happening.
Now certainly St-Pierre is still one of the most talked about fighters on the planet, but he's at least semi-retired at this point or on a really, really long sabbatical that has now stretched out more than two years. Is there a chance he comes back? Of course.
But until then, Lawler doesn't have any kind of shadow hanging over his title reign because St-Pierre may or may not be looming around the corner plotting his comeback. Actually after a two-plus year layoff, St-Pierre probably shouldn't be fighting for the title in his first bout back anyway.
Once St-Pierre declares that he's actually fighting again and says he's going to pursue the title, then Lawler should think about that potential matchup. Until then, St-Pierre's ghost doesn't need to haunt the fighters at 170 pounds because the welterweight division has moved on and so should the rest of us.