Making the Grade: Passes/Fails from UFC 194 fight week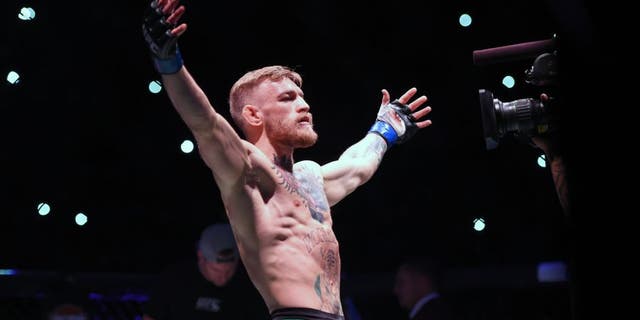 The UFC has never done three shows in three consecutive nights before this past week in Las Vegas, but the entire production went off without a hitch and the result was a changing of the guard when it comes to the future of mixed martial arts.
Conor McGregor did exactly what he said he would as he knocked out Jose Aldo in just 13 seconds to become the new, undisputed featherweight champion of the world in the main event at UFC 194.
One fight earlier, Luke Rockhold showed his skill and athleticism as he downed Chris Weidman in less than four rounds to become the new middleweight champion.
On Friday night, Frankie Edgar put himself in line for a title shot with a first-round finish over former championship contender Chad Mendes, while Rose Namajunas brought the Paige VanZant hype train crashing to a halt with a dominant submission victory in their matchup.
With so much happening over the weekend, we're going to take a look back at all three cards to see what passed and what failed from an epic UFC fight weekend. This is Making the Grade for UFC 194: Aldo vs. McGregor, "The Ultimate Fighter" finale and UFC Fight Night: Namajunas vs. VanZant.
ALL HAIL KING CONOR
There's not much left to say about McGregor other than -- he told you so.
Ever since his arrival in the UFC, McGregor has been saying that he would become the biggest star, make the most money and pull in the largest gates while eventually dethroning Aldo from his perch as the only featherweight champion the UFC has ever known.
Mission accomplished.
McGregor certainly had his fair share of naysayers, but after what he did to Aldo on Saturday night in just 13 seconds, there's no more wondering if he's really that good or if he's a lot of talk and no action. McGregor now holds wins over Aldo, Mendes and Max Holloway -- three of the top five fighters in the world at 145 pounds. If that's not dominance, I'm not sure what is.
Add to that, McGregor's most recent fight broke the bank for an all-time gate record for a UFC show in Las Vegas with attendance through the roof. McGregor is now the king of the UFC and no one can deny his reign.
A NEW BREED
Rockhold didn't say as much as McGregor did leading up to his fight with Weidman, but the subtle jabs about his athleticism and overall skill difference still showed supreme confidence coming from the 31-year-old California native.
Rockhold unleashed all of that en route to a fourth-round stoppage over Weidman, who had been virtually untouched throughout most of his career. Rockhold bested Weidman in every facet of the game when the fight was finally over and now he finally stands tall as the UFC middleweight champion of the world.
Rockhold promised while he was still Strikeforce champion that he would one day come to the UFC and take out every top middleweight until he held that belt as well. Now Rockhold has realized his dream and he's going to be a tough test for anyone at 185 pounds to conquer.
HIT THE GROUND RUNNING
There was a good chance at some point in the fight between Demian Maia and Gunnar Nelson that the two Brazilian jiu-jitsu black belts were going to hit the mat and a grappling match would ensue. No one likely predicted that Maia would not only initiate taking the fight to the ground but then treat Nelson like a novice when it came to the grappling arts.
Maia manhandled Nelson on the mat for 15 minutes. While the Icelandic welterweight deserves credit for surviving the submission onslaught, survive is about all he did.
Maia made a very strong statement with his performance on Saturday night but he still has a big mountain to climb when it comes to title contention because the welterweight division is a shark pit and he's still trying to find a signature win to get into title contention.
HERE'S THE ANSWER
Edgar had every right to be frustrated going into this past weekend. He got passed over for a short-notice title fight against McGregor in July and then entered his fight with Mendes without any kind of real guarantee that if he won, he would then receive the next shot at the featherweight belt.
So Edgar decided to remove any doubt who the true No. 1 contender was at 145 pounds when he sent Mendes crashing to the canvas as the victim of a first-round knockout.
Edgar has been one of the most consistent performers in the UFC for the past decade. He's a former lightweight champion and now the biggest obstacle standing in McGregor's way from saying that he's cleaned out the featherweight division. Edgar deserves his title shot and hopefully the UFC will give it to him.
A ROSE BY ANY OTHER NAME
Heading into Thursday night's main event, Namajunas was a pretty solid underdog to rising star VanZant, but she certainly didn't perform that way.
Namajunas put on a lopsided performance to down VanZant over the entire fight before finally putting her away by rear-naked choke. Namajunas looked faster on the feet, stronger in the clinch and clearly the more dominant fighter on the ground.
Considering Namajunas was ranked No. 3 in the world, no one really should have been surprised by her performance, but considering the kind of hype surrounding VanZant heading into the weekend, very few expected the fight to play out this way.
Namajunas is right back into title contention after falling short in her previous effort and while she may not be facing Joanna Jedrzejczyk in her next couple of fights, the UFC strawweight champion better keep an eye out because "Thug Rose" might be the biggest threat to her title reign.
HONORABLE MENTIONS
Sometimes with events like these stacked up together, fighters outside of the main events get lost in the mix, especially when something crazy happens like a seven-time defending champion getting snuffed in 13 seconds. Several performances deserve credit from this past weekend, and here they are.
Aljamain Sterling became a very hot property on the free-agent market after submitting Johnny Eduardo with relative ease.
Thiago Santos did his best Edward Norton in "Fight Club" impression as he tried to destroy something beautiful when he battered Elias Theodorou for a unanimous decision victory.
Tony Ferguson really is the most dangerous contender at lightweight right now after another "Performance of the Night" with a win over Edson Barboza. He'll be knocking on the door of a title fight in 2016.
Warlley Alves might be the best prospect out of Brazil in the past five years. He wrapped up a dominant submission victory over wrestler and fellow up-and-comer Colby Covington.
Finally Leonardo Santos, who was the biggest underdog on the entire card Saturday night, made short work of Kevin Lee with a first-round knockout at just over three minutes into the opening round.
FAILS
CONTROVERSY ABOUNDS
Yoel Romero might be the No. 1 contender in the middleweight division, but he's had more than his fair share of controversies en route to getting there. That might be why he's not going to get a title shot right away.
Romero defeated Tim Kennedy last year but only after he was nearly finished and then sat on his stool recovering for well past the one-minute mark that fighters are allowed to sit and recover between rounds. Romero promptly knocked Kennedy out, which was impressive but not without a little extra help with his recovery.
And of course who could forget Romero's misspoken shout out to Jesus that ended up overshadowing his victory over former UFC champion Lyoto Machida.
Then there was Saturday night when Romero blatantly grabbed the fence to stop "Jacare" Souza from taking him to the mat. The referee did a good job recognizing the foul and stood the fighters back up again, but there was no point deduction for the illegal move and that could have been the difference in this fight being a split decision or possibly giving the win to "Jacare."
Romero isn't a dirty fighter but he's had a couple of infractions outside the rules that can't be ignored. If he's going to contend for the middleweight title he just can't have anymore or that's what will define his legacy going into the biggest fight of his life.
WHAT CAN BROWN DO FOR YOU?
There's no way for sure to know what was going on with Yancy Medeiros' pants at UFC 194 but the strange stain on the backside of his shorts certainly seem to point only in one direction.
As gross as that might be, if Medeiros did have an accident mid-fight, he's not the first person and chances are he won't be the last. Tim Sylvia and Yoel Romero both know something about this kind of controversy from past fights.
But if this incident does anything it might implore Reebok to make more multi-colored shorts and leave the white ones at home. You know, just in case something like this happens again.
EPIC FAIL
WINNERS FOCUS ON WINNING
Usually this section is reserved for some kind of bone-headed referee error or egregious judging mistake, but after attending all three events this past weekend, there just wasn't an epic fail in the bunch. Instead this is just a final way to praise the UFC for one of the best fight weekends in history.
Sure, you could point fingers at Aldo for getting knocked out in just 13 seconds and robbing us of a legendary showdown with McGregor, but that's just the fight game. He didn't look bad -- he just got caught. Yeah, VanZant got worked over by Namajunas, but to have the kind of heart she did to keep coming back round after round and escaping some of the nastiest submission attempts for nearly 20 minutes -- how is that a bad thing?
The point is with two new champions crowned, a pair of contenders picking up definitive wins in other main events, there were a lot of passes and just not any epic fails -- well maybe that fight between Gabriel Gonzaga and Konstantin Erohkin -- but maybe if we don't talk about it, we'll just pretend that never happened.