Making the Grade: Passes/Fails for UFC Fight Night: Holloway vs. Oliveira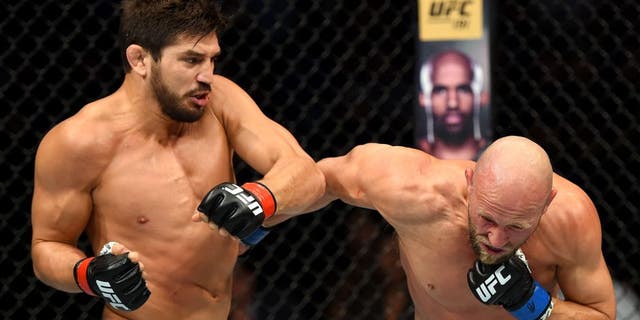 The first ever UFC show in Saskatoon, Saskatchewan, Canada went down on Sunday night with many good and bad moments.
Unfortunately, the show was capped off by a main event that ended in less than two minutes, but not because of a spectacular knockout or a lightning-fast submission. No, the fight ended because main eventer Charles Oliveira suffered a torn esophagus that forced a stop to his matchup with Max Holloway.
Holloway got the win, but it certainly didn't delight the Canadian crowd when the fight was over.
Neil Magny did his best to put everybody in a good mood during the co-main event as he took out a tired and depleted Erick Silva over three rounds. Magny looked fresh and on point just three weeks after losing to Demian Maia while Silva appeared to once again fall short with a chance to climb into the welterweight rankings.
But we already know the results from Sunday night so we're going to dig a little deeper and look at the passes and the fails from Saskatoon. This is Making the Grade for UFC Fight Night: Holloway vs. Oliveira.
Just Say Yes
On paper it might have appeared to be a bad idea to accept a fight with Brazilian slugger Erick Silva with a whole four days to train for him, but Neil Magny doesn't understand the meaning of the word "no" when the UFC comes calling for his services.
Magny just recently had a seven fight win streak snapped when he fell to Demian Maia at UFC 190 on Aug. 1, but when the promotion needed a late fill-in for Rick Story, who suffered an injury leading up to the bout with Silva, the Colorado welterweight didn't hesitate to say yes.
In the fight, Magny was by far the fresher fighter with a pep in his step and a willingness to engage with Silva on the feet and on the ground. Meanwhile, Silva somehow looked like the fighter who barely had any time to prepare. The only offense he offered up over three rounds were gigantic haymaker punches and a nifty guard pass in the first round.
Outside of those fleeting moments, Magny was in complete control from start to finish while he competed in his 11th bout in the past two years. That says something about Magny's willingness to take fights and also stay healthy enough to compete in them. He's gone 8-3 during that two year stretch while landing in the welterweight top 15 as well.
The funny thing is, Magny has already fought four times in 2015 and knowing the way other fighters get injured and his desire to stay busy, bet the bank on him stepping in for somebody else before this year comes to a close.
Old Man Strength
There's something to be said about the heart of a veteran fighter.
While there are more than a few both on and off the UFC roster who should probably call it a career and stop risking life and limb, fighters like Patrick Cote and Josh Burkman remind us all what veteran spirit is all about.
Neither Cote nor Burkman are probably ever going to be in title contention again, but you couldn't tell that by watching them throw down for three rounds. They battled for position on the feet and on the ground and then by the time the third round started, Cote and Burkman threw caution to the wind and just started winging punches at each other.
It wasn't poetic and it wasn't the height of technical prowess.
It was two old-school veterans putting on a show for the fans, and when it was over both were rewarded with a $50,000 bonus for "Fight of the Night".
Cote also became the first person in history to finish Burkman with strikes while he still maintains his own record with over 30 career fights, and he's never been knocked out. As for Burkman, who lost his third straight fight since returning to the UFC, he's not only earned another shot in the Octagon -- he absolutely deserves it -- and here's hoping they give it to him.
They Say It's Your Birthday!
Heading into Sunday night, Brazilian lightweight Francisco Trinaldo was one of the larger underdogs on the card as he faced highly touted Canadian prospect Chad Laprise. Trinaldo wasted no time engaging with the heavy-handed fighter, and it took him less than a round to prove that Laprise still has a lot to learn before he's going to be climbing any division ladders.
Trinaldo crushed Laprise with a hard counter punch that put him down and out in the first round while the Brazilian earned his fourth straight victory in a shark pit of a division. But the win ended up as a small part of Trinaldo's overall good deed for the day when he was handed the microphone for his post-fight speech.
Trinaldo will celebrate his 37th birthday on Monday but he said that while growing up poor in Brazil, his family couldn't afford to throw him a party as a kid. So he wanted to return home and throw one for all the other children in his neighborhood.
No kid should grow up without having at least a couple of fun birthday parties and Trinaldo is going to do his best to make sure the children in his hometown in Brazil all get to celebrate this year.
FAILS
To Retire or Not to Retire, That is the Question
Following a first-round finish over Sam Stout on Sunday night, 26-year-old lightweight Frankie Perez decided to call it a career and walk away from the sport of mixed martial arts, declaring his first UFC win would also be his last.
It was a shocking call considering Perez just hammer smashed a Canadian legend, but he's allowed to make the decision to retire from fighting if that's what he really wants.
After Perez called it a career, he had to hear mixed reactions from fans and media who were watching on Sunday night. Michael Bisping was critical while saying that Perez lacked the "cajones" to keep on fighting while several journalists nearly fell over backwards while applauding him for calling it quits and saving his body and brain any undue damage.
Neither reaction was wrong necessarily, but it seems Perez isn't even sure about his decision once he left the Octagon and made it to the back.
"Who knows? Maybe years down the road I'll want to do it again. Right now I need a break," Perez said after the fight.
Of course Perez isn't the first athlete to retire and the un-retire -- Brett Favre made a business out of it while he was playing (or not playing) in the NFL. But still, Perez already sounds like he's hedging his bets and he probably would have been better off just saying he's taking an extended break to focus on family and maybe one day he'll return.
Sure it's a little cryptic and not as definitive, but it's worked for Georges St-Pierre, who has never officially said he's retiring although the chances that he's coming back look less and less likely every time he does an interview.
Perez could have followed suit while still enjoying a little time off to find out if fighting was really want he wanted to do for the rest of his life.
EPIC FAIL
The Spotlight Fades Quickly
Prior to Sunday night, Valerie Letourneau stood as a serious underdog against rising strawweight Maryna Moroz despite having more experience and facing much stiffer competition during her career. Letourneau proved the oddsmakers wrong by beating Moroz in a definitive three-round decision.
Letourneau wanted the fight because Moroz rocketed to the No. 8 ranking the division after her debut, where she tapped out Joanne Calderwood in the first round. It was the quickest way to break into the top 10 and Letourneau took full advantage with a big win to kick off the UFC Fight Night main card.
Following the win, Letourneau struggled in her post-fight speech with UFC commentator Jon Anik because her first language is French and there wasn't a translator within earshot of the interview. Thankfully, the UFC affords fighters a secondary statement once they get to the back.
This was a golden opportunity for Letourneau to make her charge towards the title or at least take aim at a top-five opponent for her next fight. Instead this is what happened.
"I don't want to think about that right now. I just want to move forward," Letourneau said.
Now think back to Moroz's first win -- after tapping out Calderwood, she climbed the cage and pointed out at strawweight champion Joanna Jedrzejczyk in the crowd and motioned that she wanted a shot at the belt. It was a great moment after her debut and a highlight that was played again before her bout against Letourneau on Sunday.
Letourneau had a huge chance to make a statement after getting a big win and she blew it.
She didn't have to go all Conor McGregor on someone in the division, but even a friendly call out like the one Holloway gave to Frankie Edgar after his win would have done the job. Instead, the only chatter about her win faded away after the card ended when Letourneau could have at least secured a reaction from a potential opponent that would have had us still talking about her on Monday morning.