Making the Grade: Passes/Fails for UFC Fight Night: Hendricks vs. Thompson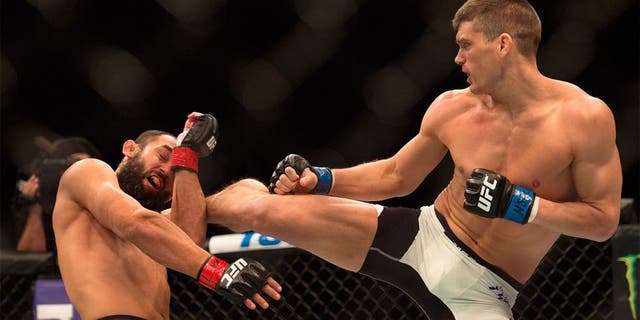 NEWYou can now listen to Fox News articles!
UFC Fight Night in Las Vegas on Saturday night ended with a bang as the welterweight division crowned a new contender with Stephen "Wonderboy" Thompson making short work of former champion Johny Hendricks with a first-round knockout.
Thompson looked comfortable on his feet after shrugging off Hendricks' long takedown attempt and then lit up the former champion with punches and kicks until he got the finish.
Also on the card, Roy Nelson staved off defeat with a three-round decision over Jared Rosholt while Ovince Saint Preux got back on track with a lopsided win over Rafael "Feijao" Cavalcante.
But we already know the results from Saturday night's card, so we're going to dig a little deeper to see what passed and what failed in Las Vegas.
This is Making the Grade for UFC Fight Night: Hendricks vs. Thompson.
PASSES
You're the Best Around
Stephen "Wonderboy" Thompson has been touted as one of the best prospects in the UFC ever since he arrived in the promotion with a gaudy, undefeated record as a karate and kickboxing stylist. But no one was sure how he would handle the top five at welterweight, which is traditionally a shark pit that very few enter and still walk out alive.
Add to that, Thompson's lone loss in the UFC to Matt Brown came in large part because he struggled with the pressure game the Ohio native presented while mixing in some takedowns to keep the striker off balance.
So it was amazing to see Thompson's progression on Saturday night as he shrugged off the takedowns of an NCAA champion like Hendricks before unleashing an attack on the feet that not only did maximum damage, but did it quickly. As soon as Thompson stopped Hendricks' takedown attempt, he confidently threw kick after kick while refusing to back down from his chosen strategy in the face of the best wrestler he's ever faced.
The result was a first-round knockout over a former champion -- a feat that's never been accomplished before mind you -- and now Thompson will enter the conversation for the welterweight title and it's well deserved. Thompson is a next-level striker and now that he's added takedown defense, it's going to be very interesting to see how the other elite fighters at 170 pounds deal with him.
Thompson's performance over one of the best fighters in the world gives him the leverage needed to vie for a title shot now rather than later and chances are even Robbie Lawler had to be ultra impressed by what he witnessed on Saturday night.
40 is the New 20
Say what you will about veteran competitor Mike Pyle, but no one can discount that at 40 years old, this old dog still has some new tricks up his sleeve.
The book on Pyle that's been written for the past decade is this -- he's a phenomenal teacher and training partner, who is virtually untouchable by anybody inside the gym, but he's never been able to convert that fight prowess into most of his performances. Over the last few years, however, Pyle has started to shed that reputation with some incredible fights inside the Octagon and his latest bout against Sean Spencer netted him a $50,000 bonus.
Pyle may never be a title contender and there's a good argument he won't even crack the top 10 again before he retires.
But at 40 years young, Pyle can still put on some very exciting fights, take home a wad of cash at the end of the night and prove to a lot of 20 something's that age ain't nothing but a number.
Gall Eyes on Me
Mickey Gall would probably be the first person in the world to tell you that with one fight on his professional record, he probably didn't deserve to be in the UFC. Gall is a very talented prospect but with time comes experience and with more fights comes the chance to prove you belong with the best fighters in the world on the UFC roster.
Of course the same rules just stated easily apply to former WWE superstar CM Punk, who is coasting past hundreds of prospects by scoring a deal with the UFC with his first fight likely being one of the most talked about events of the year.
So Gall seized his opportunity to call out Punk with UFC president Dana White sitting cage side during his debut and a few months later he was signed to the promotion with a promise that all he had to do was win one more fight and he would score the highly lucrative matchup with the widely talked about professional wrestler turned professional fighter.
Gall had a lot of pressure on his shoulders to perform and it would be easy to argue that his opponent Mike Jackson didn't offer much resistance, but he still went out and executed the perfect game plan before finishing the fight 45 seconds into the first round. Gall didn't seem nervous and he certainly didn't perform like it either.
Now he's set to face Punk in either June or July. It's easy to argue that even after that fight, the 24 year old from New Jersey probably still doesn't actually belong on the UFC roster, but Gall is making the most of his 15 minutes of fame and not wilting under the spotlight on Saturday night was a good indication that we'll hear a lot more from him before it's all over.
FAILS
Fall From Grace
There has not been a more unceremonious exit from the ranks of the elite than what has happened to Rafael "Feijao" Cavalcante since joining the UFC.
When Cavalcante was standing tall as champion in Strikeforce, he appeared to be the next evolution of the 205-pound division. A physically imposing striker with incredible takedown defense and mind numbing power who appeared to be one of the biggest threats to the best of the best in the UFC when he first arrived in 2013.
Instead, what has resulted is a 1-4 record inside the Octagon with three losses in a row and none of those fights went very well for Cavalcante. Now it could be argued that he's been facing the top fighters in the world at light heavyweight and that is correct. But Cavalcante was supposed to be one of those guys and instead he's looked like a speed bump as just about everybody he's faced in the top 15 has cruised past him in relatively easy fashion.
MMA is certainly an unforgiving sport and Cavalcante has been finding that out the hard way in the UFC.
EPIC FAIL
Heavy Is the Head
The heavyweight and light-heavyweight division are in desperate need of some new blood, and Saturday night's card was only further proof of that.
Jared Rosholt, 29, was one of the last remaining fighters in the heavyweight division who was ranked in the top 15 while still under 30. His performance against Roy Nelson was nothing short of abysmal as he ducked and dodged punches, but failed to actually put forth much effort to win the fight with any kind of offense.
Meanwhile, Damian Grabowski was touted as Europe's best heavyweight prospect but he found out in rapid fashion that the UFC is a whole other ballgame as Derrick Lewis made short work of him inside one round.
At light heavyweight, Ovince Saint Preux picked up another top-15 win, but his track record hasn't been very good against the best fighters in the world at 205 pounds. His losses against Ryan Bader and Glover Teixeira in recent fights go a long way to show that Saint Preux can wipe the mat with anyone on the outskirts of the top 10, but once he starts treading water around the top five, he can't swim very well.
And we've already talked about Rafael Cavalcante and his chances of mounting a comeback to the top 10 in the division.
If there was one positive out of the card, Misha Cirkunov certainly looked good with his jaw popping performance over Alex Nicholson. Unfortunately, Nicholson wasn't exactly rated as a top flight prospect so the book on Cirkunov remains unwritten until he gets a decided step up in competition and given the depth at 205 pounds, it probably won't take long.
While the top of each of the respective divisions are stacked from Fabricio Werdum to Jon Jones to Daniel Cormier to Stipe Miocic, the list of prospects seems to get shorter and shorter with each event.
There aren't any easy answers in developing or cultivating talent at light heavyweight or heavyweight, but if Saturday night's card was any indication, the cupboard is starting to look awfully bare and it's going to take some serious work from the UFC matchmakers to find a way to restock it.