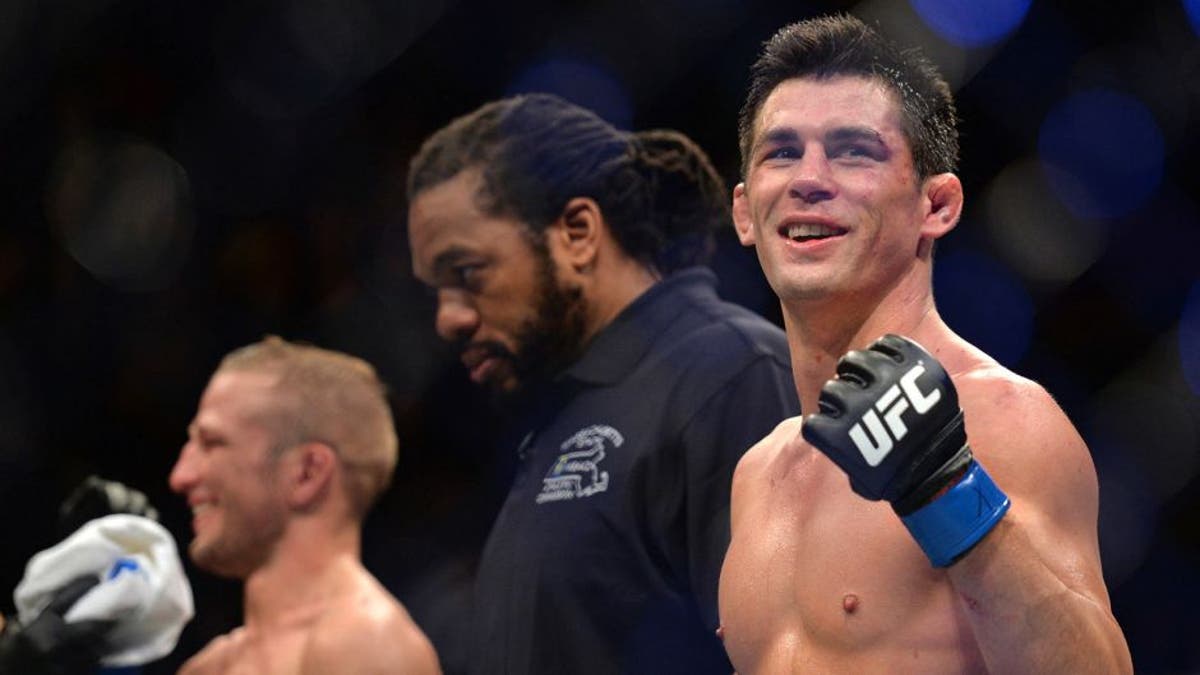 Dominick Cruz completed an improbable return to action on Sunday night after missing most of the past four years due to injury and then proceeded to put on a five-round war with TJ Dillashaw to reclaim the UFC bantamweight title.
Cruz was forced to surrender the belt in 2014 after injuries had sidelined him for two years. But he finally vindicated his long absence from the sport with a win over Dillashaw in a 25-minute classic.
Also on the card, Eddie Alvarez picked up the biggest win of his UFC career with a decision victory over former lightweight champion Anthony Pettis.
It wasn't the prettiest fight, but Alvarez got the job done and now stands on the precipice of a potential title shot at some point in 2016.
But we already know the results from Sunday night so we're going to dig a little deeper into what happened in Boston. What passed and what failed?
This is Making the Grade for UFC Fight Night: Dillashaw vs. Cruz.
PASSES
Dominick Cruz is the Feel Good Story of the Decade
Dominick Cruz suffered through more professional losses over the past four years than almost any fighter has ever faced, and that's without actually suffering defeat in the Octagon.
Cruz not only had to endure three complete reconstruction surgeries on his knees but a torn groin, all while watching the division he once ruled move on without him. Cruz did manage to create a successful second career for himself by doing analyst work on FOX. That took a lot of heart considering he was asked to analyze bantamweight title fights over and over again while paying credit to the men he believed were holding on to his belt at the time.
Cruz finally came back on Sunday night and received a chorus of cheers from the crowd -- something he rarely experienced previously -- and he said all the right things. Sure, he took his jabs at Dillashaw here and there after the win, but for the most part he just celebrated the moment and reveled in the long, arduous journey.
Cruz certainly proved anything is possible through sheer will power and determination. His story will likely never be duplicated again so everyone should appreciate what we just witnessed as we sit in awe of a truly inspiring performance.
Eddie Alvarez Earned His Respect
When Eddie Alvarez signed with the UFC from Bellator Fighting Championships, no one was exactly sure how he would fare once he was facing the elite fighters in the lightweight division. He certainly took on tough competition outside the promotion, but the bright lights and the big show of the UFC have made more than a few former champions wilt from the pressure.
Alvarez stumbled out of the gates with a close loss to Donald "Cowboy" Cerrone, but then came back with a win over Gilbert Melendez before taking out former lightweight champion Anthony Pettis on Sunday night.
It wasn't a very memorable fight or performance, but Alvarez got the job done in the face of the odds being stacked against him. Pettis was a lethal striker who had finished both of the opponents Alvarez faced in the Octagon. He was also about a 4-to-1 favorite over Alvarez by the time they stepped into the cage together.
Still, Alvarez fought smart, fought hard and got the job done.
Is he ready for a title shot? Probably not, but Alvarez certainly put himself in line for a No. 1 contender's fight in 2016 and that's not a bad place to be three bouts into his UFC career.
Shine On You Crazy Prelim Diamonds
Obviously on a card with a title fight at the top, many of the undercard and preliminary bouts get lost in the shuffle, but Sunday night proved that it's still a good idea to watch until the end.
The preliminary bouts -- nine in total -- had some of the best action in recent memory, with seven fights being finished before the final bell.
Rob Font, Ilir Latifi and Paul Felder got the night started on UFC Fight Pass before the FS1 prelims featured four fights that ended with two submissions and two knockouts. Luke Sanders and Chris Wade both looked impressive, getting tap outs in their fights before Ed Herman and Patrick Cote dazzled with highlight reel knockouts.
As great as the main event ended up being, some of the best moments of the night took place on the prelims. The fighters on that portion of the show should take pride in the performances that really turned up the adrenaline for a great card from start to finish on Sunday night.
FAILS
Poke-Man
Eye pokes are an unfortunate side effect of fighting with open-fingered gloves as all mixed martial artists must do, but it's doubly troubling when seeing what happened in a fight like the matchup between Travis Browne and Matt Mitrione on Sunday night.
Browne twice shoved a finger into Mitrione's eye during exchanges and what happened wasn't rare and it certainly played a part in how the fight ultimately played out. Browne contends that he never committed the foul on purpose and chances are he's absolutely correct. Also full disclosure, Mitrione's busted eye as pictured above swelled up primarily because of a punch that Browne landed in the third round, but the damage inside the eye still can't be ignored.
Fighters routinely paw at their opponents with an open hand to gauge distance or to disturb an incoming punch. It's not malicious so much as it's human instinct to put the hands up or out to try and block the shot.
It's not as easy as telling the fighter they must have a closed fist at all times because that's just not possible in MMA. What Browne did is really no different than what's happened dozens of times before and will likely happen again.
There's been talk for years about a new glove being implemented with curves at the top to bend the fingers automatically so they wouldn't stick out to cause eye pokes in the first place. Of course it's not going to work every time, but even if it cuts down on half of the eye pokes we see in the sport, it might save a few fighters from injury or even potential career ending surgery.
EPIC FAIL
What's the Point?
The biggest fail of the weekend also stems from the Browne versus Mitrione fight, but this one falls on referee Gary Forman.
Forman oversaw the action between the two heavyweights and had a chance to impact the fight following the two afore mentioned eye pokes. But he refused to actually penalize Browne for the infraction and instead only told him that if it happened again he would take a point away.
Now taking a point from a fighter in a three-round bout is devastating so it's understandable why referees are cautious with that power. Still, the referee has discretion to deduct a point if a foul has been committed -- accidental or not.
Eye pokes and groin strikes are two fouls that happen regularly in MMA and are rarely (if ever) on purpose, but they are both illegal nonetheless and should be treated as such. One infraction is understandable but with something as dangerous as an eye poke, a second foul should result in a penalty. Nothing would correct course for an action quicker than penalizing a fighter to the point where it might cost them a win if they do it again.
The argument isn't whether Browne did anything on purpose (I don't believe he did), but he still committed a foul and the referee failed in his duty to protect Mitrione by not at least deducting a point for the second infraction in the fight.