Making the Grade: Passes/fails for UFC Fight Night: Cowboy vs. Cowboy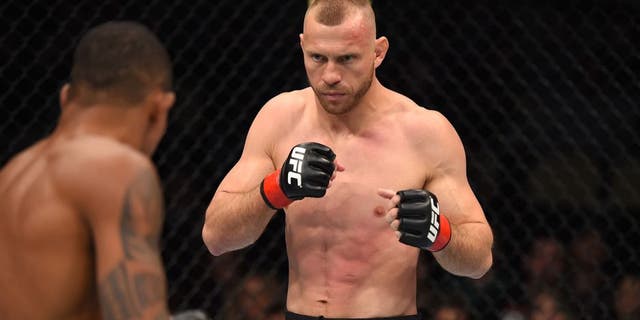 Donald "Cowboy" Cerrone made a successful return to the Octagon on Sunday night with a first-round finish over Alex "Cowboy" Oliveira. It marked his 30th fight inside the Octagon while also getting back on track following a loss in his last bout.
The win capped off an exciting night of fights from Pittsburgh as the UFC put on the rare Sunday night show with a slew of up-and-coming prospects making an impact on the card.
Derek Brunson picked up his fourth win in a row and third TKO victory with a first-round bludgeoning over Roan Carneiro. Cody Garbrandt made short work of debuting submission specialist Augusto Mendes.
But we already know the results from the card in Pittsburgh so we're going to dig a little deeper to find out what passed and what failed from the UFC's latest trip to the Keystone State.
This is Making the Grade for UFC Fight Night: Cowboy vs. Cowboy.
PASSES
A Happy Cowboy is a Dangerous Cowboy
Following a disappointing outing in his last fight, Donald "Cowboy" Cerrone not only returned with a win on Sunday night but he did so while remembering to have fun again inside the Octagon. Cerrone commented numerous times after the fight how he went out and just did this for him -- he was no longer focused on an eight-fight win streak or pursuing the lightweight title.
Cerrone was just going out there for the joy of competition and that really seems to be when he's at his best.
Maybe it's premature to say that Cerrone won't be a champion in the UFC. He fell short in his initial opportunity to secure a title shot and then lost to lightweight king Rafael dos Anjos in just 66 seconds this past December in his first chance to win the belt. It's unfair to paint Cerrone with such broad strokes. But considering how footloose he seemed on Sunday night while adding yet another $50,000 bonus to his bank account, if he never competed for a title again his legacy in the sport has already been secured.
Cerrone is a fan's fighter, who always goes out to put on a show and never backs down from a challenge. Now he's added the fact that he can compete at welterweight, which gives him yet another wrinkle to throw at UFC matchmakers when seemingly asking to fight every other week -- and chances are he'll have his next bout booked before the check from his last one gets cashed.
The Man to Fear at Middleweight
There's little doubt that middleweight champion Luke Rockhold keeps an eye on every contender who is climbing up the ranks to try and get a shot at his belt, but one name he should definitely keep on his radar is Derek Brunson.
Brunson put on another stifling performance on Sunday night as he took out noted Brazilian jiu-jitsu specialist Roan Carneiro with a punishing finish in the first round to mark his third straight first-round TKO finish. Brunson has shown marked improvements over the last few years while working full time under coaches Greg Jackson and Mike Winkeljohn. Now he's earned his chance at a top 10 opponent in the division.
What's so scary about Brunson is that he's arguably one of the best wrestlers in the division -- don't forget how he out grappled Olympic silver medalist Yoel Romero not that long ago -- and now he's developed serious knockout power on the feet as well.
Brunson's evolution shows that he's ready to tackle a top opponent and given his athletic prowess and ability to adapt to any given situation, the middleweight division is on notice that there's a new contender in town and he's coming for each and every one of them.
Bonus Worthy Performances
One of the toughest parts about a card as good as the one that went down on Sunday is the fact that there's only two 'Performance of the Night' bonuses to get spread around with a slew of fighters definitely deserving recognition.
While there are certainly some shows where it's difficult to pinpoint one bonus worthy performance, the show from Pittsburgh had a huge list and those fighters deserve some recognition.
Outside of the main and co-main events, Cody Garbrandt looked spectacular getting his second TKO finish in the UFC as he dusted Augusto Mendes in the first round. Chris Camozzi blitzed Joe Riggs with a barrage of knee strikes just seconds into the opening stanza and landed so many that he actually broke his opponent's forearm in the process.
Sean Strickland made a strong statement in his third fight at welterweight as he downed Alex Garcia with a third-round TKO while Oluwale Bamgbose looked very impressive with his head kick to help put away Daniel Sarafian.
It was a night filled with fun finishes and exciting bouts from top to bottom and the fighters competing in Pittsburgh definitely deserved an extra round of applause after the show was over.
FAILS
Addition is Hard
It's no secret that judges oftentimes get skewered after a fight card for a bad decision or a questionable score, but Sunday night offered one of the best examples of how the sport still has a long way to go to fill the seats with the best possible candidates to help determine the outcome of a bout.
Following a three-round battle between Ashlee Evans-Smith and Marion Reneau, just about everybody watching at home or probably even in the arena expected a very close decision. Reneau dominated in Round 1, earning a knockdown and a near submission to put Evans-Smith away before she was saved by the bell. Rounds 2 and 3 were very close affairs so the fact that scores were going to be all over the place was understandable.
But when one scorecard read 30-27 in favor of Evans-Smith, more than a few jaws hit the ground. Then a second scorecard came back 29-27 for Evans-Smith, which was even more mind boggling.
Maybe the worst part about the scoring was the fact that two separate judges -- Phil Rogers and Andrew Adkins -- gave Round 1 to Evans-Smith. It's bad enough that one person would somehow see the round that way but two of them?
The other scorecard in question returned by judge John Lapcevic had the numbers added up incorrectly, which resulted in Reneau getting only 27 points instead of 28. It's probably a minor detail considering it didn't affect the outcome of the fight, but how hard is it to add up three numbers over three rounds?
Ultimately, the result isn't all that alarming but the ineptitude that took place in some of the scoring has to be noted because states like Pennsylvania don't get as many "big" fights as locations like Las Vegas, but it's still important that these errors get fixed or no one is held accountable to make it better.
EPIC FAIL
A Tap Still Means the Fight is Over, Right?
While the judges had an off night, the referees in Pittsburgh had a downright abysmal showing with a ton of mistakes being made including a number of horrible stoppages.
Let's start at the top of the card when "Cowboy" Cerrone locked on a beautiful rolling triangle choke to submit Alex Oliveira. As soon as the submission was clamped on Oliveira was tapping, but referee Mario Yamasaki not only missed it but it actually took Cerrone pointing at the hand thumping on his chest to finally bring the fight to an end.
Then there was Derek Brunson just mauling Roan Carneiro on the ground, punishing him with punches while the referee just kind of stood back and waiting for the fighter to go completely unconscious before stopping the fight.
Yamasaki's had another questionable call when Cody Garbrandt floored Augusto Mendes with a left-right combination. But rather than stop the fight, he stepped in between the two of them in a confusing pause before backing up and allowing the bantamweights to continue. Unfortunately for Mendes all that happened was Garbrandt raining down a couple more hard shots that completely knocked him senseless.
Add to that a number of incredibly bad stand ups early in the night, particularly in the matchup between Anthony Smith and Leonardo Guimaraes. Smith was in control on the ground, doing good work from inside his opponent's guard but the referee still opted to stand them up and after the restart, Guimaraes blasted his opponent and nearly finished the fight.
There were plenty of questionable calls made by referees, but these are the kinds of actions that require reprimands. Whether or not it actually happens is still a mystery.