Making the Grade: Passes/Fails for UFC 196: McGregor vs. Diaz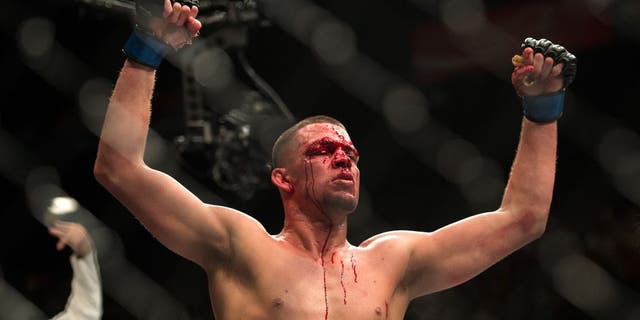 UFC 196 will go down as one of the biggest nights in mixed martial arts history with two of the most shocking results. Nate Diaz submitted Conor McGregor and Miesha Tate choked out Holly Holm to win the UFC women's bantamweight championship.
Diaz came into the main event as a 5-to-1 underdog after accepting a bout with McGregor on two weeks' notice. But he made the most of his opportunity with a staggering second-round victory over the highly hyped featherweight, who was moving up with hopes of conquering a second UFC title this year.
As for Tate, she not only conquered the woman who handed Ronda Rousey her first loss, but she showed the will and the spirit of a champion to come back late in the fifth and final round put away Holm to win her first UFC title.
But we already know the results from the card on Saturday night so we're going to dig a little deeper into what went down in Las Vegas. What passed and what failed from the top to the bottom of a huge night for the UFC.
This is Making the Grade for UFC 196: McGregor vs. Diaz.
PASSES
209 What?!?
Nate Diaz had been saying for months that the real money fight in the UFC was pitting him against Conor McGregor and letting the sparks fly when the two of them not only engaged in a battle inside the Octagon but a war of wards outside as well.
With less than two weeks to hype up their fight following an injury to lightweight champion Rafael dos Anjos, Diaz and McGregor said all the right things -- followed by all the bad words -- and they managed to turn UFC 196 into the can't miss event of 2016.
But a huge amount of credit has to land on Diaz's doorstep for playing his part in the lead-up to the fight, but then going in to execute against McGregor on Saturday night in a way that no one else has done yet.
Diaz attacked McGregor on the feet, took his best shots and kept coming forward. The typical McGregor mind games came up short on Diaz, who fired back word for word with him in every news conference and then backed it up when they finally met in the Octagon.
Finally, Diaz put away McGregor in the second round after hurting him on the feet with punches and then tapped him out on the ground. It was everything Diaz promised it would be and more.
And if UFC president Dana White is correct that the card may end up breaking all previous pay-per-view records, Diaz showed that he not only moves the needle but he can flat out bury it when given the platform to perform. Diaz has always been an exciting, fun fighter to watch but he may have just become a superstar on Saturday night, and he definitely deserves all the accolades he's receiving today.
You're Going to Hear Her Roar
Just a few short months ago, Miesha Tate was on the outside looking in when it came to a title fight in the women's bantamweight champion. Ronda Rousey was on top of the world and it appeared the UFC had no interest whatsoever in putting Tate in a third fight with her after falling twice previously.
But Holly Holm turned everything upside down when she head kicked Rousey in the second round of their fight last November to win the title, which gave Tate a window to seize another title shot and she certainly made the most of it.
Tate was likely down after four rounds spent in the Octagon with Holm -- she nearly submitted the champion in Round 2 but came up short in the other three -- so as she entered the fifth and final round she knew it was either get a finish or watch what could ultimately be her last ever shot at the title slip away.
Tate pulled it off after dragging Holm to the mat late in the round and then sinking in a rear naked choke that literally put her to sleep. Tate jumped off the canvas and celebrated as the new UFC champion in one of the most awe inspiring performances of her career.
Now Tate is poised for a third fight with Rousey except this time she'll be holding the belt going into the fight and there's a good chance she'll also be cashing in on a huge payday to make the matchup happen. Tate has all the power that she didn't have a few months ago. She's the champion. She calls the shots.
It's a huge role reversal from where she was last year when she got passed over in favor of Holm getting the title shot, but Tate has finally climbed to the top of the mountain and she's standing tall as the queen of the UFC.
Making the Most of a Bad Situation
When Rafael dos Anjos broke his foot with two weeks left until UFC 196, it would have been understandable if one of the most highly anticipated fight cards of the year fell apart. No one can blame dos Anjos because injuries are just part of the sport, and the fact that he injured his foot only shows how hard the lightweight champion was training for a showdown with Conor McGregor that would have probably earned him the biggest payday of his life.
But when he was forced off the card, Nate Diaz stepped up to accept the challenge to face McGregor and save the day. On the flipside, McGregor also took a huge risk by taking on the No. 5 ranked fighter in the lightweight division while giving up a chance to become the first simultaneous two weight world champion.
Both Diaz and McGregor deserve praise for saving a card when neither man was obligated to do so. No one would have blamed McGregor for saying thanks but no thanks to a last-minute switch of opponent when he was supposed to be fighting for a title. No one could have blamed Diaz for turning down the fight with less than two weeks to prepare while facing the best featherweight on the UFC roster.
But both fighters accepted the challenge and along with Miesha Tate and Holly Holm, they turned UFC 196 into a monster at the box office with an $8.1 million gate and what may ultimately be the biggest card the promotion ever put on for pay-per-view. And that all happened after the card could have easily fallen part just two weeks ago.
That's a big win for everybody involved, even the competitors who walked out with a loss rather than a win after Saturday night was over.
FAILS
Beating a Broken Drum
It seems like almost every single time one of these columns goes up that a part of the 'fail' section ends up dedicated to either bad refereeing or judging and UFC 196 is no exception.
Nobody is going to mistake the light heavyweight fight between Corey Anderson and Tom Lawlor as a barnburner that will go down as one of the best bouts of the year, but there was still an egregious error that must be pointed out.
In the opening round with the two fighters exchanging blows, Lawler clipped and caught Anderson, putting him on wobbly legs and in trouble of potentially getting finished. To his credit, Anderson got his balance back and was able to regain composure to make it through the round. Anderson then came back to wins rounds two and three to secure the victory over Lawler for his fourth straight win.
But when the scorecards were read, two judges -- Chris Lee and Adalaide Byrd -- inexplicably gave round one to Anderson rather than Lawlor. Even Anderson, who got the win, didn't agree with the scorecards.
"I can be honest and say I didn't think it was going to be a 30-27 at all," Anderson said at the post fight press conference. "In the corner, Mark Henry said 'first round you could have lost, second round that was yours but the third round you've got to go out and seal the deal'."
Anderson got the job done in the third round to get the win, but there's still no excuse why two judges somehow gave him the opening round when it was clear beyond a shadow of a doubt that Lawler deserved the nod.
Once again this result didn't affect the overall outcome of the contest because the right fighter got the win, but bad judging is still bad judging and the two officials who gave Anderson the first round of the fight deserved to be admonished for getting it wrong for something that seemed so obvious to swing in the other direction.
Weighty Issues
Conor McGregor deserves a huge amount of praise for stepping up to a bigger weight class in an attempt to conquer two divisions simultaneously, but with that decision also comes a bigger discussion about how smart it was to even attempt that move in the first place.
McGregor has without a doubt earned his spot as the best featherweight in the sport. Knocking out former champion Jose Aldo with one punch in just 13 seconds last December put McGregor on top of the world, but his desire to do the impossible ended with a second round submission loss to a top five lightweight at UFC 196. Yes, technically the fight took place at welterweight but make no mistake, this was a lightweight fight -- it just took place between two fighters who weren't required to cut weight to get down to the 155 pound limit.
There's no shame in McGregor losing the fight to Diaz but it also raises the question once again on why some competitors feel the need to go up to different divisions to somehow prove their worth in the sport.
Unlike boxing, MMA weight classes jump up dramatically between 10, 15 or sometimes even 20 pounds between divisions. Why is there such an obsession with moving weight divisions to truly stand head and shoulders above the rest of the crowd in the mythical pound-for-pound debate or the all-time great discussion?
Demetrious Johnson was a severely undersized bantamweight, who still managed to earn a title shot once upon a time, but now as a flyweight he's regarded as one of the best fighters on the planet. Why? Because he's actually facing fighters who are his own size. Jon Jones might be the greatest mixed martial artist to ever step into a cage or ring, but if he never goes to heavyweight will that somehow diminish his career when it's finally over?
No, absolutely not, and the same should be said for McGregor.
Good for him that he wanted to try to pull off the impossible but there's also nothing wrong with just being the best featherweight in the world either. McGregor might decide to make the move back up to lightweight again one day and that's his call, but if he never ever leaves the 145 pound division again, that's not a knock on his career or his willingness to step up to the toughest challenges.
It just means McGregor found the weight class where he belongs and he's the best in the world when he's fighting there. What's wrong with that?