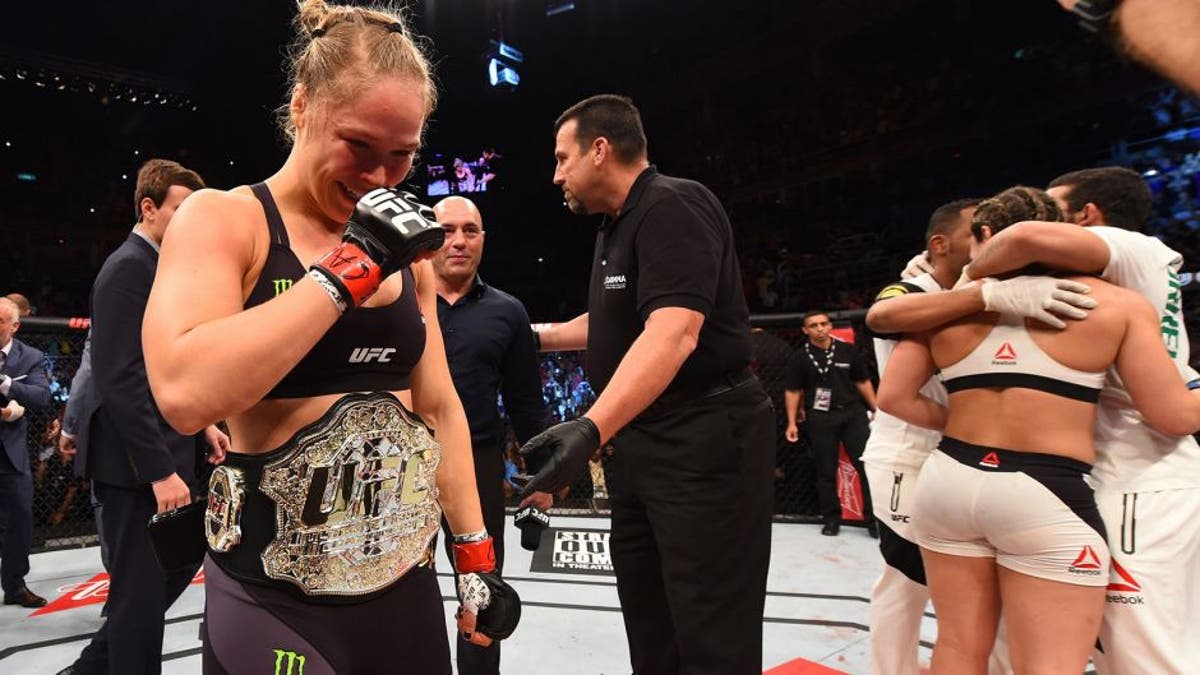 Ronda Rousey ruled the world once again on Saturday night after she dismantled Bethe Correia in just 34 seconds to defend her title at UFC 190 in Brazil.
Rousey charged at Correia as soon as the fight started and didn't stop her relentless attack until the Brazilian contender was face down on the canvas and the bout was over.
Rousey was victorious while eliminating yet another challenger in record time.
Meanwhile at light heavyweight, Mauricio 'Shogun' Rua fought through a near finish in round one to battle back and defeat Antonio Rogerio Nogueira for the second time. The fighters first met a decade ago, but the result was the same with 'Shogun' coming away victorious.
But we already know the results from UFC 190: Rousey vs. Correia.
So we're going to dig a little deeper into the card to see what passed, what failed and what really failed on Saturday night.
This is Making the Grade for UFC 190: Rousey vs. Correia
PASSES
It's Ronda Rousey's World and We are Just Living In It
If there was any doubt before, Ronda Rousey likely just solidified on Saturday night that she's the biggest star who has ever fought in the UFC. Certainly there have been other fighters who have picked up bigger numbers on pay-per-view or ratings on TV, but when you combine everything Rousey is doing from promoting her fights to the support she gets on social media, the UFC women's bantamweight champion has surpassed everybody in the game today.
Rousey's fight at UFC 190 was the No. 1 trending topic on Twiter on Saturday night with over 934,000 tweets about the event. To put that in perspective, Rousey's last fight against Cat Zingano, which was also No. 1 on Twitter for the night, had 315,000 tweets.
In other words, Rousey just trumped her own fight by nearly triple the attention on social media.
Celebrities and other athletes came out in droves to support Rousey as well not to mention the actual performance.
Rousey has dispatched her last four opponents in a combined 130 seconds. She's earned three knockouts during those four fights with wins over Bethe Correia, Alexis Davis and Sara McMann. Her one submission during that run was over Cat Zingano in just 14 seconds -- the shortest title fight in UFC history.
Rousey is a force of nature and whenever she fights, it's not just an event -- it's a spectacle.
Best Walkout in the Sport
For years, Anderson Silva arguably had the best walk to the Octagon of anybody in the UFC. As DMX's gravely voice thumbed over the speakers singing 'No Sunshine', Silva would trot to the cage looking so calm it was almost like he was meditating on his way to a fight. Whether the fights were in the United States or Brazil, Silva's appearances always just felt special.
Now that torch has been passed to Ronda Rousey with her signature charge to the Octagon while Joan Jett screams about her 'Bad Reputation'.
Rousey first used the song before her initial fight against Miesha Tate in Strikeforce as she began embracing her 'bad girl' image. Now she keeps the same pace walking to the cage as the drums in the song as Rousey wears a steely grimace on her face while imagining just how she plans to embarrass this latest opponent.
There's never been a song so befitting a fighter and Rousey embraces it like nobody's business. The only caveat to this very unofficial award is the fact that Rousey can never change songs because this particular walk out is the best in the business.
Going Old School
No one expected the fight between Mauricio 'Shogun' Rua and Antonio Rogerio Nogueira to live up the praise the first bout received in 2005, but these two old school legends certainly did their part to try and beat it.
Both fighters are a little longer in the tooth and probably no longer capable of making a title run, but that didn't stop 'Shogun' and Nogueira from putting on a show in front of their home crowd in Brazil.
'Shogun' teed off on Nogueira's midsection throughout the fight with a heavy barrage of body kicks over the course of three rounds. Nogueira came close to finishing 'Shogun' on a couple of occasions as well after rocketing a punch off his opponent's head and nearly knocking him out.
It was a fun fight and well deserving of the $50,000 bonus for 'Fight of the Night'. Here's hoping the UFC sees this result and keeps both 'Shogun' and Nogueira involved in a few more bouts against fellow legends because this was a fun way to reminisce and enjoy some nostalgia, one night at a time.
FAILS
Nothing in Reserve
Conditioning might still be one of the most underrated weapons in all of MMA, but Rafael 'Feijao' Cavalcante had so many cardio issues on Saturday night that he didn't even bring a knife to a gunfight.
He brought a plastic fork.
Cavalcante put on a show early against Patrick Cummins, winging huge looping punches like he was throwing a baseball off a mound, but as soon as those first five minutes expired, the former Strikeforce champion was just a sitting duck.
To say Cavalcante has struggled with his conditioning would be a massive understatement. Since coming to the UFC, Cavalcante has barely shown any signs of cardio during his four fights with the promotion.
Much like his bout at UFC 190, Cavalcante's debut ended in similar fashion after he ran out of steam early against Thiago Silva and ultimately got finished in the first round. He couldn't keep up with Ryan Bader's pace in his only decision in the UFC and Saturday night was just another poor example of how he is dangerous early but non-existent late.
When the UFC brought Cavalcante over to the promotion from Strikeforce, he seemed like an extremely bright prospect with the ability to make a few waves inside the Octagon. Now he's 1-3 with two TKO losses and his only win comes against Igor Pokrajac, who got bounced from the promotion in 2014 after going 0-4 with one no contest in his final five fights in the UFC.
Let Me Bang
It's always nice to find out fighters are multifaceted and talented in areas outside the Octagon. It seems UFC 190 fighter Clint Hester is one of those individuals because when he's not fighting, the former 'Ultimate Fighter' competitor is apparently an aspiring hip-hip star.
For his walkout song at UFC 190, Hester chose a song that he actually performed called 'I Bang' and while it may not be tearing up the charts just yet, it's an admirable quality to create something and see it come to life on a state as big as the one he fought on in Brazil Saturday night.
Unfortunately, Hester did a lot of things in his fight with Vitor Miranda, but bang was not one of them. As soon as the fight started, Hester was diving for double leg takedowns and doing everything in his power to keep Miranda on the ground.
Now that may have been sound strategy, although Hester eventually lost by strikes on the ground, but it's tough to hear 'I Bang' for the walkout when the fight turned into 'I Dive for Takedowns'.
Just an observation.
EPIC FAIL
Momentum Killer
There's a certain flow that works with a fight card and what we've pretty much gotten used to over the years. Pay-per-view cards in particular always seem to happen the exact same way with five fights starting at 10pm ET with the show typically going off the air before 1am local time.
But UFC 190 featured seven main card bouts thanks to a scheduling issue that forced the finals from 'The Ultimate Fighter: Brazil 3' to take place on Saturday night. Originally the two finale fights were supposed to take place in June as part of the UFC Fight Night card from Florida headlined by Yoel Romero and Lyoto Machida. Thanks to visa issues stopping most of the Brazilians who were scheduled to fight that night from getting into the country, the bouts had to get shifted to UFC 190 in Brazil.
The two fights -- Glaico Franca defeating Fernando Bruno and Reginaldo Vieira topping Dileno Lopes -- were actually both really solid performances. The fight between Vieira and Lopes had moments where the two Brazilians could have earned a bonus on top of their performances.
But still, plugging the two fights from this particular season of 'The Ultimate Fighter' onto UFC 190, pushing the card from five to seven total bouts really killed the momentum of an otherwise stellar night of action. It's understandable why the UFC and their broadcast partner in Brazil wanted the fights on the main card -- who wouldn't want to fight on a show featuring Ronda Rousey?
Unfortunately, the pacing of the show seemed to slow to a crawl for those particular fights and when the night was over it almost felt like UFC 190 was segmented into two pieces. The Rousey vs. Correia main event and the battle between 'Shogun' Rua and Antonio Rogerio Nogueira were on one side and the other three main card bouts were on the other.
Sandwiched in the middle were 'The Ultimate Fighter: Brazil 3' finale fights that just seemed out of place on such a monumental pay-per-view card. Chances are something like this won't happen again and it's not the fighters fault by any means -- it was just bad timing for a show that ended up running nearly four hours when it was completed.