Making the Chase pays in many ways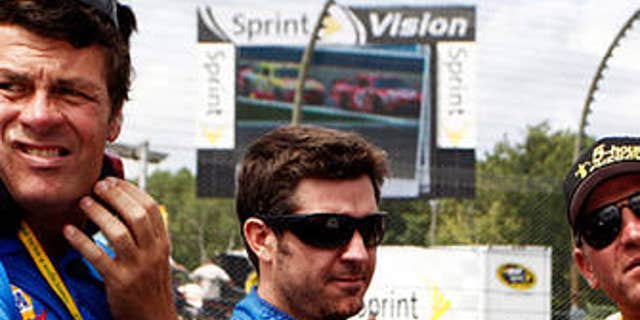 EDITOR'S NOTE: In light of Monday's landmark penalty issued by NASCAR on Michael Waltrip Racing, we take a look back at the following July article written by FOXSports.com NASCAR writer Tom Jensen.
Team owner Michael Waltrip minces no words when it comes to talking about the importance of getting one or more of his team's cars into the Chase for the Sprint Cup, NASCAR's season-ending, 10-race playoff round.
"Our business model doesn't work without us making the Chase," Waltrip said. "We invest in our cars and our team and we tell our sponsors that with the way we built our team, we're going to make the Chase, we're going to win races."
With eight races left in NASCAR's 26-race regular season, Michael Waltrip Racing is one of the teams furiously digging for two of the 12 slots in the final Chase field. Right now, MWR's Clint Bowyer is second in the NASCAR Sprint Cup points standings and a virtual lock to make the Chase, while teammate Martin Truex Jr. is 11th and teetering on the edge of qualifying.
The top 10 drivers in points after 26 races will qualify for the Chase, as well as the two drivers in positions 11-20 who have won the most races.
Asked if the difference between making the Chase and missing it is in the millions of dollars per car, Waltrip told FOXSports.com, "I would say it's safe to say that because of the purse and sponsor incentives, but more than that, it's about survival. You have to be a Chase team if you want to be here for the long haul."
J.D. Gibbs, president of Joe Gibbs Racing, agreed with Waltrip.
"It's very important. If consistently you're not in that Chase, if you're not making a run for it, it would be hard to stay in business," Gibbs said.
The economics alone are compelling. In recent years, winning the championship has paid in the neighborhood of $6 million, a sum typically split equally -- or close to it -- between driver and team. Last year, Brad Keselowski's payout was $5.7 million, down from the $6.6 million Jimmie Johnson won in 2009.
Even finishing 12th, the final position in the Chase, is worth about $1 million in NASCAR bonus money.
The big money, though, surrounds television exposure and sponsorship incentives. According to sports research firm Joyce Julius & Associates, the top three drivers in points last year generated an average of about $30.8 million in exposure for their sponsors during the 10 Chase races and their re-airs. Conversely, the average for drivers in points positions 13-15 was just $5.8 million. Being a contender pays well for sponsors.
In terms of individual statistics, Johnson earned the most TV exposure during last year's Chase with $38 million of exposure value, followed by Keselowski at $37.9 million and Denny Hamlin at $24.3 million, according to Joyce Julius.
Those numbers are critical to team sponsors, who heavily incentivize teams with lucrative financial bonuses to make the Chase. And although teams don't disclose specifics of those bonuses, they are worth seven figures, according to principals from top teams.
The TV exposure drives the relationship between the teams and the sponsors.
"I think it's huge," said Tony Stewart, co-owner and driver for Stewart-Haas Racing. "If you're in the Chase, and even the lead-in to the Chase, you're getting so much airtime and exposure, and that's what these sponsors and partners are looking for, obviously, is the return on investment. The more that they can get their logos out there and the mentions, that's where they see their value."
And the value is what the sponsors pay for. The combination of prize money and sponsorship dollars can go a long way toward cementing a team's future. In a sense, making the Chase helps the rich get richer -- those extra millions of dollars earned for performance allow teams to spend money on equipment and personnel to make them even better going forward.
"If you can make the Chase, everything leading into that first race is a big, big deal," said Stewart.
"You're talking millions of dollars in advertising because of that. If you miss that Chase, it's definitely a big impact on your organization. Even if you know you don't have a chance to win the Chase, there's a lot of value from an ownership side to being in the Chase."
For the drivers, too, it's a big deal.
"The Chase makes your season," said Bowyer, last year's Chase runner-up, who narrowly missed NASCAR's playoff round in 2011. "Competing for a championship for your team, for your sponsors more than anything -- they want their car to be in that Chase because that's where all the limelight is. The pressure is unbelievable when you're on that hinge of making it or not making it. It's not a good feeling that I'd wish upon anybody. That's what makes the Chase so prestigious."
In years past, being runner-up in the Chase was worth $2.5 million or more, a nice sum even when split 50-50 with the team.
As for narrowly missing it, as Bowyer did in 2011, that's no fun.
"It sucks not getting in," Bowyer said. "It's so difficult. You and your team work so hard -- that makes your season."
If you can't make the Chase, the best thing to do is win some races during the Chase.
"The Chase is the best thing that NASCAR's done in a long time for the sport," said team owner Richard Childress. "But being competitive and winning races and running good and servicing sponsors has always been the key to it. We've kept sponsors happy when we didn't make the Chase. If you go out and beat the Chase drivers with your car, you're going to get as much out of it usually, if you can win or run up front."
Still, it's better to be in than out.
No one knows that better than Waltrip, who struggled as a team owner to elevate his organization to contend for a championship. The big breakthrough came in 2012, when MWR made the Chase for the first time. Waltrip hopes and expects the success will continue.
"It had to happen in '12 and it did, and it has to happen going forward," Waltrip said. "I know that's a lofty goal, and I'm sure there's going to be bumps in the road at times, but we're designed and we operate as if we're going to make the Chase with two cars."
And over the final eight races until the Chase field is set, the pressure will only ramp up, as the wild-card standings continue to change on a weekly basis.
Just ask Joey Logano, who is trying to get into the playoffs for the first time. In the span of five races, Logano climbed from 19th to 10th in points. But a tire problem at Daytona International Speedway on Saturday night left him 40th in the race and dropped him all the way back to 15th in points.
"There is a lot of stuff we can't control here, but if something does happen, we have to be strong and figure out how to get the best finish we can, like we've been doing," Logano said. "That's the biggest thing we've been doing is just making sure we have the best finish no matter what's going on. We'll just keep doing what we've been doing, and if the opportunity comes up to win a race, we have to take that and take a shot to win it."