Makeshift Giants offensive line struggles during Wednesday's padded practice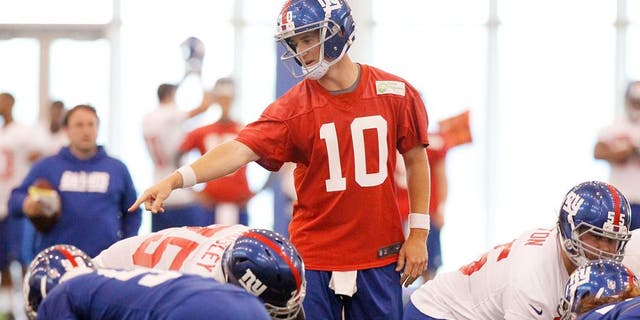 The New York Giants had their first full-padded practice on Wednesday, and it wasn't pretty for the Giants' offense thanks to some questionable play from the offensive line. With projected starters Ereck Flowers and Weston Richburg sidelined with injuries, in addition to Will Beatty, the remaining group was handled by the defensive line.
From left to right, the Giants' starting line during Wednesday's practice read: Justin Pugh, Adam Gettis, Dallas Reynolds, Geoff Schwartz and Marshall Newhouse. Only Schwartz and Newhouse remained in the same position from the offensive line that kicked off training camp, and Newhouse was only on that line thanks to the Beatty injury.
According to beat writer Jordan Raanan of True Jersey, several Giants defensive linemen created consistent pressure off the edge and through the interior. The pass plays were disrupted. Manning and the Giants' offense had arguably their worst practice of training camp.
Giants head coach Tom Coughlin tried to find the silver lining from the offensive line's performance.
"I'm sure there was some good and some bad [with the line]," Coughlin said, per True Jersey. "To be honest with you, there were better runs than there were anything else. I thought that was something, if you want to build on. That was pretty good."
The Giants are hoping to get both Flowers and Richburg back for their first preseason game against the Bengals in eight days. The offense needs to find some consistency and continuity on the line.
(h/t True Jersey)