Mailbag: Why is everyone so high on Michigan this year?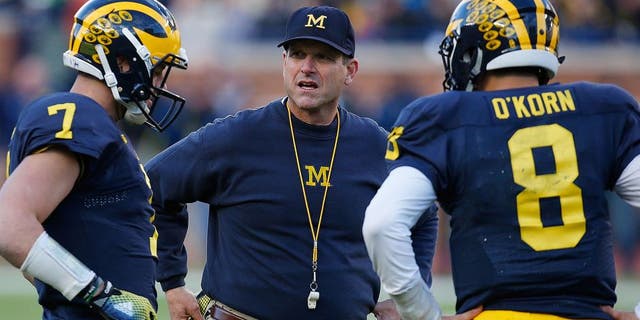 Having stared down the belly of SEC obstructionists and prevailed, Jim Harbaugh has announced a Satellite Camp Tour to end all Satellite Camp Tours, spanning from Indianapolis to Australia. I ... do not care. But I'm happy to talk about Michigan's upcoming football season.
I see a lot of parallels with Jim Harbaugh's first year at Michigan (10-3, Citrus Bowl win over Florida) and Brady Hoke's in 2011 (11-2, Sugar Bowl victory against Virginia Tech). Things looked promising in 2012 with Denard Robinson returning, but Michigan went 8-5 and then got worse. Now, the press has anointed the Wolverines preseason Big Ten favorites even though they play at Michigan State and Ohio State and have an unknown QB. Can you tell me why the hype might be warranted this time?

-- Russell B. (Austin, Texas)
In a word: Harbaugh. All these lofty prognostications (mine included) are largely because we've seen the guy do it before at Stanford and with the 49ers. It's similar to when Nick Saban got to Alabama and Urban Meyer to Ohio State; you knew it wouldn't take them long, and indeed, both took undefeated teams to their respective conference championship games in their second seasons. Something similar seems like a more-than-attainable feat this season for a veteran Michigan team that came within a botched punt snap against Michigan State from winning its first seven Big Ten games.
It's hard to put myself back in my exact headspace of four years ago, but my recollection is that few outside of Ann Arbor were anointing Hoke a savant off that one Sugar Bowl season (and one great season at Ball State). There was a bit of a smoke-and-mirrors feel to it, and a general clunkiness to the way Hoke and OC Al Borges were attempting to ram Robinson into a pro-style offense. It did not surprise me in the least when Alabama blew Michigan off the field in Jerry World to start the season. Conversely, if this year's Wolverines opened against the defending champs, I'd still take the Tide, but I don't believe it would be nearly as lopsided.
One area Hoke never figured out was his offensive line, which seemed to get progressively worse throughout his tenure, whereas big uglies are Harbaugh's forte. Last season's unit performed well above expectations with mostly the same core of inexperienced players that struggled so badly the year before. Going into 2016, Michigan now has four juniors or seniors, who between them have made a combined 102 career starts. And its defensive line could be one of the nation's best, especially if No. 1 recruit Rashan Gary comes in and contributes right away. Throw in an All-America caliber tight end (Jake Butt) and a valuable fullback (Henry Poggi) and this team, on paper, seems to fit Harbaugh's preferred mold to a T. Whether that's good enough to win the Big Ten and/or make the playoff will likely swing on whether a new quarterback can match or exceed Jake Rudock's steady hand in 2015.
Stewart: USC's schedule is BRUTAL.What is a realistic win total for the Trojans this year? Will they start the year 1-3? Also, what is a realistic win total for Notre Dame? If the Irish can beat Michigan State at home, their schedule looks solid but favorable.

-- Michael (San Diego)

USC's schedule is the hardest I've ever seen on paper for a major program. I'm not kidding. Two of the first three games are against two of the top three teams to end last season (No. 1 Alabama and No. 3 Stanford), both away from home. The fourth is on the road against a Utah team that won 10 games last year. The last four are all against teams likely to be ranked in the preseason polls (Oregon, Washington, UCLA and Notre Dame). And the four in the middle aren't exactly cakewalks, notably games against the two Arizona schools.
Throw in a mostly new coaching staff, new quarterback and depleted D-line and I'd put the realistic win total at seven. Take the same exact team and give it a more modest schedule -- say, two easy non-conference games and a crossover game against Oregon State instead of Oregon, and I'd probably say nine.
With Notre Dame, I've found the Irish's schedule rarely plays out the way it looks before the season in large part because it's essentially one big non-conference schedule. For example, going into last season you would have pegged defending Orange Bowl champ Georgia Tech as one of the toughest opponents; the Jackets went 3-9. Meanwhile, two perceived pushovers, Navy and Temple, fielded ranked teams.
My hunch is this year's will prove tougher than it looks, as Texas, Miami and Virginia Tech all have potential to be much-improved from a year ago, to go with Michigan State, Stanford and USC. NC State on the road could be a sneaky one as well. Nine wins is realistic, though 10 is certainly attainable if the Irish take care of business at home. They only play three true road games.
Help solve an office conundrum. When was the last time a team that has been as consistently mediocre as Washington has been over the last five or so years (5-4 or 4-5 in conference) received this kind of preseason hype (win conference, top-10 type finish)?
-- Matt DeVore (Portland, Ore.)
I'm sure it's endlessly amusing for Ducks fans to see a rival they haven't lost to since 2003 suddenly ranked ahead of Oregon in every early top 25. Frankly I'm surprised myself -- I thought I was being out-of-the box when I anointed the Huskies a top-15 team back in January. But here we are with Washington, 15-12 in Chris Petersen's first two seasons, ranked 11th in the country in Athlon's newly released list and Oregon, coming off its first four-loss season in eight years, down at 24th. I still believe in Jake Browning, Myles Gaskin and the Huskies, but I worry the bandwagon filled up prematurely.
One comparison that comes to mind is 2008 Clemson, which started ninth in the AP poll coming off a 9-4/5-3 season despite having not finished a season higher than 16th in nearly two decades. Clemson promptly started 3-3 and head coach Tommy Bowden was out. And who could forget late-Bobby Bowden Florida State, which perennially went 8-5 or 7-6, then got picked to win the ACC again the next summer.
But the 'Noles at least had a semi-recent history of dominance. With Washington, we're putting a whole lot of faith in Petersen to take the program to heights it hasn't enjoyed in 15 years. Call it the Heart of Dallas Bowl bounce.
I enjoyed your article about college football in 2026 and think you are on the right track about contraction, but reducing to 24 is just crazy. You have excluded the entire eastern seaboard north of Atlanta save for Penn State, excluded Seattle as well as the entire Mountain time zone and 90 percent of the Midwest. I think a contraction like you listed would only be possible at 48 teams with four 12-team leagues.
-- Andrew (WVU, California)
First of all, thanks to everyone who wrote in or tweeted responses to the article, which I figured might raise a few eyebrows.
The lineup I laid out was intentionally ultra-exclusive, mostly to emphasize my point about quality of content superseding quantity of teams in the TV/media landscape of the future. I actually started out with an intended target of 36 -- four nine-team divisions -- and started putting together that list but realized it was starting to stray too far from my thesis. By the time I got into the 30s I was including schools like Syracuse, Illinois and Maryland purely for the TV sets, which is pretty much the exact thinking that drove the last realignment wave. Push it to 48 and you'd basically be keeping the same current structure but just shedding a little dead weight from each conference. I can't see that going over well.
But I fully admit the 24-team concept may be unrealistic. And just to be clear, I personally do not want to see the highest level of college football become NFL-lite, as many of you referred to it. If it were solely up to me, I'd go back and freeze the conferences where they were circa 1992. I'm also very much against expanding the playoff to eight. I like it at four. But both those ships have or will have sailed by 2026. I can't predict what the landscape will look like exactly, but I do believe it will involve some movement toward grouping together the sport's most valuable brands rather than continuing to surround them with less competitive programs solely out of loyalty or tradition.
It sounds cutthroat, but it may be inevitable.
Stewart: That's a terrific idea. Even better if you throw in one of my favorite things from the wide world of sports: relegation and promotion. Good to have interest on both ends, I think.
-- Wallace Bever (Ft Myers Beach, FL)
This was by far the most popular suggested revision to my concept, which tells me there's a lot more overlap between college football and European soccer fans than I realized. And I admit, on paper, it sounds pretty cool. I just don't understand how you could do it financially given how massive the dropoff would be in TV revenue for teams that get relegated.
Not being a close futbol follower I had to look up how it works in England -- clubs that get relegated down from Premier League eventually see checks for a staggering 30 times less after four years of "parachute payments" vanish. Are you telling me that if Alabama falls into a downward spiral its conference revenue would drop (using current-day figures) from $31 million a year to $1 million? That seems crazy to me. Especially since that money funds the non-revenue teams.
A more realistic scenario is that the Confederation has some sort of check-in window every five years or so where whoever's running the thing could choose to drop a consistently poor-performing program in favor of another. In college football it would take an awful long stretch of losing for a legacy brand like USC or Ohio State to no longer be considered one of the 24 most valuable properties, but perhaps an Arkansas or Stanford would operate on less permanent ground.
It seems like every year the coach firing season gets earlier with four Power 5 vacancies last year prior to mid-October. Who are some coaches that could get the boot this season before Halloween?
-- Nicholas Nelson (Paradise, CA)
Gosh, now that Tim Beckman's gone I don't see a lot of obvious "dead man walking" candidates out there. Remember, three of those super-early dismissals involved a guy who abused his players (Beckman), a guy who showed up drunk to work (Steve Sarkisian) and a guy who up and quit on his struggling team (Steve Spurrier). But it does seem like schools are now prone to pull the plug on a hopeless coach much quicker, as Maryland did with Randy Edsall (Oct. 13) and Miami with Al Golden. Five such pre-November ousters was extreme and not likely to be repeated this year, but there will inevitably be a couple.
Start with guys who seemingly got a reprieve after last season. Purdue's Darrell Hazell, 6-30 in three seasons, probably won't survive another 2-6 type start, especially given the Boilers open with Eastern Kentucky, Cincinnati, Nevada, Maryland and Illinois. I feel like half the SEC's coaches are on the hot seat already, and someone like Kentucky's Mark Stoops could possibly get a quick hook. Based on last year's soap opera it's safe to assume Les Miles can't afford for his likely preseason-top-5 LSU team to implode. Beyond that, it would likely be something that comes out of nowhere like South Carolina/Spurrier last year.
If you were advising an ambitious coordinator at a major program, would you recommend taking a job at a bottom of the rung power five school (Wake Forest, Kansas, Indiana, etc) that has to compete against major programs everyday, or a decent rest of five school (Colorado State, Akron, Fresno State, etc.)
-- Kerry Ryan (Denver, CO)
I suppose that depends on how much the ambitious coordinator likes money. Because Indiana (where Kevin Wilson makes $2.5 million) can afford to pay its coach a lot more than Akron (where veteran Terry Bowden made $407,500) can. You're also going to be on TV a lot more at a Power 5 school, which means higher probability that an AD at a higher-profile program might happen to come upon one of your games and likes what he sees. That happens more often than you might think. The tradeoff is, Wilson or Wake Forest's Dave Clawson may have to endure several years of losing before they ever get a chance to truly prove they know what they're doing.
That's why many coordinators are starting to look past the dollar figures and focus more on where they have the best chance of winning. Former Oregon offensive coordinator Scott Frost, for one, was very choosy about his first head-coaching gig, ultimately taking UCF's, due in large part to the program's access to recruits. He's confident he can win there. By staying at Houston, Tom Herman basically bet on himself winning big there for another year or two and landing a better Power 5 job than South Carolina (which courted him last year). And Kirby Smart had plenty of opportunities pre-Georgia but likely helped his cause more by staying at Alabama and winning titles than had he took over a rebuilding Power 5 school and lost a lot.
So I'd recommend Option B, but then, it's not my $2.3 million a year to turn down.
If you look at the Top 25 from 50 years ago, it is the same teams as today-USC, Alabama, ND, Ohio State, etc. It looks like only two teams, Florida State and Virginia Tech, have been able to break into the club consistently. What teams in 20 years break into the club, and who will be out?
-- Allan Schoenberger (Blufton, SC)
Actually, Virginia Tech finished 20th in 1966. But I get your point. It is indeed a lot of the same names as today, with the exceptions of Bob Griese-led Purdue at No. 6, and, Wyoming -- yes, Wyoming -- at No. 15. But it's more than just two schools that have "joined the club." While Florida and Miami happened to appear that particular season they did not achieve their modern-day prestige until the '80s for Miami and the '90s for Florida. Wisconsin, now a perennial Big Ten title contender, was a doormat for decades. Ditto Oregon in the Pac-8/10. And while only a five-year run so far, that Baylor is now mentioned as a top-10 team as if expected would certainly not have been the case a half-century ago.
Who joins the ranks in 20 years will likely depend in large part on what direction conference realignment takes. If TCU maintains its "have" status, I would not be surprised if that school has cemented its place as a top-25 fixture. Utah has much the same potential. And while Louisville has been pretty good for a decade now, I could see its profile rising considerably over the next two.
Conversely, I worry for Nebraska, a top-10 fixture for decades that has not finished a season that high since 2001. West Virginia feels a bit like its best days are behind it; the Mountaineers will never disappear, but the Major Harris and Pat White peaks may become more rare. And it will be interesting to watch Oregon's course over the next decade as its once-revolutionary system loses its edge. Will the Ducks remain consistently good regardless, or will they return to their pre-2001 days as a mostly middle-of-the-pack Pac-12 team? All three don't have built-in recruiting advantages where they're located and will always have to innovate and/or develop talent better than others to maintain success.
Stewart, should the Big 12 go on the offensive and drop Texas from its league?
It seems crazy to do that but Texas is clearly the school that does not play well with others. Give them the ultimatum, either fold the Longhorn Network into a Big 12 Network or adios.

-- Craig Molineux (Mississauga, Ontario)
Do that and you're one Oklahoma defection away from the Big 12 becoming a Great Plains version of the American. What would we call that -- the Great American?
Correction: An earlier version of this article contained incorrect salary information for Kansas head coach David Beaty. The example was changed to mention Indiana's Kevin Wilson.