Mailbag: How Florida, Michigan raced ahead of the curve this year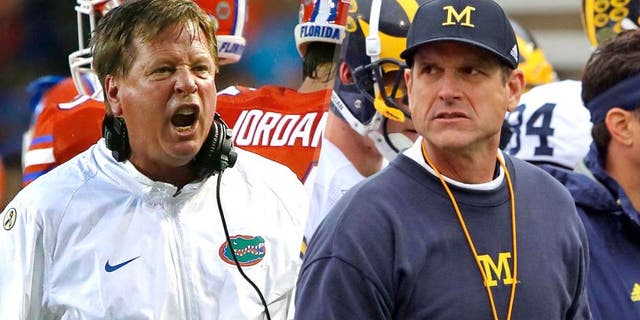 NEWYou can now listen to Fox News articles!
Over the past couple of years, it seemed like Florida and Michigan were playing out parallel arcs 1,000 miles apart, with doomed four-year coaches (Will Muschamp and Brady Hoke) continually trotting out astonishingly anemic offenses. Now, they're both seemingly enjoying parallel resurgences.
Hi Stewart, I know it's still two years out, but the 2017 matchup between Florida and Michigan is looking better and better after each Saturday. Which team's success so far this season surprises you the most, and which coach do you think will have his team in a better position after two years at the helm?
--Julie, Raleigh, N.C.
Well, is that question even relevant given Jim Harbaugh will be coaching the Miami Dolphins next year? (... Sorry, just wanted to see how many incredulous Michigan fans I could get to scream out loud at the same time.)
They're both surprising, but Florida more so. All signs pointed to this being a potentially miserable rebuilding season given the seeming dearth of capable offensive linemen and skill players. Even if Will Grier or Treon Harris emerged as a viable quarterback (as Grier clearly has), he'd be hampered by lack of a supporting cast. Jim McElwain hinted as much in the spring with comments like, "You've got to play the hand you're dealt and right now, quite honestly, the hand we were dealt is really insufficient at some of the areas."
Even as the Gators managed to survive against East Carolina and Kentucky, they looked like a team trying to get by with a competent but limited offense. But since the second half of the Tennessee game, we've seen not only Grier explode but more playmakers step up (Demarcus Robinson, Antonio Callaway, Brandon Powell Jake McGee) than seemingly the entirety of the Muschamp era. Florida's still lacking depth, though, so it's imperative that line stays healthy.
Michigan, meanwhile, is doing exactly what you'd expect a Jim Harbaugh team to do --€" but not this quickly. The offense is still far from explosive (75th nationally in yards per play) but it's effective at ball control. The bigger surprise may actually be the Wolverines' second-ranked defense. We knew there was talent there, but this is still not a star-studded group, and yet it's been nothing short of dominant. One caveat: Michigan has not yet had its equivalent of Florida's Ole Miss win.
I'll take the cop-out and say they're both well positioned for 2017. Harbaugh may be more established, but I really believe Florida hit a home run with McElwain. He's an offensive-minded guy, which Gators fans prefer, and he just exudes a certain swagger that clearly rubs off on his players. And he's only now really getting recruiting cranked up. It's early, but Florida is finally starting to look like Florida again.
Even though there is a ton of football left, how bad is it for the SEC to not have a team in the AP Top 5 for the first time in forever? Is this just the SEC killing itself with good teams or is this just a potential down year for the conference?
--Bo Tanaka, Tracy, Calif.
The SEC plays more early-season conference games than everyone else. Case in point: six teams have already played three; no Big Ten team has played more than one. Many, many times that strategy has helped prop up teams' early-season rankings, like last season, for example, when Texas A&M shot up the polls after blowing out South Carolina in the opener, and then Mississippi State followed after blowing out A&M. It's backfiring right now, though, because as soon as Ole Miss got a credibility-boosting win over Alabama, it turned around and got drilled by Florida. 'Bama then went out and destroyed Georgia, costing the league one Top 10 team while barely returning itself.
Now, you've got an LSU team whose quarterback went 4-of-14 against Eastern Michigan leading the pack.
So yes, those ripples certainly give the appearance of a ninth straight "down year" for the SEC. But it seems to me that a similar level of parity is affecting nearly every other conference as well. Is it also a down year in the Pac-12, where only one undefeated team will remain after this weekend? Or is it more a case of having five or six largely interchangeable contenders? Obviously it really does not matter whether a conference has a Top 4 team now, only that it does so in December, and I won't believe the SEC champ finishes outside the Top 4 --€" even with two losses -- until it actually happens.
Fourteen days before Ohio State started its unexpected three-game romp in last year's 59-0 Big Ten Championship game win, the Buckeyes played a conference game at home with Indiana. "We kind of [had] them where we want them, 4 minutes to go in the 'Shoe and it's 28-20," Indiana coach Kevin Wilson said afterward. "We were trying to make a play and came up short." Do you think the Buckeyes are in worse shape now than they were last year on Nov 22nd when they also had trouble finishing off Indiana?
--Jeff Donat, Minn.
That's an interesting comparison. I would say that Ohio State's 2014 offense had a lot fewer questions on Nov. 22 than its 2015 version does today. The Buckeyes by then had scored at least 49 points on six occasions. This edition has reached a high of 42 once, in the opener against Virginia Tech. On the flip side, a defense that allowed 6.3 yards per play to the Hoosiers that day had not yet rounded into the version that would end up largely stymieing Melvin Gordon, Amari Cooper and Marcus Mariota. This year's OSU defense held Indiana to 4.4 yards per play and ranks fourth nationally in that category (3.83 YPP), up from 25th last season.
So essentially, they're just winning a different way.
If you were to put last week's result in perspective, you'd say, "Ohio State beat a 4-0 conference opponent by a touchdown on the road. What's the big deal?" In the SEC they call that "grinding one out." But because of all that returning star-power on offense, the Buckeyes were bound to disappoint if they didn't plaster 50 points on everybody. Truth be told, it's hard to gauge Ohio State because I still don't know what to make of their competition and probably won't until they face Michigan State on Nov. 21. In the meantime, though, while other teams are showing me something in big games, Ohio State is essentially in a long holding pattern.
What would it take for you to NOT put Iowa in your Rose Bowl projection? It seems like every time they start to get recognition as a good team, they start to become a not-so-good team. I'd like to ride out this fun season a little while longer.
--Andy Leonard, St. Paul, Minn.
I'd be happy to replace the Hawkeyes with Michigan State whenever the Spartans decide to start playing second halves of football games again.
Is the Oct. 17 Iowa-Northwestern game going to be for the Big Ten West championship? What are you going to do if Northwestern wins the West? Will journalistic disinterest be thrown out the window?
--Kerry Ryan, Denver
Despite that Rose Bowl projection in Monday's Forward Pass, no, I'm not ready to go there yet. The Hawkeyes so far do share some of the definining traits of Kirk Ferentz' previous glory teams, like the 2009 Orange Bowl champs, that blend good defense, a strong running back (Jordan Canzeri), decent-enough quarterback play and good fortune in close games. Last week's 10-6 win over Wisconsin included Joel Stave fumbling a fourth-quarter handoff exchange at the Hawkeyes' 1-yard-line. Previously they beat Pitt on a walk-off 57-yard field goal. If things keep breaking right, Iowa may well go to Indianapolis. Or the law of averages catches up to them and they lose three games.
Northwestern, meanwhile, is one of the few teams in the country that's formed a pretty consistent identity. The Wildcats' remarkably sound defense just shuts people down, they run the ball, they get great play on special teams ... and then they hope that's enough to avoid relying on redshirt freshman QB Clayton Thorson in any meaningful capacity. They also beat a really good Stanford team. So I feel a little more confident in Northwestern than I do Iowa, but their schedule, which includes crossover games against Michigan (this week) and Penn State, is tougher.
Finally, while Iowa already has a leg up on Wisconsin, I would not write off the Badgers, who will get back RB Corey Clement at some point. But I would be stunned if the champ is anyone other than these three.
As for covering Northwestern, I don't hide from the fact I enjoy seeing my alma mater do well. It's particularly neat to see Pat Fitzgerald's team leading the country in scoring defense on the 20th anniversary of the 1995 Rose Bowl team, which did the same. But in this job, I've got a lot of teams to keep up with around the country, and it's not too hard to remain objective. I worked a long time to build a reputation for professionalism. In the bigger picture, maintaining that is a whole lot more important to me than whether Northwestern beats Michigan.
I'm starting to notice that many college football writers seem to be taking a more thoughtful approach to ranking teams. Case in point is your ranking Utah at No. 1. I have no idea whether or not the Utes belong at the very top, but it is refreshing to see that people are weighing results on the field more so than simply adhering to preseason polls. Do you feel this is a result of the implementation of the playoff and the fact that the selection committee last year was willing to move teams around in their final vote?
--Nate, Moscow, Idaho
We discussed this topic at length on The Audible this week. Bruce and I had on ESPN's Brett McMurphy, himself an AP voter who also has Utah No. 1 and does not even have Ohio State (the overall AP poll's No. 1 team) in his top 10. Absolutely you're seeing more people who cover the sport now mimicking the committee's "resume"-type approach, which is still a bit of a crapshoot this early in the season but more constructive, in my opinion, than the traditional poll mentality of "you don't move down unless you lose." The AP and coaches polls unfortunately aren't mirroring that approach just yet.
I was once an AP voter myself, and I can tell you I approach my FOX Four ballot much differently than I did that endeavor. Granted, the stakes are much lower for our fun little dot-com article than it was for that poll at that time (when I could very well have played a role in crowning a split national champion). But back then I would start every Saturday night/Sunday morning with my ballot from the week before as a starting point. Now, on Saturday nights, I load up a blank Word document and start from scratch every week. Because especially this early, my perceptions of teams can change dramatically from one week to the next.
Which team will be more deflated heading into Neyland Stadium this Saturday? The one that got blown out on a national stage, or the one that blew a double-digit lead three times in their first five games?
--Brian Stewart, Gainesville, Ga.
There's an amazing stat floating around the Interwebs this week: Six teams have led by at least 13 points in all of their games this season. Five of them are undefeated. The sixth is 2-3 Tennessee.
While performing so miserably in such a big game last week against Alabama could certainly be demoralizing for Georgia, it's just one game. I'm sure Mark Richt has emphasized this week that the Dawgs still control their destiny in the SEC East. Furthermore, most of those players have experienced plenty of winning --€" they beat four ranked teams last season. Tennessee, on the other hand, is still seeking its first signature win under Butch Jones. The Vols keep failing to close out games, and the players' confidence has to be fried after losing three of their last four.
That doesn't mean Tennessee can't win the game. If nothing else the Vols will play with the kind of desperation that then-1-3 Arkansas likely did in winning there last week. It will be interesting to see what the energy is like in Neyland Stadium. Vols fans are the ones most likely to be beaten down at this point. How many times can you get your hopes up only to have them dashed and still come out amped up again the next week? Jones has already dug himself quite the hole; it will be even harder to climb out of if the players don't feel supported.
Stewart, regarding your Mailbag last week suggesting a college football coach should act as CEO and designate an on-field coach, Bobby Bowden did this the last five to 10 years of his coaching career. My FSU friends would cringe when he put the headset on -- typically in the Miami losses. There is already precedent.
--Mark T., Charlotte, N.C.
Yeah, but that's because he was checked out, not progressively innovative. Though FSU in the late '90s with Bowden playing the role of head charmer/recruiter and Mark Richt and Mickey Andrews as his badass coordinators was not entirely far off from my proposal.
In regards to your CEO idea: You are right, and it has happened. You should take a look a Coastal Carolina's Joe Moglia. He was the billionaire president of TD Waterhouse, cashed out to become a college football coach and does it exactly the way you are saying. He currently has the Chanticleers No. 2 in the FCS rankings.
--Dooby Dular, Myrtle Beach, S.C.
Yep, he's in large part whom I based the concept on. Moglia's done a tremendous job raising funds for that program, rallying community support and shaping a vision while delegating most of the Xs and Os/in-game stuff. Major programs aren't generally looking to hire 66-year-old first-time FBS coaches these days, but it'd be fascinating to see Moglia try it at the highest level.
As TCU continues to get its defensive players back and rotated into the system, how do you see this playing out in the Big 12 between Baylor/TCU/OU?
--Andrew Norman, Fort Worth, Texas
No question, the Horned Frogs' dominant performance against Texas was encouraging coming off their shootout against Texas Tech the week before. But I also don't believe the defense got THAT much better from one week to the next. A deflated and evidently dysfunctional (if social media is any indication) opponent had something to do with it. But Trevone Boykin and the offense are playing at such a high level that Gary Patterson's defense just needs to be decent, not great, to win most weeks.
Five weeks into the season I find it no easier to declare who's better between TCU and Baylor than I did for the last eight months. Oklahoma is getting solid play from QB Baker Mayfield, and the defense looks improved enough to be a factor as well. Ultimately, I believe the race will come down to who takes care of business in their games against the other seven league teams. For instance, in a strange quirk, TCU, Baylor and OU all visit Manhattan, Kansas, over the next four weeks. You just know The Wizard --€" who nearly beat Oklahoma State last week with a fifth-string quarterback --€" is going to ruin things for at least one of them.
So in your Sept. 2 Mailbag, you dismissed my predictions about Florida's season as too optimistic. Your thoughts now?
--Kimberly Woodham Griffis, Suwanee, Ga.
I think there may be an inverse correlation between the brevity and glibness of my predictions and how woefully wrong that they prove.