Mailbag: Could the Big 12 just kick Baylor out?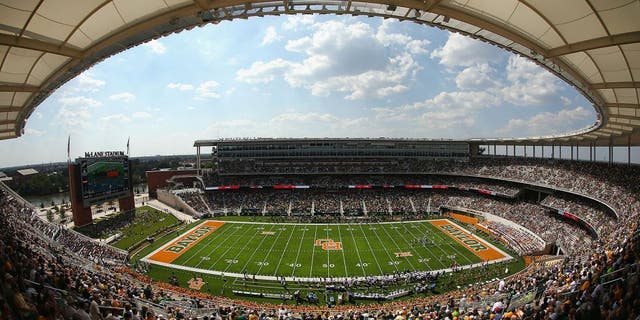 NEWYou can now listen to Fox News articles!
How far has Baylor's reputation fallen in the past few weeks? This week, one of its boosters, 86-year-old Gale Galloway, said that, "No one respects womanhood more than Art (Briles)." Somehow it hardly seems surprising that a Baylor booster would A) want to bring back Briles or B) try to paint him as a feminist icon while completely misusing the phrase "womanhood."
Stewart: As media reports circulate about the Baylor Board of Regents voting to reinstate Art Briles after a one-year suspension, my question is this: At what point does Baylor's continued ineptitude in handling this situation jeopardize its continued membership in the Big 12? As a Big 12 member alumnus myself, this is embarrassing and beyond ridiculous.
-- Jerrad, Sugar Land, TX
It's made for some juicy headlines, but Briles is not coming back. At any school there are always a few loose-lipped boosters like Galloway prone to spouting off, as was the case here. At a school with strong leadership in place, no one would take those voices seriously, but this is Baylor we're talking about, so I can see why people may have assumed these guys were speaking for the entire school.
As tone deaf and insensitive as their push came off, keep in mind that boosters have no official responsibility to the victims in this tragedy or toward maintaining campus safety. They just want to watch 59-23 wins from their luxury suites. And apparently they feel their pocketbooks should carry more weight than a third-party investigation that revealed Briles' staff interfered with rape investigations.
I'm confident the larger board will not succumb to their tone-deaf agenda. In the meantime, though, given the complete void in leadership there, no one is officially debunking the story, so the public thinks this is something that could actually happen.
As for the Big 12, commissioner Bob Bowlsby has maintained that the conference will be hands-off as to any Baylor institutional decisions. "We're here to manage athletics contests," he said last month. "That's as far as our involvement should go." The only time in recent history a power conference kicked out a member was the Big East with Temple in the early 2000s, but there was no scandal there, rather prolonged on-field and academic ineptitude coupled with poor support. Along those lines, any decision as severe as kicking Baylor out would likely only result from years of mismanagement going forward. Right now it's only at the infant stages of repairing the damage here.
Stewart, with the news about Florida AD Jeremy Foley retiring, I wanted to ask how much an athletic director is responsible for a school's success (or lack of it) on the field. Clearly, a bad athletic director can sink a department, but how much benefit is an outstanding one? And, if they are important, why does their hiring get so little attention compared with the hiring of football and basketball coaches?
-- Jonathan, St. Petersburg, FL
Foley is an interesting case study in answering that question. The stat you keep hearing this week is that Gators teams won 27 national championships during his 25-year tenure. That doesn't happen without him hiring the right coaches and giving them the necessary resources to achieve success.
But even a great AD is not immune to regrettable hires. In football and basketball, Foley made two absolute home-run hires, Urban Meyer and Billy Donovan, that resulted in the two delivering multiple national titles. But the same person with the same acumen also made two dud hires, Ron Zook and Will Muschamp, that briefly derailed a previously dominant program. (It's too soon to judge his most recent hires, Jim McElwain or Mike White.) Ultimately, all you can ask is he makes more good ones than bad.
AD searches do get far more coverage today than they did in an earlier era, when many schools (especially in the south) defaulted to just promoting a retired coach like Frank Broyles or Vince Dooley. The job is too important today to go that route. One need only look at the cautionary tale of recently ousted Baylor AD Ian McCaw, who helped initiate a remarkable turnaround by having the foresight to hire Art Briles, who was relatively obscure at the time, then played a part in the program's demise by either failing to grasp or choosing to ignore the extent of the issues in that program.
Hi Stewart: A fair amount of preseason talk has been about Auburn's newest quarterback, John Franklin III, who seems to fit the mold of Gus Malzahn's offense. But he is another JUCO transfer. Which leads to my question: Does Auburn and more specifically Malzahn have a problem developing quarterbacks? His only successful QBs, Cam Newton and Nick Marshall, came from other programs.

-- Robby Monk, Jacksonville, Fla.
Malzahn called plays for Newton in his lone season as a college starter, arguably the most dominant of any college football player in at least a quarter-century. He came within 13 seconds of a national championship with a quarterback, Marshall, so raw that his initial school, Georgia, pegged him as a defensive back. So I have a hard time saying Malzahn can't develop QBs.
A more valid question may be, why has Auburn had so many misses with its high school quarterback recruits? The program signed six from 2009 (Malzahn's first year as OC) through 2014, excluding his one year at Arkansas State in 2012, and none have made a significant contribution. That includes some high-profile busts like Tyrik Rollison (four-star recruit in 2009) and Kiehl Frazier (top three dual-threat QB in the class of 2013), both of whom transferred out and shined at lower levels. Are they blowing the evaluations, giving up on them too quickly or both?
But the highest-profile bust yet, of course, the one that has Malzahn in his current bind, is 2013 four-star Jeremy Johnson. After his interception-fueled implosion upon finally landing the starting job last year, he's now facing a three-way duel with Franklin and Sean White. Malzahn has to hope Franklin progresses quickly enough to assume the reins. By all accounts he's got the speed to be a Newton-/Marshall-type dual threat for the Tigers, a dimension Johnson lacked. Malzahn's offenses are generally more dangerous when the quarterback is a run threat.
I recently saw that Verne Lundquist is retiring after this season. He seems to be the last of the legends. If there was a College Football Playoff for all-time favorite play-by-play announcer, what are their seeds and who are you taking? In no particular order, the top contestants are Verne Lundquist, Brent Musberger, Keith Jackson and a "Group of 5" announcer who sneaks in, to be named by you.
-- Trevor Kuhn, Portland, OR
What's interesting about Verne and his pending farewell tour is that he really only became a college football voice near the end of his career. He's been the voice of SEC on CBS since 2000, but before that spent decades calling the NFL, NBA, the Masters, the NCAA Tournament, Olympic figure skating and more. Heck, as a 20-year-old college student I knew him primarily for his role in Happy Gilmore's brawl with Bob Barker. But today, of course, he's most synonymous with the Cam Newton Iron Bowl, the Kick Six, the Miracle at Jordan Hare, Johnny Manziel beating Alabama, et al.
With the caveat that I'm not old enough to have watched Chris Schenkel or Lindsey Nelson call a game, Keith Jackson is my undisputed No. 1 seed followed by Musberger, Lundquist and, this may be controversial, but my No. 4 seed is Sean McDonough. Unfortunately we're losing him to the NFL this year, but McDonough had called college games for CBS or ABC/ESPN since the early '90s, and I have a feeling we'll be hearing his voice crack during Michigan State's miracle fumble return to beat Michigan last year for a long time.
As for the tournament -- c'mon. Keith's going to run past the field the same way Desmond Howard did on his punt return against Ohio State. Hello, Heisman.
Speaking of all-time great announcers ...
When you had Tim Brando on your podcast recently, he said he expected Notre Dame to become a full member of the ACC within a few years. For scheduling, it probably makes sense that the ACC would want to go to 16 members. Who would be your pick?

-- Ryan Gavin, Columbia, MO
I'm not as confident as Tim that's going to happen, but he still calls ACC basketball for Raycom and is well-connected in that conference so his word is certainly worth taking seriously. Perhaps the fact the Irish will soon be the only Power 5 team with no opportunity to play a 13th game becomes a factor.
Connecticut has always been the low-hanging fruit if that conference ever chose to expand again. For one thing, it's a natural fit to reunite that Northeast school with former Big East foes Syracuse and Boston College. Also, while football drives all realignment, basketball is a bigger priority for the ACC than others. With the Huskies you're bringing in a four-time recent national champ along with the sport's preeminent women's program.
My concern would be the viability of UConn becoming consistently competitive in football in a league full of schools with far better recruiting footholds. This is a program that's posted a winning record in the Big East/AAC twice in 12 seasons. But that risk is hardly a deal-breaker if it's part of a coupling with the most famous program in college football history. (Cue hate mail from Alabama and Michigan.)
Michigan State has to replace Connor Cook and right now the leading candidate is Tyler O'Connor, a senior entering his final year of eligibility. Would you go with the single-year starter or a younger QB who can develop into a multi-year starter if given the reins right now? Grand Rapids, MI
-- Matthew Levitt, Aurora, Ill.
If it were a case where O'Connor was considered not very good, and not much separated him from, say, a redshirt freshman, then I'd be inclined to embrace the inevitable and start the younger guy. Oftentimes coaches are reluctant to go that route either out of loyalty to the senior or fear of starting the younger guy before he's truly ready and destroying his confidence when he goes out and struggles. In fact, I always thought Mark Dantonio waited far too long to hand the reins to future star Connor Cook, the lone offensive bright spot as a redshirt freshman during the Spartans' 7-6 season in 2012. He still did not start right away in 2013.
But the scenario I described seemingly does not apply here. By all accounts, O'Connor is the head-and-shoulders leader over junior Damion Terry and redshirt freshman Brian Lewerke. Dantonio's overwhelming priority should be to win as many games as possible in 2016, so there's no reason to get cute if one guy is clearly the best option. Remember, O'Connor started the Spartans' enormous win at Ohio State last season. Yes, he shared time with Terry, and yes his defense really won that game, but that's still no small feat. It'd be a shocker if anyone else starts Week 1.
This is more of a general question but what is the best game you have ever missed? I've been super fortunate to be able to have watched a lot of great games, but I missed the USC-Texas national championship game. I know they are online, but it isn't the same as watching it live.
-- Jack Miller, Vancouver B.C.
I didn't miss it entirely, but I do have an unusual story about the famous 2010 Cam Newton Iron Bowl. I spent a good chunk of that Friday traveling from St. Louis (where I'd been with my wife's family for Thanksgiving) to Reno for the also-famous Boise State-Nevada game that night. I watched Alabama go up 14-0 at a Chili's Too during a stopover at LAX and saw on my phone while boarding that the Tide had gone up 21-0. Upon landing in Reno I turned it back on to learn it was now 24-21. Fortunately, I got to the hotel in time to see the rest.
I can recall plenty of other instances like that where travel to or from a college football game made me miss at least part of another important game, but I can't recall missing one completely. However, I do have one unfortunate whiff on my record from just this past bowl season. You already know what's coming. With Oregon up 31-0 at halftime on TCU in the Alamo Bowl ... I turned it off to spend time with friends who'd come over for dinner.
You know what happened next. I haven't disclosed that until now because I was so embarrassed.
Is there any hope for the non-Power 5 schools at all? I support a school, Tulsa, that has history in football, but since we are not in the Power 5, no one cares, and in turn, no one comes to games (unless they are playing Oklahoma or Oklahoma State). I imagine we aren't the only school to experience this. I know the easy answer is to win football games, but is there anything else schools can do to be viable in FBS?
-- Anthony Coulter, Tulsa
There's no question the Group of 5 schools have become more marginalized than they were even 10 years ago. You've got 60-plus schools dreaming of becoming the next Boise State, but the fact is there's only one Boise State. Few other non-power schools have managed to achieve that level of success for more than a couple of years. Which means they're all mostly just playing for a spot in the Camellia Bowl, which for all but the most diehard fans is mostly a three-hour side note during Christmas week. And of course as soon as a school strings together a few such seasons, someone else is going to come along and hire away its coach. That seems depressing.
What I'd like to see happen one day is for the Group of 5 to band together and form their own playoff separate from the College Football Playoff. It would give those schools more relevance, but more importantly, I believe fans of those schools might become more invested knowing at the start of the season they're playing for more than just the Sun Belt championship.
Of course, this would require some serious sucking in of pride and an admittance that they're never going to make the big playoff. They would also have to find a way to retain the amount of shared revenue they're currently getting from the CFP (about $79 million annually) while likely sacrificing its reserved New Year's Six spot. That might not be possible. But until then, I do believe unfortunately that interest in schools like Tulsa is only going to further erode the deeper we get into the playoff era.
Hi Stewart, I'm a Penn State grad married to a Baylor grad. Do we need to find a new school altogether? What do we tell our children?
-- Tony Pettinelli
I'd tell them to stay off the Internet for at least a few years.
How long until kickoff?
-- Andrew Reed, Switzerland
Far too long, I'm afraid, and technically you have to wait an extra day, Andy. The Cal-Hawaii game in Australia kicks off at 10 p.m. ET on a Friday in America, but where you live it will already be the next day. Adjust your countdown clock accordingly.
But football season for me starts in mid-July with conference media days, so I'm getting in some vacation while I can. See you in a couple of weeks. Aloha.