Mail-it-in Friday: Status check on your Super Bowl picks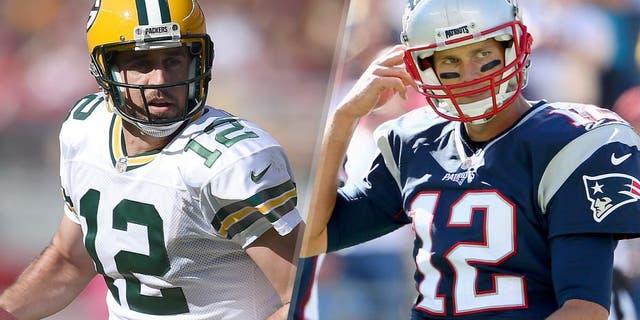 NEWYou can now listen to Fox News articles!
We're in Week 5 of the 2015 NFL season.
So, how about a status check? Before the regular season started, there were many out there who picked the Green Bay Packers and the New England Patriots to meet in Super Bowl 50.
But now that we've played a few games, are people sticking with their picks? It's time to take an informal poll of you dear readers.
Let's get to work!
THE OBVIOUS CHOICE
We sent out a Twitter blast asking for your predictions, and we got a murder (my favorite unit of measurement) of predictable answers:
Yadda, yadda, yadda . . . you get the idea.
I have no problem with this. Both of these teams have done everything to prove their Super Bowl mettle. Let's run down the checklist:
1. Strong QB play? Check.
2. At least a serviceable running game? Check.
3. Excellent head coach? Check.
4. Defense doing its part? Check. (Sort of. The Packers haven't faced a dynamic offense yet.)
5. An owner who wears sneakers with suits? Check out Robert Kraft:
Check!
While the Packers might have some question marks -- especially if they continue to get battered by the injury bug -- watching the Patriots this season almost makes the AFC playoff race a moot point.
Is there a team that can block the Patriots' path to the Super Bowl? Lemme think on this:
The Steelers? Sorry, their defense gives me nightmares. The Broncos? Solid defense, but still . . . we've seen the Peyton Manning vs. Tom Brady in the playoffs movie before. I'm taking Brady.
The Bengals? While I love how Andy Dalton has looked this season, don't forget they looked the part after four games in 2014 and we all saw how that ended. I need to see the Bengals win at least one playoff game before I even consider picking them to beat New England.
But . . . there is one team that intrigues me. What about the Jets? That defensive front seven with Darrelle Revis and Antonio Cromartie on the outside? Now before you do a spit-take and laugh at me, the Jets are currently 3-1. If they actually reach the postseason, they would only have to be better than the Patriots on one day. And that would be the third time they would face each other this season. You start to figure out the way a team ticks after seeing them that often.
A team with a defensive maven -- Todd Bowles -- as their head coach could certainly find a way to figure out the Patriots' formula. In fact, it's been done before:
Again, I'm not saying it's going to happen, but I wouldn't be surprised if it did. And guess what? We'll get a sneak preview of a potential playoff matchup in Week 7, when these two teams face off for the first time. Let's see how it goes. And at that point, if the Patriots roll to a 47-0 victory, you'll be free to point and laugh at my stupidity.
OK, let's check out some other picks.
WHAT ELSE YOU GOT?
Luis,
I dunno, dude. Have you taken a close look at the Seahawks' offensive line? Actually, you don't need to take a close look. A perfunctory glance will show that Russell Wilson is running for his life on every play.
That's not how you reach a Super Bowl. That's not how you reach the playoffs. And Marshawn Lynch is hobbling as well. Seattle has a tough road ahead.
Leed,
Sigh, I hate when people make me check facts. Since I don't know off the top of my head who played in Super Bowl 43, I had to look it up.
Ahhh, the Steelers beat the Cardinals. Whoop-dee-doo.
That very well could happen. But I'm rooting against it because Leed made me check Wikipedia. Booooooo!!
Tom,
See, Leed? Not only did Tom not make me do research, he also came up with a snappy name for it.
Tom is a God among mortals. I kiss the ground he treads upon.
And Go Steelers and Cardinals! Yaaaaaay!
Colin,
I so want to jump on the Falcons' bandwagon. I really do. I respect Dan Quinn as a head coach simply because he comes from the Pete Carroll tree. Atlanta's offense has been fun to watch this season and even an undermanned defense has managed to make plays when it counts.
But, I'm not going there yet. Not yet. If they break off a couple more wins, I'll be there.
Chris,
Now, that would be hilarious. It won't happen, but I would enjoy quite the guffaw if the Patriots and Giants meet in the big game again. And it would be pee-my-pants funny if Eli Manning bested Tom Brady once again in a Super Bowl.
Eli would officially become the Nadal to Tom's Federer. Wouldn't that be epic?
Andrew,
Hahahahaaha . . . you said "Boncos"!
OK, let's move on to this week's jokers.
ALWAYS HAVE TO BE A FEW
Here is who didn't take this week's topic seriously:
Take it away, monkey:
Although I have to admit, I laughed when I read "Montreal expos vs your mom." Because I'm a child. And also because my Mom would dominate the Expos. She's a 5-foot-2, ass-kicking machine.
And what's the problem with the topic? Sure, it's a little hot-takey, but I don't care. Hot takes are what makes the sports world go 'round. If you want smart content, there are plenty of places on this website to get that. I'm going for low-hanging fruit here.
ONE FINAL (AND ANNOYING) OFFERING
James,
Once again, this mailbag has been taken off the rails by James Parziale -- fellow FOXSports.com NFL editor and all-around garbage person.
Here's a Hot Take: I didn't care for "The Replacements" or "Any Given Sunday." There, I said it. What's more, I have no interest in seeing the fictional teams from those two movies face off. (Although if I had to, I'm taking Keanu over Jamie Foxx. San Dimas High School Football rules!)
Here are the top five flicks in my Sid Saraf Football Movie Big Board:
1. "Rudy" (even though I'm a USC fan)
2. "Necessary Roughness" (Robert Loggia's and Hector Elizondo's finest work)
3. "The Waterboy" (Shut up, it's a football movie because there is football being played in it.)
4. "The Longest Yard" (the original with Burt Reynolds)
5. "Brian's Song" (Which I've never seen, but I lie and tell people that I have so I look cool.)
Alrighty, folks! It's time for me to formulate my next Hot Take Topic. See you next time!