Magic legend set to make unique claim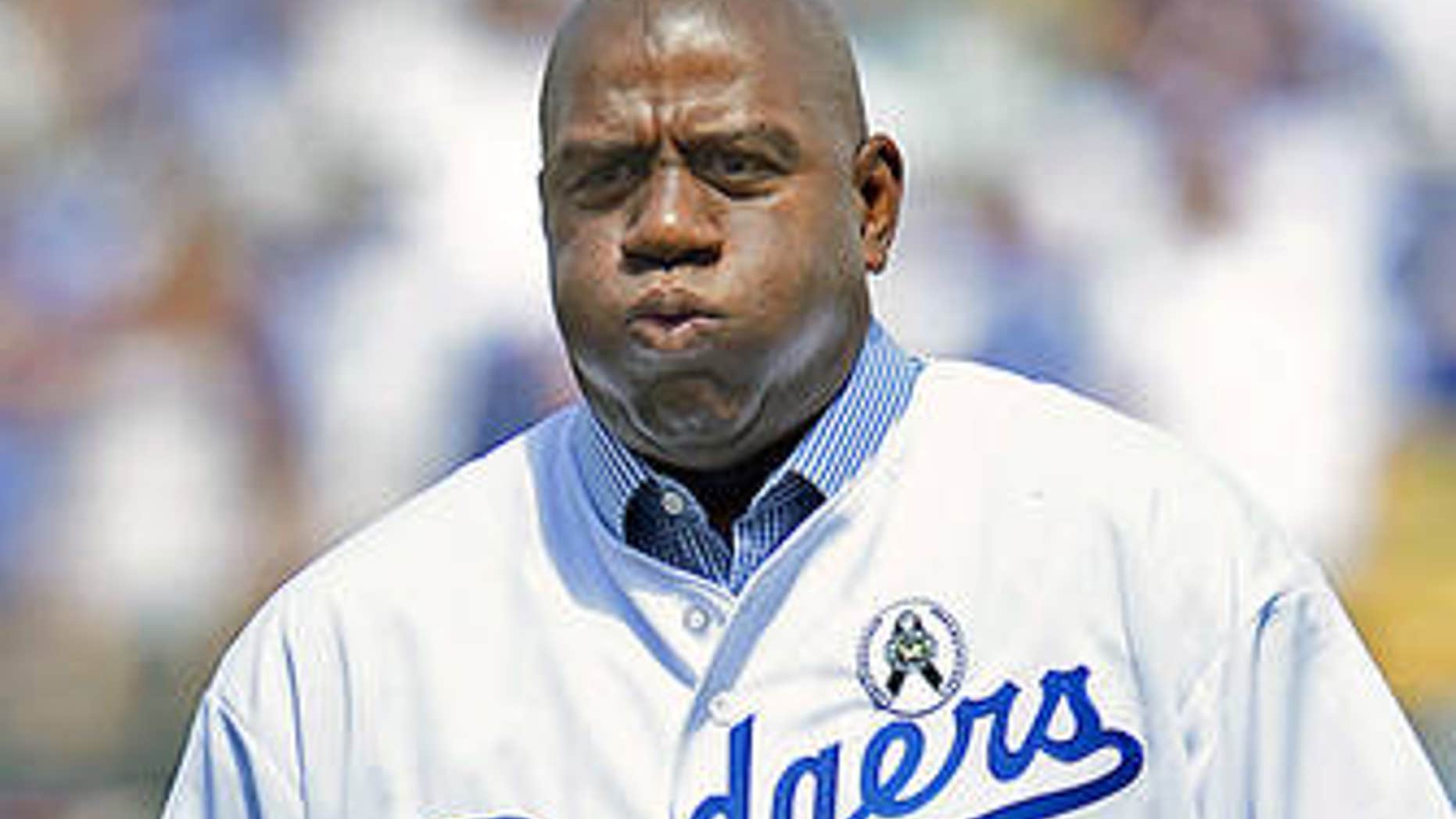 Since he started playing basketball, Magic Johnson has always been something of a unique phenomenon. He was a 6-foot-9 point guard who could, and did, play every position on the floor; he won five NBA championships, trailing only Kareem Abdul-Jabbar, Michael Jordan, Scottie Pippen, and Robert Horry for most by a player since 1970.
Then, in November 1991, Magic told the world he had HIV. His life, first of all, has been a human life, filled with unpredictability and achievement and tribulations. But as a life lived on a public stage, it's been particularly singular in the era of professional athletes.
Now, in 2013, the Los Angeles Dodgers prepare to take on the St. Louis Cardinals in the NLCS.
On paper, the Dodgers aren't a particularly sympathetic cause to get behind: at the start of the season, they had the second-highest payroll in the league, $216,302,909, trailing the Yankees by about $12 million and leading third-place Philadelphia by almost $60 million.
They were paying their team about 2 1/2 times the median MLB payroll. But, as the Yanks and Phillies both proved by missing the playoffs, payroll is only worth so much. And after a miserable start, the Dodgers won, and the way they did so redeemed whatever anxieties there might have been about the payroll.
The Dodgers have the best pitcher in the league in Clayton Kershaw. They have the most exciting young player in the league not named Mike Trout in Yasiel Puig. They have a roster stocked with charismatic, enthusiastic vets.
They play the game unpredictably, like they're enjoying it; they play the game in the exact style that the people who have moved away from baseball say doesn't exist. If someone tells you that they're pulling for the Cards in the NLCS and they aren't Cards fans, you are right to immediately distrust them.
Part of the reason that Dodgers payroll is so high is because an ownership group that includes Magic Johnson bought the team from its previous, terrible owners, the McCourts, prior to 2012. The anabolic rebuild they put in place took another year to take effect, but in 2013, it's in full swing.
In pro sports, money is often perceived to be a bad thing, a corruption, something that dilutes the purity of the game. That's a naïve assumption. When it comes to owners, money signifies exuberance and enthusiasm and the desire to actually win games, not just turn the team into a particularly strange and elaborate investment.
The infusion of funds that went into the Dodgers -- not to mention the $2 billion sale price, a record for a sports franchise -- was designed for exactly this purpose, and it's made L.A. a baseball city again.
Magic Johnson doesn't deserve all the credit for this. But he deserves enough of it to put him into another stratosphere of sports figures: ones who not only changed their respective game as players, and who influenced people off the playing field, but who changed the entire scope of sports.
There certainly aren't many players who have gone on to be powerhouse owners; Mario Lemieux comes to mind, and he won Stanley Cups as both an owner and a player, but Lemieux stayed within his own sport. (Not that that is a knock against him -- he's the only person to win a championship in both capacities).
Jordan has been a calamity as an owner. If Magic's Dodgers can pull off the feat of winning a World Series this year, he'll be the only athlete to win a championship as a player in one sport and then as an owner in another. The closest precedent might be Joe Gibbs, the former Washington Redskins coach who won three Super Bowls, then won three NASCAR Sprint Cup titles as an owner.
The most amazing thing about this is that Magic -- who just left his job as a commentator at ESPN to focus more on his ownership and other business interests -- will probably get there eventually.
Even if the Dodgers don't win the Series this year, it's likely that they'll be back, what with Kershaw and Puig already in town and plenty of other talent around to keep the team good for a while.
Magic's already solidified his position as a legend in Los Angeles, in basketball, and in American culture -- but legends can always get bigger.