Magic Johnson pulled out all the stops on Fallon to woo Peyton Manning to Rams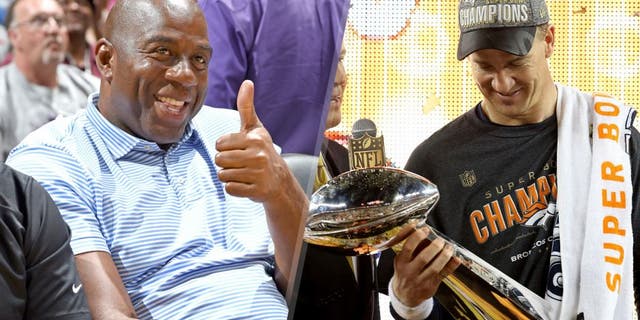 Peyton Manning hasn't announced his decision to retire or continue playing, so seeing a little bit of daylight, Magic Johnson made his move.
The former Lakers great and partial owner of the Dodgers is also now on the Los Angeles Rams bandwagon. Johnson was famously touted as the first person to put down a deposit for season tickets.
Well, the Rams still need a quarterback. They've needed a quarterback since Kurt Warner left. Johnson, sitting right next to the still-undecided Manning on Fallon on Wednesday night, decided to turn into a pitch man.
See the quote below:
Manning, who labored through the worst statistical year of his career, was benched due to injury and ineffectiveness in November and only got his starting job back in Week 17. The Broncos defense then carried him to a title, a setup the Rams' talented defense may be able to emulate if Manning chooses to return.