Maddon's trust in Cobb pays off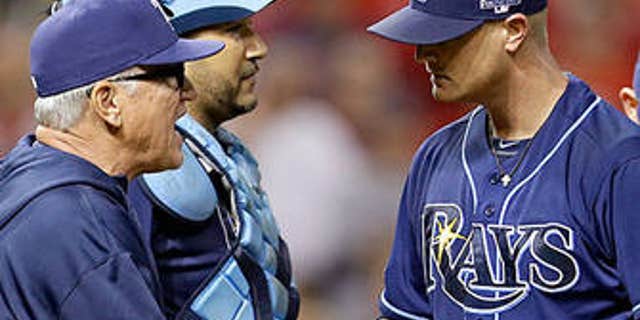 Three takeaways from the Tampa Bay Rays' 4-0 victory over the Cleveland Indians in the American League wild-card game Wednesday night:
- Trust and feel: No, you can't measure it. But why did Rays manager Joe Maddon stick with right-hander Alex Cobb as he allowed nine base-runners in 6-2/3 innings and repeatedly pitched into trouble? Because Maddon liked what he saw .
The day before, Maddon had called Cobb one of the best pitchers in the league. On Wednesday night, in a winner-take-all game that seemingly demanded urgency, the manager backed up his words, showing patience with Cobb, who turns 26 on Monday.
Cobb admitted afterward that he did not have his best stuff. But Maddon clearly made the right call.
"He didn't pitch like a young pitcher," Indians manager Terry Francona said. "We had our share of hits and we had our share of opportunities, and when we had men on base, he was able to -- it was like as the stadium got louder, he could take something off, spin a breaking ball, throw a changeup."
Everyone is a manager in the postseason, especially in the age of social media. Well, Maddon knows his team better than anyone -- and by the same way, the same goes for Cincinnati Reds manager Dusty Baker, who drew heavy criticism after the National League wild-card game for sticking with his ace right-hander, Johnny Cueto.
This is not to defend Baker -- the Pittsburgh Pirates hit Cueto hard -- but the manager evidently was banking on Cueto settling down, as he has done many times before. Didn't happen. Doesn't mean Baker is an idiot. He was going on trust and feel, too.
- Old man Delmon: No, not really. Delmon Young seems as if he has been around forever, but he is still only 28. And, for a guy who was released by the Phillies in August -- at his request, as he pointed out to reporters -- he still could have a long career ahead of him in the AL.
Maddon speaks highly of Young, who was the No. 1 overall pick by the Rays in 2003. Young had a tumultuous initial run with the team, and last season he pleaded guilty to aggravated harassment after yelling anti-Semitic remarks outside a New York City hotel while he was the Detroit Tigers. But Maddon insists that Young is different now, displaying a certain humility, a willingness to look a person in the eye.
One thing about Young hasn't changed -- his willingness to swing at the first pitch. His home run off Indians righty Danny Salazar in the third inning was the ninth homer of his postseason career; only three active players -- Carlos Beltran (14), David Ortiz (12) and Miguel Cabrera (10) -- have hit more. Five of Young's nine postseason homers -- five! -- have come on the first pitch. All have come since 2011, giving him the most in the majors during that time.
So, why even throw Young a first-pitch strike? Well, Salazar didn't actually throw Young such a pitch. Young jumped on a high 95-mph fastball, a pitch that almost certainly was a ball. And just like that, he had struck again.
- Moving on: So, do the Rays stand a chance against the Boston Red Sox? Recent history would suggest no -- the Red Sox were 12-7 against the Rays this season, and their pitchers in the season series produced a stunning 2.93 ERA. Still, the Rays' rotation is hot, too.
Lefty Matt Moore will start Game 1, and his 4.55 walks per nine innings are a concern against a team that saw more pitches than any team in the AL. Still, Moore has the stuff to beat the Red Sox; he threw a two-hit shutout at Fenway Park on July 22. And if Moore falters, the Rays still could get out of Boston with a split if left-hander David Price wins Game 2.
Cobb will pitch Game 3 back at Tropicana Field, leaving righty Chris Archer or righty Jeremy Hellickson for Game 4, if necessary -- probably Archer. Price and Moore then both would be available for Game 5 -- Price on his normal rest.
The Red Sox are the obvious pick, probably in four. But surely, the Sox would have preferred to face the Indians, a team with far less pitching. The Rays, by the time they return to the Trop, will have played 10 games in five cities over 12 days, traveling 5,361 miles. Yet, they're a uniquely energetic bunch, celebrating every victory with gusto.
They don't care. They don't scare. And no one should be surprised if they prove quite a handful for Boston.