MacDonald, 'Wonderboy' make predictions for UFC 201 main event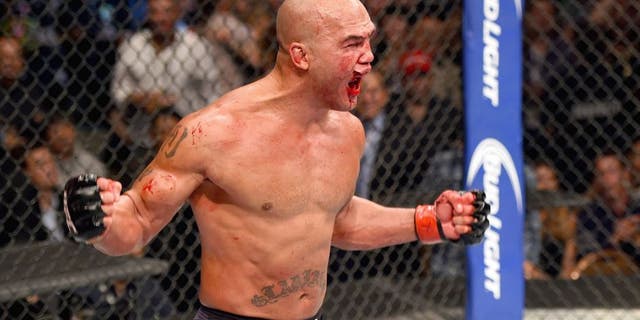 NEWYou can now listen to Fox News articles!
Rory MacDonald and Stephen "Wonderboy" Thompson both have a vested interest in the UFC 201 main event because the winner of their fight on Saturday night could be facing the winner.
Welterweight champion Robbie Lawler will look to defend his title for the third consecutive time when he faces Tyron Woodley in the headline fight from Atlanta on July 30.
MacDonald has already faced Lawler on two previous occasions, falling to the champion both times after a pair of back and forth wars.
He also earned a lopsided decision over Woodley in 2014, so MacDonald knows both fighters very well -- and he definitely has unique insight into how this bout might play out.
"I definitely think Tyron poses a threat," MacDonald told FOX Sports. "He's got serious power in his hands. Robbie can sometimes be careless because he likes to get in those dog fights.
"If he puts himself out there and gets hit with one of those shots, it could be over really fast. I do give the striking edge to Robbie, but I don't count out Tyron. So we'll see what happens."
As for Thompson, he hoped after his first round knockout over former champion Johny Hendricks in February that he would be the one fighting for the title next, but alas the shot ended up going to Woodley instead.
Thompson doesn't seem to like Woodley's chances in the fight with Lawler considering he's been on the sidelines without fighting since January 2015. And, he's not sure the former Strikeforce title contender is built for a five round fight.
"Tyron's been out for a while. He was supposed to fight last October. He hasn't fought since I think the (Kelvin) Gastelum fight so it's been a while. To go in there and fight somebody who's been fighting consistently with heavy hands, great takedown defense, I just don't see Tyron going out there and finishing it off," Thompson said. "Everybody knows he's very explosive but he's been known to gas out. I know the last fight when he fought Gastelum, he wanted to show he had cardio but even that was controversial. Some people thought Gastelum won it. I thought Gastelum won it.
"I see Lawler coming out with a win."
MacDonald and Thompson will battle it out on Saturday night and the winner of the main event fight from Ottawa will more than likely be standing directly in the path for whoever comes out on top between Lawler and Woodley in July.
MacDonald faces Thompson in the main event airing live on FS1 this Saturday night with the main card kicking off at 10:30 p.m. ET.