Lyons -- one of three more Memphis call-ups -- to start tonight for Cards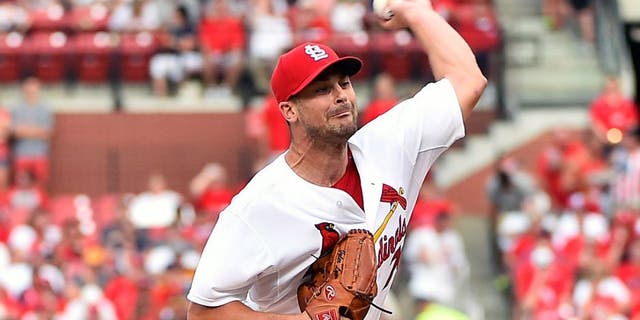 NEWYou can now listen to Fox News articles!
In a surprise move Wednesday afternoon, the St. Louis Cardinals announced that Michael Wacha would be replaced on the mound for tonight's game by left-hander Tyler Lyons, who was among three players recalled from Triple A Memphis.
Also joining the big-league club are left-hander Nick Greenwood and right-hander Miguel Socolovich. The Cardinals also optioned Tuesday night's starter Marco Gonzales to Memphis.
Lyons, 27, will be making his seventh start for St. Louis this season and appearing in his 10th game. This is his fifth stint with the big-league club, splitting his time with Memphis. In his most recent call-up, Lyons made three scoreless appearances, including 5 1/3 scoreless innings on Aug. 13 vs. Pittsburgh in relief. He also had one scoreless inning vs. San Francisco (Aug. 18) and pitched 1 1/3 scoreless innings at San Diego.
Lyons is 2-1 with a 3.96 ERA with St. Louis, limiting opponents in each of his six starts to three runs or less. Lyons started 16 games for the Memphis Redbirds, going 9-5 with a 3.14 ERA, striking out 96 in his 94.2 innings and walking just 13. He ha limited lefties to just a .157 average. Lyons wears uniform No. 70.
Socolovich went 4-1 with a 1.54 ERA with St. Louis earlier this season, picking up wins in his first two relief outings with the club. He made 21 appearances (23 1/3 innings), 16 scoreless, and pitched a season-high two innings on three occasions. In 21 relief appearances at Memphis, Socolovich had a 2-2 record with a 2.48 ERA pitching 32 2/3 innings. He went nine games and 15 2/3 innings to begin his season at Memphis before ever allowing a run. This is his third call-up with St. Louis and he wears uniform No. 63.
Greenwood spent the majority of the season at Triple A, where he made 21 starts and appeared in 31 games, posting a 12-6 record and 5.68 ERA. He began his season working from the bullpen and became a full-time starter for the Redbirds on May 25. Greenwood was recalled on July 11 to St. Louis and stayed with the club through July 17, making just a single appearance on July 11 at Pittsburgh. He pitched in 19 games in relief for St. Louis in 2014. Greenwood wears uniform No. 62.