Lynn vs. Kershaw: A strong matchup to kick off Cardinals' series in LA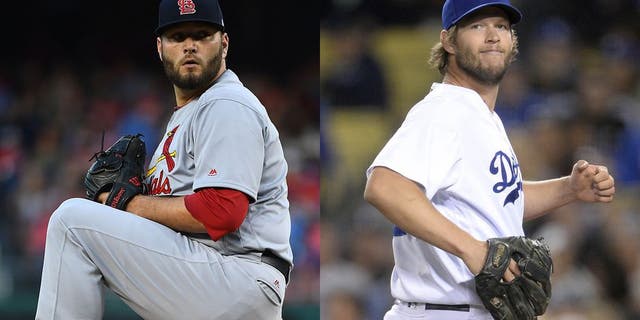 LOS ANGELES -- Familiarity will become a trend when the St. Louis Cardinals and the Los Angeles Dodgers begin a three-game series Tuesday at Dodger Stadium.
Cardinals right-hander Lance Lynn (4-2, 2.78 ERA) will oppose Dodgers ace Clayton Kershaw (7-2, 2.15 ERA) in the opening game, the first of seven contests in the next 10 days between the two clubs.
The Dodgers and Cardinals also will play a four-game set May 29-June 1 in St. Louis.
"It's going to be a test, for sure," Cardinals pitcher Adam Wainwright told MLB.com. "We have some road games, some tough teams, some tough ballparks to try to go win games in. But I think our team is rested and ready to do that."
Lynn, whose ERA ranks fifth in the National League, is coming off a 6-3 loss to the Boston Red Sox on May 16. Lynn gave up four runs (two earned) in six innings. He has limited opponents to two runs or fewer in five of his eight starts this season.
Against the Dodgers, Lynn is 3-1 with a 4.35 ERA in six career starts. Five of those outings have occurred at Dodger Stadium, where he is 2-1 with a 4.68 ERA.
Kershaw, who has won his last three starts and is second in the NL in ERA, threw seven innings of shutout ball in a 6-1 decision over the San Francisco Giants on Wednesday. He struck out five and walked none in that game.
Kershaw is 6-5 with a 3.18 ERA in 15 starts against the Cardinals. St. Louis leadoff hitter Dexter Fowler is batting .400 in 50 at-bats against the lefty.
The Dodgers (26-19) took three of four from the Miami Marlins over the weekend to improve to 16-7 at home.
Los Angeles got a boost Sunday from ailing first baseman Adrian Gonzalez, who had his first extra-base hit in almost a month while going 3-for-4 with two doubles and three RBIs in the Dodgers' 6-3 win. Gonzalez has been fighting through a variety of injuries, including a herniated disk in his back.
"The first month of the season, my back was sore, which means I didn't have any power in my legs," he said. "I'm feeling healthy now. My body is definitely better. It was good to contribute and find some holes."
The Cardinals (22-19) lost two of three in a weekend series with the Giants, avoiding a sweep with an 8-3 victory Sunday. St. Louis has dropped four of its past five contests.
Both Los Angeles and St. Louis hope to get back injured players.
Cardinals second baseman Kolten Wong, who left the Saturday defeat with a sore elbow, is expected to be in the lineup Tuesday.
St. Louis right fielder Stephen Piscotty, who came out Saturday after being hit by a pitch in his forearm and crashing into a wall catching a foul ball, also could return.
Dodgers right fielder Yasiel Puig, who missed the past two starts after experiencing back stiffness in a Friday win over the Marlins, should be back. Puig, who is 6-for-12 with three walks against Lynn, struck out in a pinch-hitting appearance Sunday.
The Dodgers also plan to activate infielder Logan Forsythe, who has missed the past 28 games with a broken toe and a hamstring strain.