Lynn seeks his fifth straight win, Cards their sixth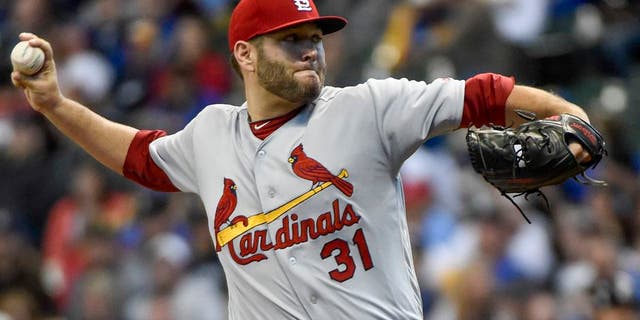 MIAMI -- The St. Louis Cardinals will go for a sweep of a three-game series against the Miami Marlins on Wednesday.
The Cardinals (18-14), who have won eight straight road games, are 15-5 in their past 20 games overall following a 6-5 win at Marlins Park on Tuesday.
"We're playing better," Cardinals manager Mike Matheny said, "but I wouldn't have even known (the road win streak and overall numbers). I purposely don't want to know that. I just want to play … play today."
The Marlins (13-19), meanwhile, have dropped five consecutive series and are 3-11 during that span. Miami manager Don Mattingly has been ejected in two consecutive games, both times arguing called strike three on his hitters.
"We're in a funk," Marlins reliever Kyle Barraclough said. "Everyone has to snap out of it and move on."
In addition to their on-field misery, the Marlins are battling an injury plague.
Already down a pair of starting-caliber infielders in Martin Prado and Miguel Rojas -- who were both placed on the disabled list this week -- Miami also lost shortstop Adeiny Hechavarria to an oblique injury in the fourth inning Tuesday. He was replaced by rookie J.T. Riddle.
Meanwhile, the Wednesday pitching matchup appears to favor the Cardinals and Lance Lynn, who is off to a great start with a 4-1 record and a 2.04 ERA.
Miami will counter with Tom Koehler (1-1, 5.40 ERA).
Lynn, who turns 30 on Friday, needs just three strikeouts to reach 800 for his career, a milestone accomplished previously by only 11 Cardinals.
And that is the thing about Lynn: He has had a very solid career, even if it has been mostly under the radar. He has been an All-Star only once -- in 2012 -- yet Lynn, who is in his fifthmajor league season, has never had an ERA of 4.00 or above.
Lynn is an impressive 25 wins above .500 with a 65-40 record, and he is 4-0 with a 3.05 ERA in six appearances against the Marlins.In fact, he has won all four of his career starts against Miami.
Lynn takes a 10-inning scoreless streak into his Wednesday start. He is one of six major league pitchers with an active four-game win streak. His overall ERA this season ranks second in the National League, trailing teammate Mike Leake's 1.79 mark.
Lynn has held right-handed hitters to a .118 batting average, the most successful rate of any pitcher in the league.
Koehler has been hit hard this season, allowing a team-high nine homers in six starts. That works out to 2.7 homers per nine innings, way above his career mark of 1.1.
Perhaps Koehler can get straightened out against the Cardinals, but it is a franchise he has struggled against historically. In four career starts vs. St. Louis, Koehler is 1-3 with a 7.84 ERA.
Cardinals pinch hitter Matt Adams, who had an RBI single in the eighth inning Tuesday, is batting .341 against right-handers this season.