Lynn seeks fourth win as Cardinals open series in Atlanta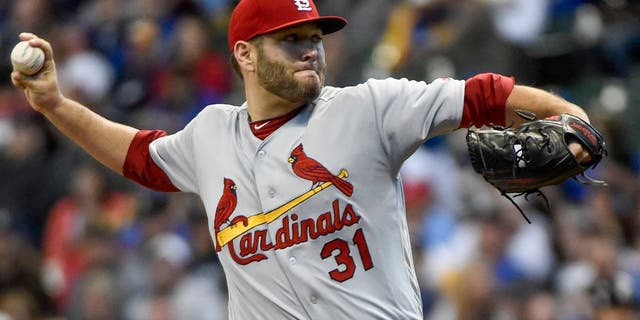 A pair of right-handers with power arms will be on the mound Friday when the St. Louis Cardinals begin their only visit of the season to Atlanta to face the Braves.
St. Louis sends Lance Lynn to the mound to oppose Atlanta's Mike Foltynewicz (0-3, 2.81 ERA) in the opener of the three-game series at SunTrust Park.
Lynn missed the entire 2016 season after having right elbow ligament replacement surgery. He has shown no ill effects this year, going 3-1 with a 2.45 ERA in five starts. Lynn has pitched 29 1/3 innings and allowed 22 hits and 10 walks, with 25 strikeouts.
Lynn is 2-3 with a 3.38 ERA in five career starts against Atlanta. He has struck out 25 batters in 32 innings. He lost to the Braves in his last start in 2015 despite allowing one run in five innings.
Foltynewicz (0-3, 2.81) is starting to fulfill expectations the team had for him when he was acquired from Houston in 2015. In his last three starts, Foltynewicz has pitched at least six innings and not allowed more than two earned runs. He was beaten by the Brewers in his last start Sunday.
Foltynewicz has made only one career start against St. Louis. He beat the Cardinals last season when he allowed one run over six innings.
The Atlanta bullpen will look a little different. The Braves sent right-hander Matt Wisler to Triple-A Gwinnett after he was roughed up Wednesday. Wisler was 0-0 with a 12.60 ERA in four relief appearances since being recalled April 23. Wisler will return to the rotation at Gwinnett.
"I still like him," Atlanta manager Brian Snitker said. "His stuff is too good. We're going to need him again before the year is over."
The Braves recalled left-hander Sam Freeman from Triple-A. In nine relief appearances with Gwinnett, Freeman had a 0.87 ERA with eight strikeouts in 10 1/3 innings. Freeman has worked in 142 major league games over five seasons with St. Louis, Texas and Milwaukee.
"He's throwing the ball over," Snitker said. "He's had good velocity. He's been efficient. The reports every night have been really good. He's not necessarily a matchup guy, either."
In a procedural move, Dan Winkler was placed on the 60-day disabled list. The right-hander was a Rule 5 pickup last season but fractured his right elbow after appearing in three games and has not pitched since.
The Braves are 0-3 against the National League Central after getting swept in Pittsburgh from April 7-9. St. Louis is 1-5 against the NL East, going 1-2 against Washington and 0-3 against New York.
St. Louis won the series 4-2 in 2016. The Cardinals swept the Braves in Atlanta in April, but Atlanta won two of three in St. Louis in August.
Atlanta (11-15) lost two of three games against the New York Mets to open the homestand before Thursday's game was rained out.
The Cardinals (13-14), whose game with Milwaukee was rained out Wednesday, lost to the Brewers 5-4 on Thursday.