Luongo honored by Vezina nomination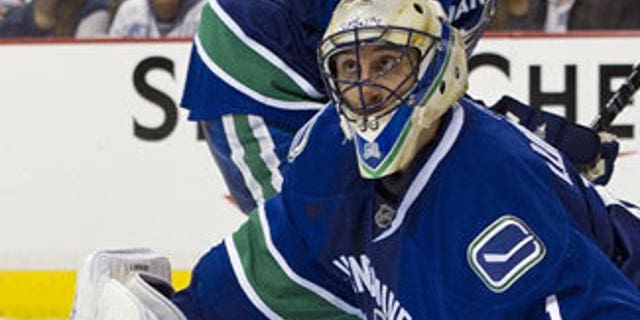 VANCOUVER, B.C. -- For the third time in his career, Canucks goaltender Roberto Luongo has been nominated for the Vezina Trophy, which is awarded to the NHL's top goaltender.
Luongo led the Canucks to the franchise's first Presidents' Trophy for best regular season record.
"It's an honor," he said Friday as the Canucks prepared to head for Chicago and Game 6. "It's nice to see that your work was rewarded, but obviously at this time our focus, especially for me, is on Sunday and we'll probably enjoy it more once the season is done."
The 32-year-old went 38-15-7 in 60 games with a personal-best 2.11 goals-against average and his best save percentage since joining the Canucks at .928.
"I think it's tremendous," backup Cory Schneider said. "I've been campaigning for him to get that all year, just watching him night in and night out. Everyone kind of says it's because of the team leading in goals and goals against, but I mean you got to be taking chances to score goals.
"It's not like we're sitting there getting 15 shots a night. He kept us in a bunch of games and maybe hasn't been getting the recognition this year that he might deserve because of the team's success."
Pekka Rinne of the Nashville Predators and Tim Thomas of the Boston Bruins are the other two nominees for the Vezina, which will be presented at the NHL Awards Ceremony on June 22.
After surrendering 10 goals on 40 shots and being pulled in favor of Schneider in the Canucks Game 4 and 5 losses, Vancouver could use a Vezina-like performance from Luongo as they try to close out the Blackhawks on Sunday at the United Center.
Luongo insists he hasn't lost confidence in his play.
"It's the same as it's been since November," he said. "Obviously I wish things could've gone better, especially last night. The way I play is not going to change.
Obviously I'm going to make a couple adjustments to maybe fight through those screens a bit better and we'll see where that takes us."
The Canucks starter arrived at Vancouver International Airport Friday morning having shaved off his playoff beard after the two losses to Chicago.
"I didn't plan on growing it the whole series anyway," he said of the beard, "so I thought it was a good time to shave it off."