Lundqvist nearly steals one for Rangers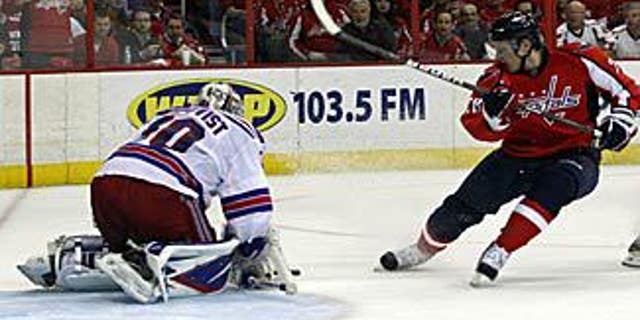 WASHINGTON -- It would've been fitting if the New York Rangers had stolen a victory from Verizon Center on Wednesday night, considering a masked man named Henrik Lundqvist would've been the mastermind behind the robbery.
The Rangers were six minutes from escaping with a 1-0 series lead against the top-seeded Washington Capitals, but a late goal from Alex Ovechkin forced overtime and Alexander Semin won it with 1:36 remaining in the extra period to give the Capitals a 2-1 victory and 1-0 lead in their Eastern Conference Quarterfinal series.
Lundqvist made 31 saves, many of them spectacular. While the game was scoreless during the first 42 minutes, Lundqvist stopped Nicklas Backstrom on a breakaway, came up with a lightning-quick glove save on Mike Green, and also received help from goalposts on three occasions.
It had all the makings of the Rangers robbing home-ice advantage in the series. Instead, it became about focusing on positives after a heartbreaking loss in Game 1.
"Anytime you lose in overtime, you feel like it got away because all you got to do is get one goal and you win the game," said defenseman Marc Staal, whose turnover led to Semin's winner. "It's disappointing, but we'll come back and try to win the next one."
"It was tough. It felt like we were playing them really well after we scored," Lundqvist said. "You just have to … there was a lot of good things. You have to think about that. Move on. We were right there."
The Rangers were on their heels during the first 20 minutes. Only the iron behind Lundqvist kept the game deadlocked at 0-0. Semin snapped a quick wrister that ricocheted off the crossbar and into the netting with 5 minutes remaining, while Arnott rang a shot off the post 18 seconds later that looked destined for the back of the net.
Things settled down a bit for the Rangers during the second period. They started to gain a territorial hold by playing where they've found success all season -- below the goal line. Their chip-and-chase brand of hockey slowed the Caps and gave them some of their best chances.
It finally paid off when defenseman Matt Gilroy scored his first career playoff goal after Brandon Prust won a battle behind the net of Caps goaltender Michal Neuvirth. Prust worked the puck to Wojtek Wolski, who slid a pass that Gilroy one-timed past Neuvirth at 1:56 of the third period. It silenced the suddenly apprehensive sell-out crowd of 18,398 and gave the Rangers even more jump.
"I thought we started getting pucks deep and I thought we started wearing their defense down," forward Brandon Dubinsky said. "This is going to be a long series. We're going to be ready for it. We just have to keep playing our game -- aggressive, forechecking and playing hard.
"We got to take out of it the fact that after we got our feet under us, we were able to start grinding and playing our aggressive style. We got to make sure to bring that mindset into our next game and work out some kinks and negatives that happened in Game 1."
The negative happened with 6:11 left in regulation, when Ovechkin and Semin muscled their way to the net in a show of will that was lacking at times during the Caps' first-round exit last season. They whacked and whacked at the loose puck before it slithered under Lundqvist's pads and tied the score.
The goal was reviewed in Toronto, and the call on the ice of a goal before the net came off its moorings was upheld.
"They kept knocking me," Lundqvist said. "I'm pretty much stacked there. I have to hope for a whistle or someone to clear the puck. The whistle never came and sometimes you whack in a goal."
The difference between winning and losing was slim Wednesday night. Even Capitals coach Bruce Boudreau commented on how close his team was to being the ones discussing their positives after a loss.
"You look at it two ways -- if we hadn't come out on top, we would have been in there saying we played a great game and we have to play the same way," Boudreau said. "If anything, it is going to encourage the Rangers that they came in our building in the first game and played us shot for shot and hit for hit. It is a lot less tiring when you win. You are not as exhausted, but other than that I think confidence-wise they are way up there and we're relieved."
It's a small consolation for the Rangers, who know they don't have to change much for Friday's Game 2 -- except the outcome.
"You need a short memory if you win or you lose," captain Chris Drury said. "The next game is obviously the most important one every time."
"We did a lot of good things," Lundqvist said with a deep sigh. "Playoffs. Short memory. Tomorrow we've got a new day. Get ready for Battle 2."
Follow Dave Lozo on Twitter: @DaveLozo