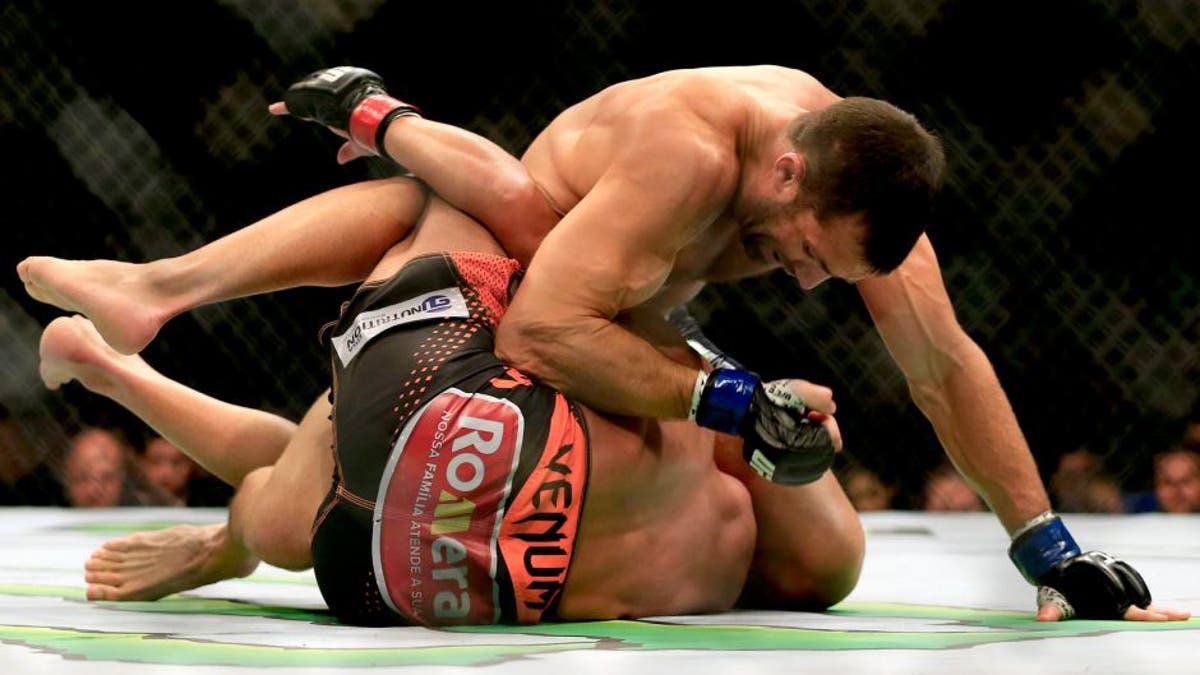 Not long after a hard gym session one evening, followed by a short nap and the running of some errands near his Northern California training camp, No. 1 middleweight contender Luke Rockhold is hardly acting and sounding like the compensating, insecure challenger that UFC champion Chris Weidman recently made him out to be.
"I think he's a little insecure about himself, and I feel like that's why he has to pump his chest up all the time and go a little overboard. I think he's just insecure and I think he knows what's coming. I think he'd much rather be fighting anyone else besides me," Weidman said.
The two top middleweights meet Dec. 12 at UFC 194 in Las Vegas. The fight is eagerly anticipated among hardcore fans, as Rockhold's size, striking and ground ability would seem to make him a legit threat to Weidman's title reign.
Rockhold can barely muster a sniff when Weidman's comments are read back to him. "Yeah. I'm very confident. I'm confident that my striking is better, confident that my ground is better," he told FOX Sports.
"Chris has accomplished a lot but he hasn't been fighting elite grapplers. He's been fighting strikers who are scared of his takedowns. I'm the first of a new crew of middleweights who won't be scared to strike with him on the feet and who are not afraid of his takedowns. Guys like me, 'Jacare' and Romero are a different breed than everyone he's fought."
Rockhold is certainly right about one thing -- that one of the most consistent challenges throughout MMA history for great strikers when they face strong wrestlers like Weidman, is that their concern over being put on their back can freeze them up a bit on the feet with their strikes. Worried about over-extending themselves with strikes and making takedowns easier for their opponent, strikers can often end up becoming gun-shy in a fight against a great wrestler, despite whatever game plan they may have entering the bout.
Rockhold knows that won't happen to him. "I'm going to let loose," he promises.
"Maybe he'll take me down once or twice, but he won't keep me down or escape submissions. I'll get up and get back in his face. I have thought about this fight for a long time and I really do believe I'm ending it on the feet against him. He's too slow and awkward on the feet. He's gotten by with toughness."
To be sure, Rockhold's confidence isn't blind hubris. He has won many of his UFC bouts in nearly flawless fashion.
But he's guessing that his fight with Weidman will be a true battle of attrition. The American Kickboxing Academy member is sure that he's the best prepared for that type of knock-down, drag-out war.
"A lot of people may have just seen my UFC fights and so they've seen me win quick and clean. But Weidman has followed me for a long time. He has seen me in wars and he knows how I fight in a war," Rockhold insisted.
"I'll be ready if the fight is quick, but I don't even much like to come out real fast. I like to get my range and feel out my opponent. Maybe people overlook me because of the way I talk or the way I look. I don't know. But I'm grittier than any of these mother f**kers.
"I think Weidman brings out the best in me. I wouldn't be surprised if this fight goes long and hard. I bet we go a couple rounds, first. He's survived on his toughness and grit. But, he also fades late into the fight. I won't. If it goes long and gets dirty, I'm dirtier than any of these motherf**kers."