Luis Suarez, Neymar agree to beefy wager ahead of Brazil-Uruguay World Cup qualifier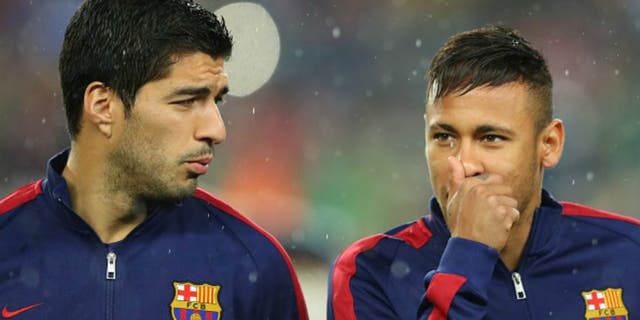 Luis Suarez and Neymar, alongside Lionel Messi, are the three best friends that anybody could want. There's no disputing that.
The trio spend most of their time together, terrorizing opposing defenses for Barcelona in La Liga, and are seldom pitted against each other in a competitive fixture. But when they team up with their respective national teams, you can bet your bottom dollar they won't back down from a friendly wager.
Ahead of Brazil's CONMEBOL World Cup qualifying clash with rivals Uruguay, Luis Suarez -- making his return following a nine-match ban -- and Neymar are pulling no punches.
Whoever comes out on top will be treated to, of all things, a hamburger. Really. That's it. That's all they were willing to wager.
"I have a bet with Neymar," Suarez said at a press conference. "The winner gets a burger. He is a great team-mate and we always make jokes at Barcelona. But whoever will win this game will be enjoying himself and he who loses will be hearing it from the other."
So maybe it's Neymar sowing some sesame seeds of doubt? Or Suarez putting some bite into the battle? (yes, we went there)
We can only imagine what the next bet will be. Loser of the return fixture gets a new haircut? How about it, Neymar?
H/t Goal