Luck tries to turn page with new Colts offensive coordinator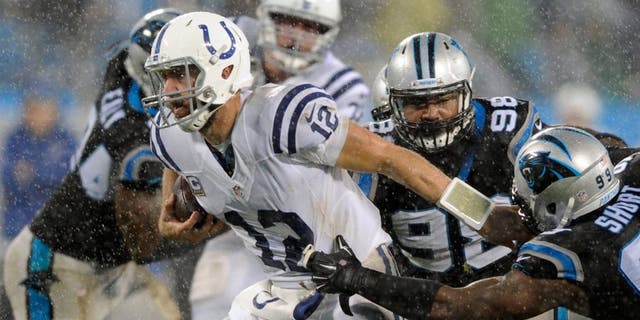 INDIANAPOLIS -- Andrew Luck lost a lot more than an offensive coordinator when Pep Hamilton was fired Tuesday. Hamilton was a friend and mentor to the Colts' quarterback for two years in college and over the past two seasons in Indianapolis.
The worst part, to Luck, is that he knows his mistakes were at least part of the reason coach Chuck Pagano made the midseason change.
"I don't think turnovers have anything to do with the coordinator. That falls on my shoulders, and my shoulders alone," Luck said Wednesday. "It is tough because you realize that if we're playing well, it probably doesn't happen. If we were winning games, it probably doesn't happen. But there's nothing we can do about it now."
The last time Indy endured anything like this was 2011, when Peyton Manning missed the entire season after having multiple surgeries on his injured neck. Amid a 0-13 start, defensive coordinator Larry Coyer was fired in late November and team owner Jim Irsay cleaned house in January by firing Bill and Chris Polian and coach Jim Caldwell.
It could happen again -- even with the Colts (3-5) still favored to win the AFC South -- because they were projected to be a legitimate Super Bowl contender.
Instead, at the midway point, the Colts are mired in a three-game losing streak, they're winless outside the terrible division and the NFL is investigating whether team officials violated league rules about reporting injuries.
Pagano also has come under heavy scrutiny for his decision-making, and some are calling for the ouster of general manager Ryan Grigson because he did little in the offseason to fortify an already subpar offensive line.
Things have gotten so bad that Pagano was even asked a once unfathomable question following Monday's loss: Did he consider benching Luck and using 40-year-old Matt Hasselbeck?
Less than 24 hours later, Hamilton was replaced by Pagano's longtime friend, Rob Chudzinski, who will be calling the plays Sunday against unbeaten Denver (7-0).
"We have the talent, we have the grit, we have the character, and this was just something I felt like we had to do," Pagano said. "Our goal, as coaches and players, is to start like we finish. Start like we finish."
Luck faces the biggest challenge.
He hasn't looked anything like a three-time Pro Bowler and after missing two games with an injured right shoulder, Luck still doesn't look healthy. In fact, Pagano said Luck was limited at Wednesday's light workout with an ankle injury. Luck brushed off the questions by saying he was "all good."
Still, Luck leads the NFL with 12 interceptions, including the one that led to Carolina's winning kick in overtime, and now he'll be working with his third offensive coordinator in four years on a short week against the Broncos' top-ranked defense.
There are additional complications, too.
Pro Bowl receiver T.Y. Hilton, Indy's No. 1 receiver, missed practice with an undisclosed foot injury. Pagano said Hilton was still being evaluated and an update was expected later this week.
"It's obviously not ideal," Luck said. "But nobody feels sorry for you in this league, and you find that out pretty fast."
Though nobody is hinting about possible changes this weekend, something that could play to the Colts' advantage, nobody expects a major overhaul, either.
Pagano said the major difference will be cleaning up mistakes, simplifying the offense and finding ways to help the Colts' offense reach its full potential.
If it works, perhaps Indy will play the second half of the season more like people expected them to play all season.
And maybe Luck will look like the budding star everyone expected.
"There were a lot of emotions, none of them good," Luck said, referring to his reaction to the move. "Then again, we have to move on. We have to trust Coach Pagano's plan and vision, and we have to go out and win."
Notes: Receiver Phillip Dorsett (ankle), center Khaled Holmes (neck) and linebacker Nate Irving (knee) did not practice Wednesday. Cornerback Vontae Davis, linebackers D'Qwell Jackson and Robert Mathis and receiver Andre Johnson were all given an extra day to rest. ... Cornerback Darius Butler (foot) was limited, and safety Winston Guy (shoulder) returned to practice as a full participant.