Lucas Vazquez went from Real Madrid outcast to Zinedine Zidane's most trusted player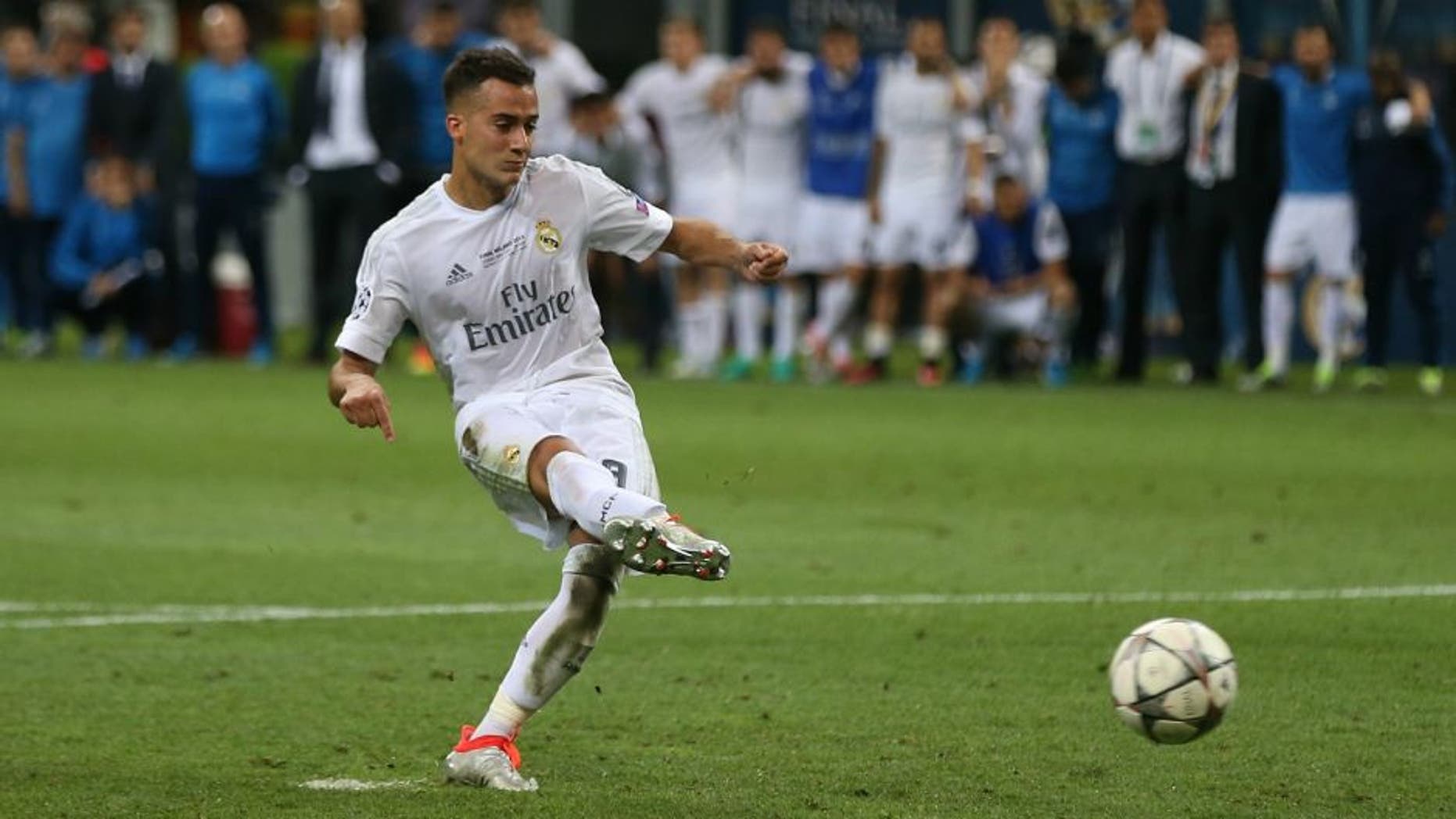 When Lucas Vazquez stepped up to net the first spot kick for Real Madrid in their 5-3 penalty win over Atletico Madrid, it completed a remarkable career turnaround for the 24-year-old Spaniard. The Real Madrid youth player had never made a first-team appearance a year ago. Now, under the legendary Zinedine Zidane, Vazquez had become the first player off the bench behind the vaunted BBC trio of Bale, Benzema and Cristiano, and ahead of more recognized teammates James Rodriguez and Isco.
Vazquez joined the Real Madrid youth system when he was 16 and progressed through the ranks, but hit a wall just before the first team. He was never able to find the breakthrough that fellow academy products Jese Rodriguez and Alvaro Morata did, failing to make his first team debut with the full Real Madrid side. Seeking an opportunity for playing time, Vazquez left to join RCD Espanyol on a year-long loan deal in 2014.
In one year with Espanyol, Vazquez made 38 appearances, scored four goals and added four assists. Espanyol were impressed and signed him on a permanent deal on June 3rd, 2015, the day Real Madrid signed new manager Rafa Benitez. But just 27 days later, Madrid exercised their buyback clause on Vazquez, bringing him back to the capital club for the paltry sum of $1 million.
Vazquez featured sparingly during Rafa Benitez's tenure, and his future seemed in doubt when Zinedine Zidane took the reigns at the Bernabeu. However, Vazquez quickly won his new manager over. He seized his chance against Levante in February, with his work rate, trickery on the ball, and dependability wowing Zidane and in the three months since, Vazquez has shot ahead of both James and Isco in the rotation. As the season came to a close, Zidane often showed a preference for the miniscule winger over his more expensive and world-renowned counterparts.
Zidane has often seemed at odds with both James and Isco, two players not known for their work rate and dependability, but rather for their fantasy and invention. Operating as a winger, Vazquez averaged nearly two tackles and an interception a game, numbers better suited to a fullback than an attacking player, and dwarfing the defensive efforts of both James and Isco.
Vazquez represents a distinct departure in style from the two creative midfielders, and Zidane clearly prizes the little winger's engine and desire to work for his teammates. Time and time again, Zidane turned to Vazquez, trusting him not only as a bit-part player, but to step up in big matches. Far from just a defensive workhorse, Vazquez repaid Zidane with a number of important showings, including an assist against AS Roma in Champions League, an important goal against Villarreal, and the game-winning assist against Real Sociedad to keep them in the hunt for La Liga's trophy.
On Saturday, in the biggest managerial challenge of his life, Zinedine Zidane once again trusted Vazquez to do the job. Tiny, uncapped Vazquez, stepped on for French international Karim Benzema, scorer of 111 Real Madrid goals, with the goal to win the Champions League on line. Jese and James looked on as the little winger helped Madrid battle through regulation and into extra time, then step up to net the first penalty and send the Merengues to their record 11th Champions League title.
Vazquez may not have had the rosiest path to Real Madrid stardom, but his hard work, willingness to play both ways and dependability brought him back at just the right time to make all the difference.
MORE FROM FOX SOCCER