Loyola-Chicago rambles on to Elite Eight with win over Nevada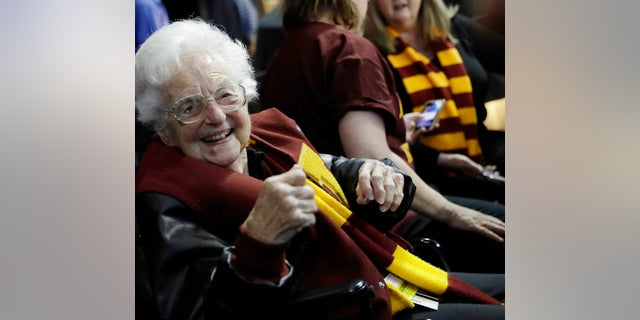 It's official: Loyola-Chicago's men's basketball team has even exceeded Sister Jean's expectations.
With their 69-68 win over Nevada on Thursday night in Atlanta, the Ramblers – one of this year's Cinderella teams – advanced to the Elite Eight in the NCAA Tournament.
And they also busted the bracket of Sister Jean Dolores Schmidt, the 98-year-old Ramblers team chaplain who had her favorite team advancing only to the Sweet 16.
"I already told them as they came off the court, 'Great game,' and one of them, Clayton Custer, said to me 'We broke your bracket, Sister Jean,'" she told USA Today after Thursday's win. "I said, 'I don't care that you broke my bracket, I'm ready for the next one.'"
"I don't care that you broke my bracket."
Loyola continued its improbable run when Marques Townes sank a 3-pointer from in front of the Ramblers' bench, extending the team's lead to four points with just seconds left to play.
In all, Townes scored 18 points as Loyola won the NCAA South Regional semifinal.
"I think Marcus Townes is the best player on the court tonight," Loyola guard Custer said. "I don't even think it was close, either. I am so happy for him. He is such a good basketball player and such a good person, I am just so happy he dominated the game tonight and he led us.
"This is unbelievable. Feels like a dream."
The win leaves the No. 11th-seeded Ramblers one victory from a Final Four appearance in San Antonio.
Next up: Loyola (31-5) will play in Saturday's regional final in Atlanta against the winner of the Kansas State-Kentucky game.
Busted bracket or not, you can bet that Sister Jean will be there.
The Associated Press contributed to this story.