Louisville coach optimistic about bouncing back after opening CWS with 5-3 loss to Vanderbilt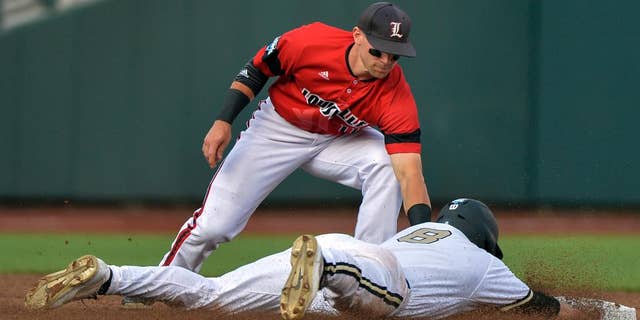 OMAHA, Neb. – For a coach whose team had sustained another ugly loss in a College World Series opener, Louisville's Dan McConnell sure was in a good mood.
Louisville pitchers issued nine walks, and Vanderbilt scored on a wild pitch and passed ball while sending the Cardinals to a 5-3 loss Saturday night.
The Cards came to Omaha determined to avoid a repeat of what happened here last year, when they lost 2-0 to Indiana in their opener and were eliminated in a four-error, 11-4 loss to Oregon State.
"I feel better about our club now than maybe at this time last year," McConnell said. "I felt really good about our offense, and we had a lot of good at-bats. I thought our hitters really competed, put a lot of good swings on the ball, and they made two really nice catches."
Louisville (50-16) will play Texas in an elimination game Monday afternoon. The Commodores (46-19) advance to a meeting with UC Irvine at night.
The Cardinals are in the CWS for the third time and are yet to win an opener. Sutton Whiting, who drove in Louisville's first run, said the Cards must forget the latest loss quickly.
"It's over with, and we've got to bounce back," he said. "Come with a good practice tomorrow and get back to work and face a good team in Texas Monday."
Louisville pitchers struggled against Vanderbilt's patient batters. Losing pitcher Kyle Funkhouser (13-3) went six innings and issued six of Louisville's nine walks, its third-most of the season. The four runs he allowed matched his career high.
"It's hard to win at the College World Series with a bad start," Funkhouser said, "and that's what that was tonight."
Vanderbilt's Dansby Swanson doubled in two runs, and Bryan Reynolds tripled in another and made a fabulous catch in left field to help the Commodores beat Louisville for the first time in four tries.
Carson Fulmer (7-1), who got the start instead of first-round draft pick Tyler Beede, worked six innings for the win. Adam Ravenelle retired seven of the last eight Louisville batters for his first save.
The Commodores' biggest run came on a passed ball after they saw their 4-0 lead shrink to 4-3 in the seventh. It looked like catcher Kyle Gibson was setting up for a pitchout, but reliever Kyle McGrath pitched to the plate and Gibson let the ball get past him, allowing Vince Conde to score.
Louisville, the only returning team from the 2013 CWS, swept the Commodores in super regionals last year and beat them again last month.
John Norwood scored the first of Vanderbilt's three runs in the second inning, coming home on Funkhouser's bases-loaded wild pitch. Swanson followed with his two-run double into the left-center gap.
"We've done a good job the last quarter of the season getting deep into the counts, more walks, less strikeouts, and we've hit the ball," Commodores coach Tim Corbin said. "We've really hit the ball well the last three weeks. We hit it OK tonight, but we were facing a tough customer."
The Commodores led 4-0 against Funkhouser after Reynolds tripled in Swanson in the fourth. Reynolds had made the catch of the day to end the Louisville second when he went to the left-field wall to haul in a drive off the bat of Omaha native Grant Kay.
The Cardinals pulled to 4-2 in the fifth when Whiting hit an RBI triple and scored on a groundout, and it was a one-run game in the seventh after Zach Lucas narrowly beat Norwood's throw to the plate on Nick Solak's hit to center.
"We kept nipping away and we seemed to get it within a run or two, but we could never catch up," McDonnell said. "Just wasn't in our favor tonight, so congratulations to them."