Louisville awaits new chapter in ACC without high-scoring guard Shoni Schimmel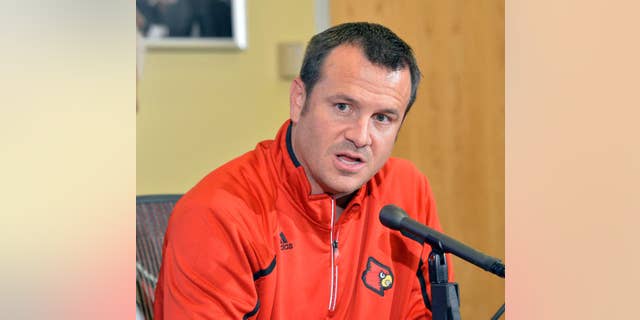 LOUISVILLE, Ky. – Louisville coach Jeff Walz doesn't expect one player to replace the scoring and leadership of All-American guard Shoni Schimmel.
He believes the mix of returning players and incoming freshman can provide all the offense the 12th-ranked Cardinals need as newcomers in the Atlantic Coast Conference.
Louisville nonetheless faces a tall task without Schimmel, who led the team to the 2013 NCAA championship game and fell a missed 3-pointer short of tying Maryland at the buzzer in last spring's regional final.
With her went 17.6 points a game, not to mention a supporting cast of Antonita Slaughter, Tia Gibbs and Asia Taylor, who combined for nearly 28 points a game.
That's a lot of points to replace, a process Walz warns might take awhile.
"We're not trying to just replace Shoni," said Walz, pointing to seasoned holdovers such as senior guards Bria Smith and Jude Schimmel and forward Sara Hammond.
"We're going to have kids that do different things. We might not have someone as flashy as Shoni with the ball or being able to hit the step-back 3s that she could. But I feel really good about our nucleus and the caliber of players that we have right now."
Hammond (10.4 points) is the only double-digit returning scorer, but Smith (7.6 points) has worked on expanding her range and improving her free throw shooting.
Center Sheronne Vails, forwards Shawnta' Dyer and Cortnee Walton and junior guard Megan Deines have also turned in high-scoring games. Louisville's five-member freshman class also features impressive offensive credentials. That raises the prospect of everybody contributing even if the team average falls short of last year's 78.9 points.
"A lot of times we relied on Shoni to make a spectacular play when our offense broke down," Hammond said. "This year we can't have that. Everyone has to do their part, everyone has to contribute."
Some other things worth watching as Louisville opens the season Friday at IUPUI:
JUDE SCHIMMEL'S MOMENT: The senior guard has the same perimeter shooting skills as older sister Shoni. She also wants to display the same sort of leadership. A disruptive defensive specialist, Schimmel promises to shoot more if the opportunities are there but wants help out in other areas. "Being one of the seniors, my opportunity is just sitting there waiting for me to go and get it," said Schimmel, a 31 percent career shooter from behind the arc. "Compared to the last three years I'm going to shoot a lot more."
STRONG RECRUITS: McDonald's All-American forwards Myisha Hines-Allen and Mariya Moore are part of an incoming class that Walz expects to contribute right away. Louisville also signed guards Arica Carter (5-foot-8) and 5-9 Ariana Freeman and 6-1 forward Sydney Brackemyre. "These freshman are great kids and I think they keep us seniors young," Hammond said.
STAYING UPRIGHT: If they can remain healthy, 6-4 center Sheronne Vails and 6-1 forward Shawnta' Dyer will be key frontcourt players. Dyer has played just 26 games the past two seasons because of left hip and knee injuries; Vails missed last season following summer knee surgery. While both will play a lot, Walz is being careful with their minutes to ensure both are fresh for the postseason.
WEAR 'EM OUT: As if Louisville's recent pace hasn't been fast enough, the Cardinals plan to kick it up a notch this year by pushing the ball upcourt quicker and moving it around more. Walz believes that's a must for them to keep pace in the ACC, where there are no easy opponents. "I don't think it's going to be a huge adjustment for us," Walz said, "but we do know that you've got to be ready to play every single night."
CHALLENGING SCHEDULE: Louisville resumes rivalries with former Big East opponents Notre Dame, ranked No. 3, Syracuse (No. 24) and Pittsburgh along with starting new ones in the ACC with No. 7 Duke and No. 13 North Carolina. The Cardinals also host archrival and No. 11 Kentucky on Dec. 7, three days after facing No. 19 Iowa in the ACC/Big Ten Challenge.